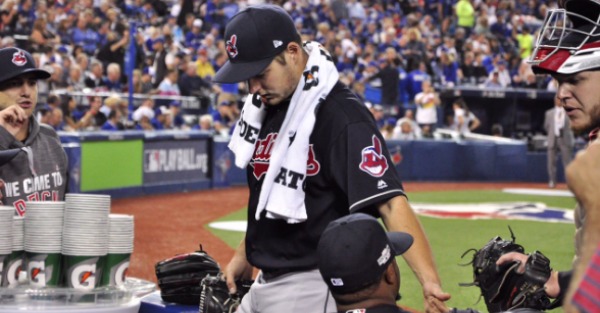 Cleveland's Trevor Bauer is one gutsy guy.
He started Game 3 in the American League Championship Series against the Toronto Blue Jays, but had to come out in the bottom of the first with two outs because his injured finger was pouring — and I mean pouring — blood on the mound.
The close-up shot is even worse:
And this is how it looked after his accident:
Bauer hurt his hand Friday when he was working on a drone and one of the propellers started up and cut the pinky finger on his right hand, his throwing hand.  Since he had stitches in his finger, his start was pushed back from Game 2 to Game 3 in hopes he could throw.
Complicating matters — MLB rules prohibit pitchers from affixing anything to their hands or wrist, and that would make it impossible for Bauer to continually grip and throw the ball without further damaging his hand,
As of this writing, there's no word on when Bauer will be able to pitch again. He was 12-8 with a 4.26 ERA during the regular season.
The injury is reminiscent of the famous blood sock game in 2004, when Curt Schilling's damaged ankle bled through his sock.