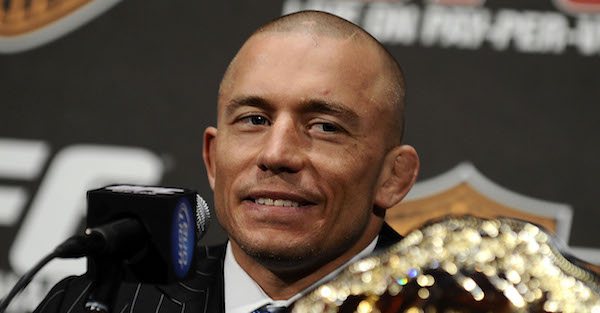 Jeff Zelevansky/Getty Images
at a press conference for UFC 111 at Radio City Music Hall on March 24, 2010 in New York, New York.
Georges St. Pierre's return is official, and it completely screws over rising contender Yoel Romero in the process.
St. Pierre (25-2) walked away on a 12-fight win streak from the UFC and vacated his welterweight crown in December 2013.
Bisping (30-7) won the belt from Luke Rockhold by knocking out the champ before defeating Dan Henderson by decision in his first defense.
After talking up how he wasn't ducking Romero (12-1), Bisping might have some explaining to do.
On his SiriusXM show (via MMAJunkie), Bisping announced he's "never ducked anyone in (his) life, and never will," before saying he told UFC President Dana White to "book the fight" against Romero sometime in the spring.
Bisping is recovering from what he calls some injections in his knee, and he was expecting the Romero fight sometime in the spring unless "something else transpires in some other situation." That something else appears to be a big-money fight with St. Pierre. 
Romero has a questionable history, from sitting on his stool in the corner an extra 30 seconds to failing a drug test and, his latest action, dumping water all over himself to delay the start of a round, he's nearly done it all.
Regardless, Romero has developed into one of the most dominant contenders in the UFC today, and he's got to be furious at the latest news:
Bisping has been vocal in the past against Romero, and you can expect the eventual build for this fight to (if it happens) to be an entertaining one.
For now, we'll settle for one of the greatest welterweight fighters in the world moving up to middleweight.