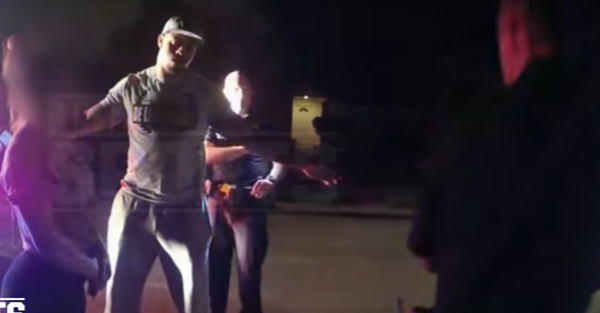 TMZ via Youtube
TMZ.com says it has obtained video of the much troubled and former NFL player Greg Hardy being arrested in connection with a drug charge.
RELATED: One of the NFL's most troubled players cops a plea in his most recent court case.
The video shows cops noting that Harvey is a big guy who's in shape and note they should be careful with how they handle the arrest. Hardy, for his part, is very polite, and tries to explain how a purple baggie filled with cocaine ended up in his wallet.
The video — and TMZ's transcript — show Hardy protesting that the coke doesn't belong to him, and that he suspects someone planted it on him:
" I was at a mixer with NFL guys trying to do an interview. Like I said, I don?t know what happened between me and him, he could?ve slipped stuff in my pocket. Some people offered me some stuff. I literally don?t know what is in that. Whatever it is. I haven?t even seen it. I thought that I had nothing in the car."
He added that he was coming from a date and was trying to get a job playing football.
Hardy eventually pleaded guilty to a misdemeanor drug charge — he originally faced a felony cocaine possession charge — of that will keep him out of prison.
Hardy is no stranger to trouble. The former defensive end who played for the Carolina Panthers and Dallas Cowboys was suspended for 10 games in the NFL after a domestic violence case involving his ex-girlfriend in 2014 when he was with Carolina. The case was ultimately dropped and his suspension reduced to four games.
He didn?t play in the NFL last year and hasn?t had any interest this off season.