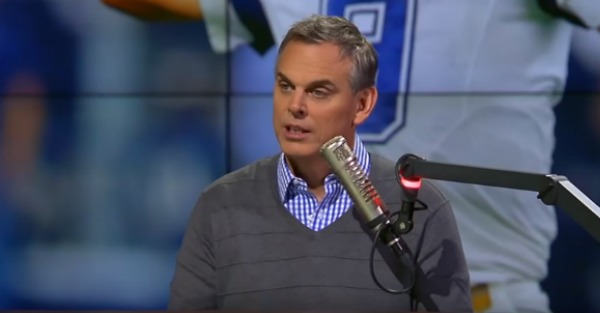 YouTube screen shot
Colin Cowherd's penchant for making random assertions is well-known. And he just made another one.
Thursday on Fox Sports 1's The Herd with Coin Cowherd, he suggested that Tony Romo would be a perfect fit for the New York Jets, and they should do everything in their power to get him.
RELATED: The Jets finally make a change at quarterback
"The Cowboys have moved on. Tony Romo's gonna have a bunch of people calling him," Cowherd said. "Tony Romo, if you read the tea leaves, is going to be the backup quarterback…This Tony Romo to the New York Jets thing is real. Tony Romo is going to be an incredible free agent."
Only one problem with that line of thinking. The Cowboys aren't even remotely close to figuring out Romo's future. And with more than two-thirds of the season left to play, a forecast like that still needs a ton of different things to happen before it could even take shape.  Cowherd's right in one respect, though. Romo would likely be the most coveted free agent quarterback since Peyton Manning in 2012.