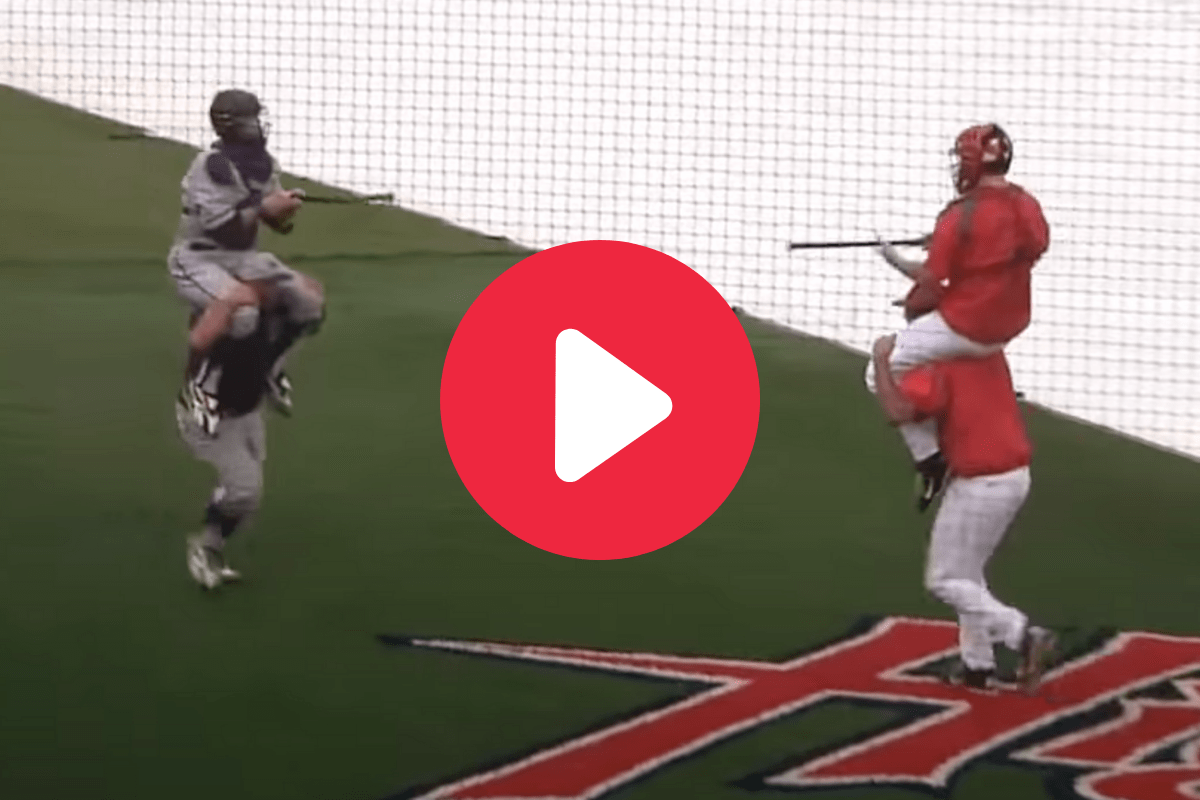 Screenshot from YouTube
There's nothing worse in sports than a baseball game being the victim of a rain delay. Everything stops for the weather, no matter the level of competition.
Two college baseball teams were experiencing such despair, and they decided to explore unique ways to pass the time.
You know, like a joust.
Yes, you read that correctly. Rocking catcher's gear while sitting on the shoulders of a teammate, the players began a baseball-themed jousting event and it ended in utter hilarity.
College Baseball Rain Delay Jousting
RELATED: Pitcher?s Sneaky Pickoff Move Made Him a Viral Star
The two teams involved, Radford University and High Point, weren't going to let a bit of poor weather ruin their time. And it was the Radford dugout that walked away victorious from the jousting match.
The duo of Mark Peterson and Jake Taylor were able to take down the High Point tandem of Kyle Mahoney and Corey Swickle to be crowned the jousting champs.
According to ESPN, Radford also won the game when it eventually resumed, 5-4.
The 2011 moment between these two teams paved the way for other antics during rain delays. In 2016, George Washington University had an NCAA baseball game against Delaware State delayed due to the weather.
The result? Another joust-off between college baseball players, which of course became a viral home run on social media.
From Little League to high school to Major League Baseball, rain delays are unavoidable and can happen on any given day. Even World Series games have featured rain delays.
That doesn't mean the opposing teams have to stay in the dugout and watch it pour. There are so many options to pass the time. Jousting just so happens to be one of them.
Perhaps someday we'll get an MLB joust.