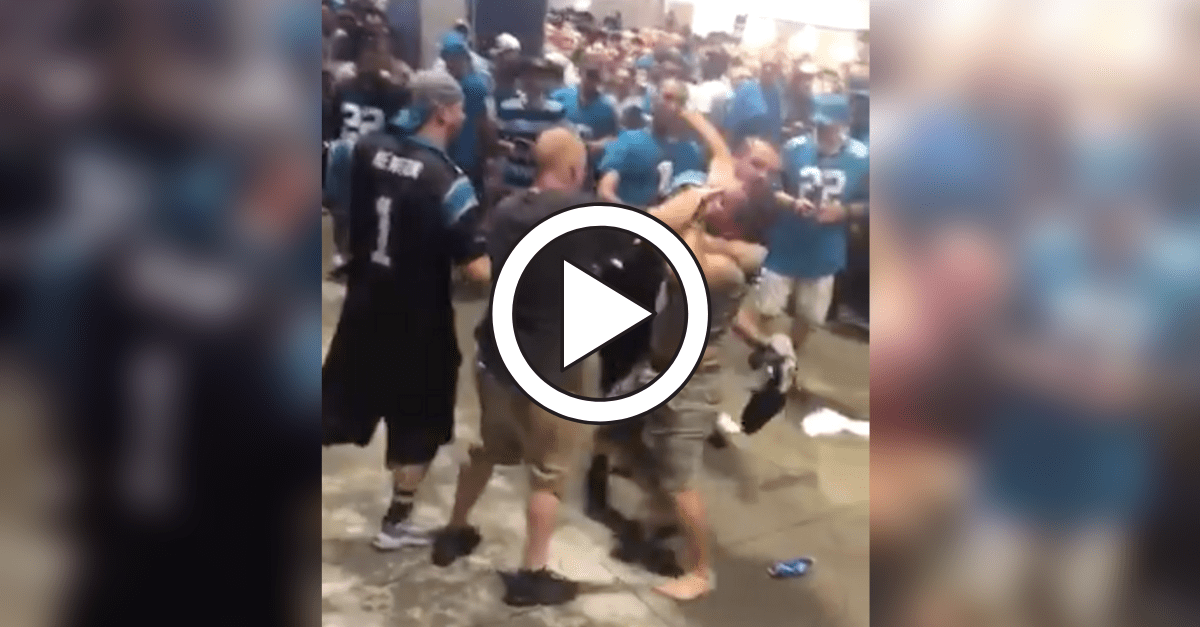 Screenshot from Twitter: Barstool Sports
Someone isn't happy about the Carolina Panthers' 0-2 start to the season.
Thursday Night Football wasn't kind to quarterback Cam Newton, his hilariously popular head scarf, and the Panthers, who lost to NFC South rival Tampa Bay, 20-14. Newton and company couldn't muster much offense, especially after failing to convert on 4th-and-1 early in the first quarter. Head coach Ron Rivera challenged the play, but then, lightning caused a 27-minute rain delay in Bank of America Stadium.
While some of us would've been content slugging an ice cold beer during the weather delay, a contingent of NFL fans decided it was time to throw down the gloves and start an all-out brawl on the inner concourse.
Video shows a several men fighting, one of which is soaking wet and wearing a single flip flop who looks like the instigator. Several others try pulling this guy off the pile, but that only ropes more of them into an impromptu fight club.
RELATED: NBA Player Fights Eagles Fans in All-Out Tailgate Brawl
I don't know what kind of alcohol they're selling Carolina Panthers fans at NFL games, but someone needs to get this crowd under control. In 2017, a man was caught on video sucker-punching a defenseless old man during a Panthers game against the Philadelphia Eagles. This onslaught ultimately required the Charlotte-Mecklenburg Police Department to track down Kyle Adam Maraghy and charge him with simple assault.
As for the game, Newton, running back Christian McCaffrey and the Panthers offense couldn't record a single touchdown on Thursday night. Kicker Joey Slye supplied four field goals, plus All-Pro linebacker Luke Kuechly tackled Tampa Bay's Peyton Barber in the end zone for a fourth-quarter safety ? that was one of his game-high 17 tackles.
McCaffrey was also stopped on 4th-and-goal late in the game, which ended Carolina's night.
Newton said after the game, "All fingers are pointed back to the offense and me specifically."
Carolina needs to get its season back on track, but losing two home games to start the year is a bad omen. Carolina's next three games are against the Houston Texans, Jacksonville Jaguars, then a rematch with the Tampa Bay Buccaneers on October 13 before its bye week. If Ron Rivera and company can't get this year under control, something tells me this won't be the last fan fight we see in Carolina this season.