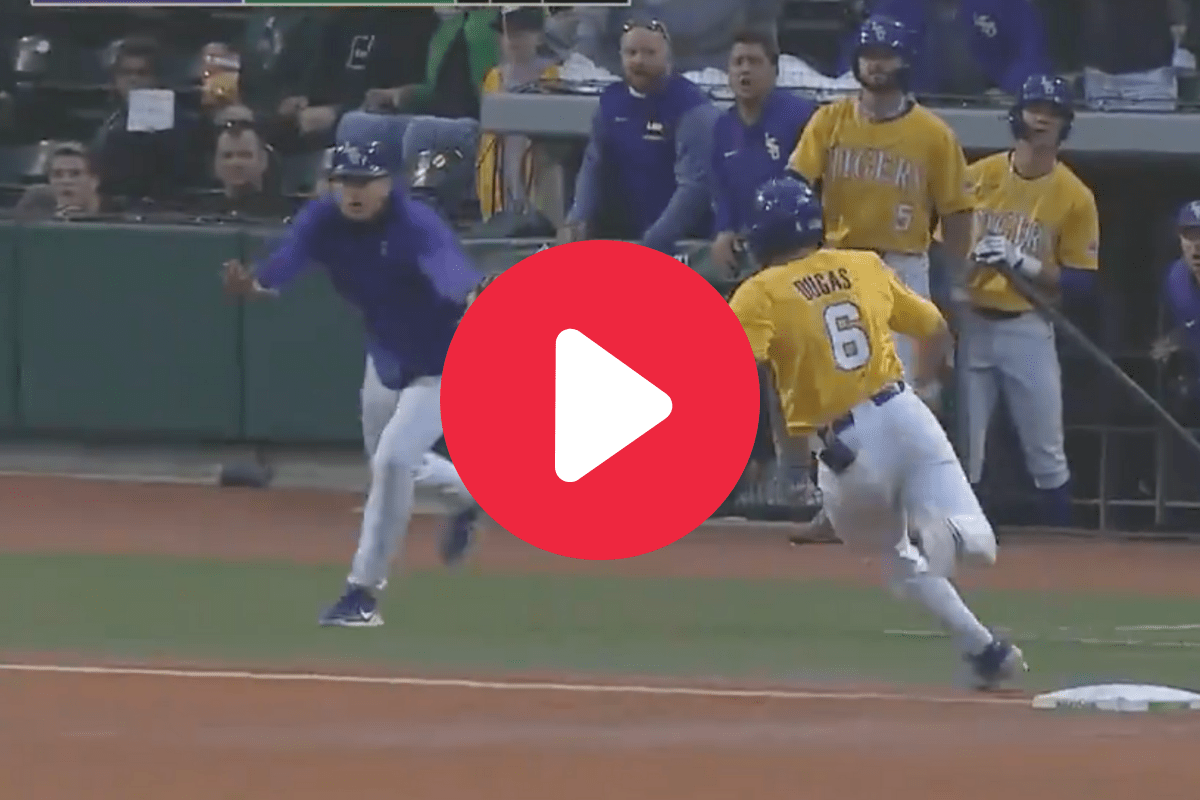 Screenshot from Twitter: LSU Baseball
LSU outfielder Gavin Dugas said it was his childhood dream to play in front of "the best fans in the country." He grew up less than two hours away from Baton Rouge in Houma, Louisiana.
After the junior slugger's performance against Oregon in a must-win NCAA regional game, Tiger fans might be the happiest in college baseball. He hit an "inside-the-park home run" (though it was ruled a triple and an error) to help keep LSU's season alive.
Gavin Dugas' Regional "Inside-The-Park" HR
RELATED: LSU?s ?Sliding Catch? Tag Proves No Runner is Safe
Despite a disappointing season in SEC play, LSU traveled to Eugene, Oregon, to play as a No. 3 seed in the Eugene Regional of the NCAA Tournament in what is now longtime head coach Paul Mainieri's swan song.
LSU lost its first game to Gonzaga and needed to win four straight to make Super Regionals. After two wins, the Tigers faced the Oregon Ducks in a game that Dugas took over.
Dugas cranked a long fly ball to center field that bounced off the wall in the sixth inning. He raced around the bases and never stopped running. Third base coach Nolan Cain initially waved him home then put up the stop sign, but Dugas ran through it.
That was a smart decision.
Oregon's left fielder rushed over and mishandled the ball. He fired the ball into his cutoff man, who threw wildly home and allowed Dugas to slide in safely without a tag.
"At the very last second when I was touching third base he kind of gave me the stop sign, but at that point it was all go from there. There was no stopping," Dugas told reporters after the game.
The hit was officially scored as a triple and an error, but LSU fans know an inside-the-parker when they see one. Dugas' speed forced the fielders to commit the error.
LSU's junior outfielder also smacked a home run and a double in the 4-1 win. He came up a single shy of the cycle. Behind Gavin Dugas (17 home runs) and Dylan Crews (16 home runs), the Baton Rouge Bash Brothers are powering LSU through the NCAA Tournament.
The Tigers need one more win against Oregon on Monday night in PK Park to move on to the Super Regional round.
In Mainieri's final season, it wouldn't surprise anyone if LSU shocked everyone and advanced.