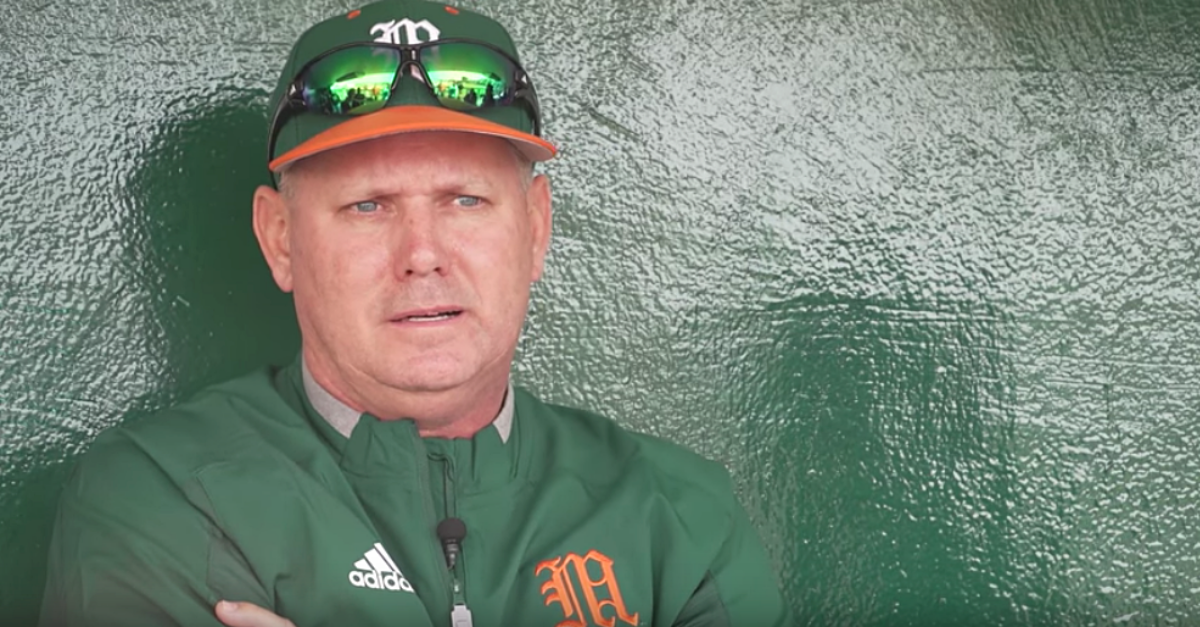 YouTube: Canes All Access
After failing to reach the postseason in each of former head coach Jim Morris' final two seasons, the Miami Hurricanes baseball team is in great shape to make it back with new head coach Gino DiMare at the helm.
In the last two seasons, the Hurricanes barely finished over .500, but DiMare has them at 27-14 and 11-10 in the ACC with 14 games left in the regular season. So thus far, it seems like Miami hired the right guy to build the program back up to where Morris had it for over 20 years.
RELATED: After 25 Seasons, It's Weird to See the 'Canes Without Jim Morris
Even though the team ERA is a little bit higher this season, Miami's team batting average and runs scored is a big reason for the improvement. In 2017, the batting average as a team was .231 and the team's leader finishing at .281. Last season, Danny Reyes led the team with a .321 batting average, but the team hit just .257.
This year, four players are hitting above .300 with Raymond Gil leading the way at .356 and the team up to a .290 average.
Not only are players hitting the ball, but they are scoring runs at a much better rate. With 14 games remaining in the season, the Canes have already scored more runs this year (307) than they have in the last two full college baseball seasons (268, 259).
After three games against the Louisville Cardinals, the University of Miami is up to No. 24 in the D-I Baseball Top 25. Even though they won only one game in that series, they managed to remain close with the seventh-ranked team in the country.
And the schedule for the rest of the regular season is looking favorable towards DiMare and the Canes. With Florida International Panthers, Virginia Tech Hokies, Boston College Eagles, UCF Knights, Wake Forest Demon Deacons, and Duke Blue Devils left on the schedule, the highest-ranked team in RPI is the Hokies at 45. And 11 of 14 games are home games down in Coral Gables inside Alex Rodriguez Park at Mark Light Field.
It may only be two seasons since their last 50-win season and trip to Omaha for the College World Series, but DiMare has this team returning to that form and he is definitely that guy that will get Miami baseball over the hump to national championship form once again.