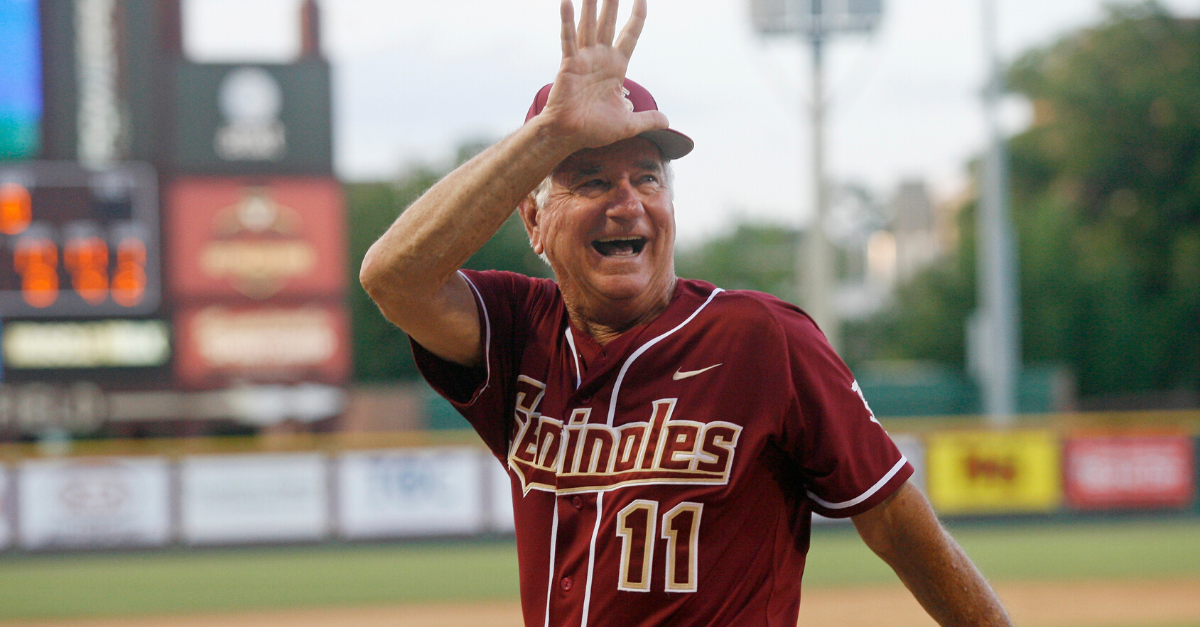 AP Photo/Phil Sears
Mike Martin is a legend in the college baseball world. No NCAA baseball coach in history has amassed more than the 2,029 wins than the man who retired as Florida State University's head coach in 2019 after 40 seasons in Tallahassee.
Now, the winningest coach in college baseball history is being immortalized for his accomplishments. The National Collegiate Baseball Writers Association announced on Tuesday it was renaming its annual NCAA Division I baseball coach of the year award in the longtime Seminoles coach's honor.
"We could not think of any other coach historically to associate a name for this annual award besides coach Mike Martin," NCBWA executive director Bo Carter said of the Mike Martin National Coach of the Year award. "He has meant so much to college baseball as it has continued year-by-year to gain additional national popularity."
Mike Martin National Coach of the Year Award
Coach Martin turned the Florida State Seminoles into a perennial powerhouse after taking over in 1980. He guided the 'Noles to 17 College World Series berths and 19 conference championships — 11 Metro Conference and 8 Atlantic Coast Conference. He also turned in 40 or more wins in each of his 40 seasons as head coach, something no college coach in the history of any sport has done.
?When I heard about it,? Martin told Seminoles.com, ?I was simply flabbergasted. It is such an honor to have my name associated with this award, and it is a tribute to all the players and coaches who worked with me at Florida State.?
While Martin never won a national championship as Florida State's head baseball coach, the garnet and gold finished runner-up in 1986 and 1999. Here's a list of some other feats Martin accomplished before handing over the baseball program to his son, Mike Martin Jr.
Mike Martin's Accomplishments
Two-Time Baseball America Coach of the Year (2012, 2019)
Seven-Time ACC Coach of the Year (1996, 1998?1999, 2001, 2007, 2009, 2012)
Six-Time Metro Conference Coach of the Year
2,209 career wins, the only coach in NCAA D-I history with more than 2,000 wins
40 seasons of 40+ wins
24 seasons of 50+ wins
17 College World Series berths
19 Conference Championships
218 Major League Baseball Draft picks
19 first round MLB Draft picks
142 All-America and 142 All-ACC honors
8 National Players of the Year
4 Golden Spikes winners
College Baseball Hall of Fame
ABCA Hall of Fame
Florida State Athletics Hall of Fame
North Carolina Sports Hall of Fame
RELATED: Meet Emerson Hanock: Georgia's Ace, And Potential No. 1 Draft Pick
FSU became a fixture in the NCAA Tournament whether at the NCAA Regional and Super Regional rounds or in Omaha, but winning in the postseason isn't all Martin did.
Martin coached numerous All-Americans like Buster Posey, Mike Fuentes, Mike Loynd, J.D. Drew, Shane Robinson, Tony Thomas Jr., and James Ramsey. Posey, Fuentes, Loynd and J.D. Drew all won the Golden Spikes Award given to the nation's top college player.
With a 2,029-736-4 all-time record, Martin boasts 54 more wins than the next closest coach, Texas Longhorns legend Augie Garrido.
The iconic coach has bled garnet and gold since the 1965s, when he transferred to FSU from Wingate Junior College and played centerfield for the 'Noles. After a few years in the minor leagues and beginning his coaching career at the high school level, he returned to FSU as an assistant coach from 1975-79.
When Florida State baseball head coach Dick Howser left for the New York Yankees in 1980, Martin stepped in and left his mark on the program 40 years later. In 2005, Martin was honored by the FSU baseball when the program renamed its field to Mike Martin Field at Dick Howser Stadium.