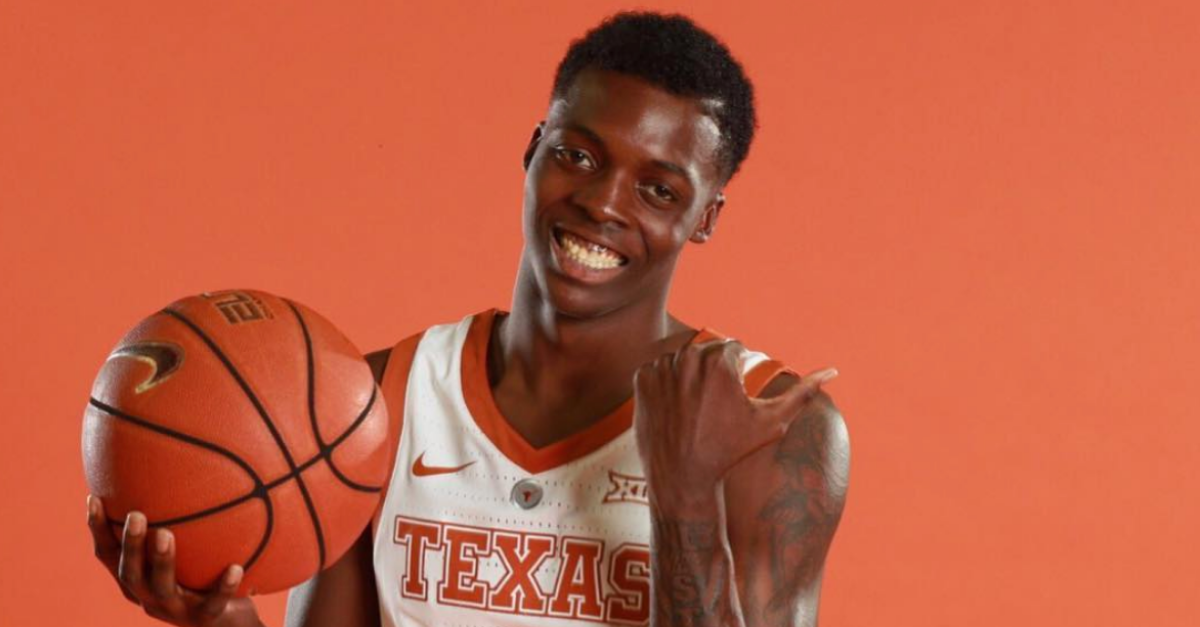 Instagram: @drewdotcash_1
In college basketball, there are two types of feel-good stories: One that includes a special highlight or performance or one that sees a player overcome tough odds to play the game. Both happened on opening night.
While the Duke Blue Devils and freshman forward Zion Williamson pretty much broke the Internet during the Champions Classic against Kentucky, Texas Longhorns junior guard Andrew Jones was making his triumphant return to the hardwood after his leukemia diagnosis and treatments.
With 11 minutes, 40 seconds remaining in Tuesday's win over Eastern Illinois, the 6-foot-4 guard checked into a game for the first time since being diagnosed with leukemia in January. A standing ovation was inside the Erwin Center in Austin was long overdue.
RELATED: Cancer Amputee Rolled into End Zone for Emotional Texas Youth Football TD
Then, a couple of minutes later, Jones, who wasn't sure he would even play this season, stepped to the foul line and scored his first point for the Longhorns this season.
What a special moment for a 20-year-old college basketball player who has already been through a lot.
"It's great to see Andrew out on the court," Texas coach Shaka Smart said. "I loved the way the crowd and everyone in the building reacted to him going in the game."
A former five-star prospect and McDonald's All-American coming out of MacArthur High School in Irving, Texas, Jones arrived on the Longhorns' campus as an immediate-impact player. He was exactly that, too, averaging 11.5 points and a team-high 3.5 assists per game as a freshman before testing the NBA Draft waters and eventually returning to school.
Jones even led Texas in scoring at 13.5 points though the first 10 games of his sophomore season. Soon after a road game at Iowa State on January 1, complaining of extreme fatigue, Jones was quickly diagnosed with leukemia and spent the spring and summer at the University of Texas MD Anderson Cancer Center in Houston, where he began treatment.
Jones was in the hospital until February and completed outpatient treatment in August.
https://www.instagram.com/p/Bm3rvt5FeZi/
A return to the court was something to really look forward to, but then he fractured a toe in his right foot in practice, delaying his NCAA return.
"Only the strong survive, and that's been something that I've lived by these last couple months. It's a choice whether if you want to just continue to go on and fight through adversity, or you can just sit there and let it take over you. Most people don't have the mental strength or even just the drive to want to do it, but anything is possible. Through the grace of God, anything is possible." Texas Longhorns guard Andrew Jones, via ESPN
With that free throw Tuesday night, anything is definitely possible, and although Jones is scheduled for more treatments next month, the one point, one rebound, and one assist in his return might be all he needs for motivation to win the next battle and play even more.