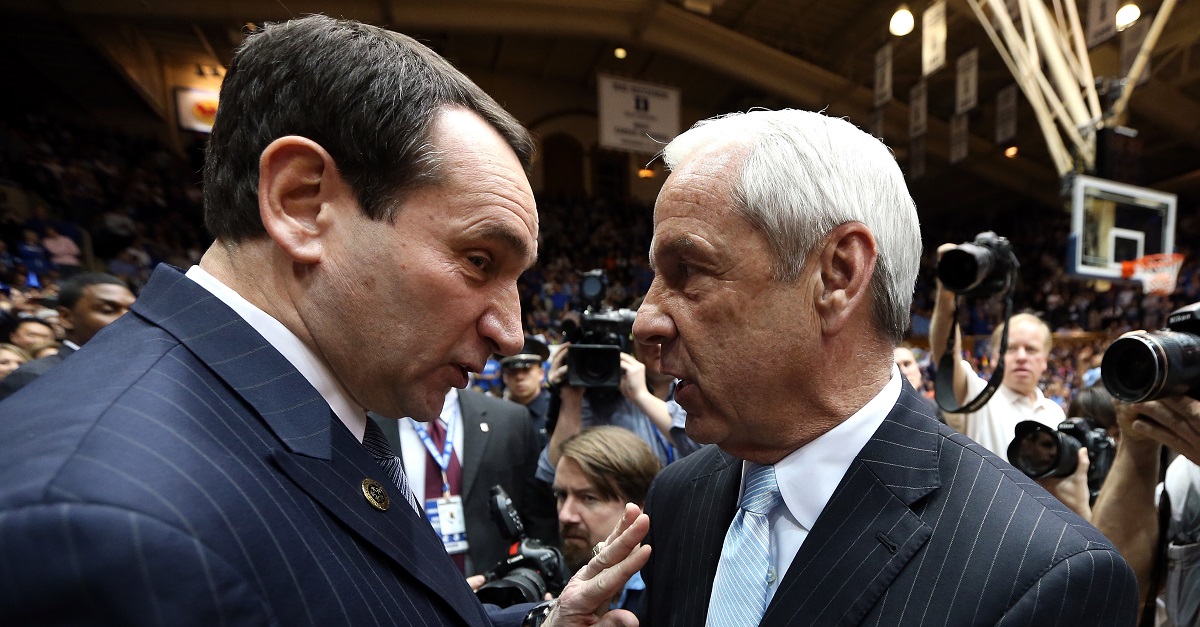 Streeter Lecka/Getty Images
DURHAM, NC - FEBRUARY 13: (L-R) Head coach Mike Krzyzewski of the Duke Blue Devils shakes hands with head coach Roy Williams of the North Carolina Tar Heels before their game at Cameron Indoor Stadium on February 13, 2013 in Durham, North Carolina. (Photo by Streeter Lecka/Getty Images)
Coach K has only ever missed parts of a season once before and that was in the 1994-95 season because of a back surgery and to recover from exhaustion. It seems that his back is causing some trouble again as he will need surgery and time to recover.
RELATED: Grayson Allen lost more than playing time during his suspension
The Blue Devils are currently 12-2 and 0-1 in the conference after suffering a major upset at the hands of Virginia Tech last week. That game was also the first of the season without star guard Grayson Allen due to a suspension handed down by Krzyzewski because of multiple tripping incidents.
RELATED: Duke and UNC end up on wrong side of history with start of ACC play
Usually Coach K is a warrior about injuries and working through pain as he's done that on several occasions, but apparently his back was causing so much pain, there was just nothing he could do to skirt the pain
Hopefully he can come back healthy from the surgery and lead the team again next year. With Capel taking over Duke shouldn't miss a beat though as he's coached 175 games as a head coach and was a big part in recruiting this team. To say he's familiar with the game plan and roster would be a gross understatement.