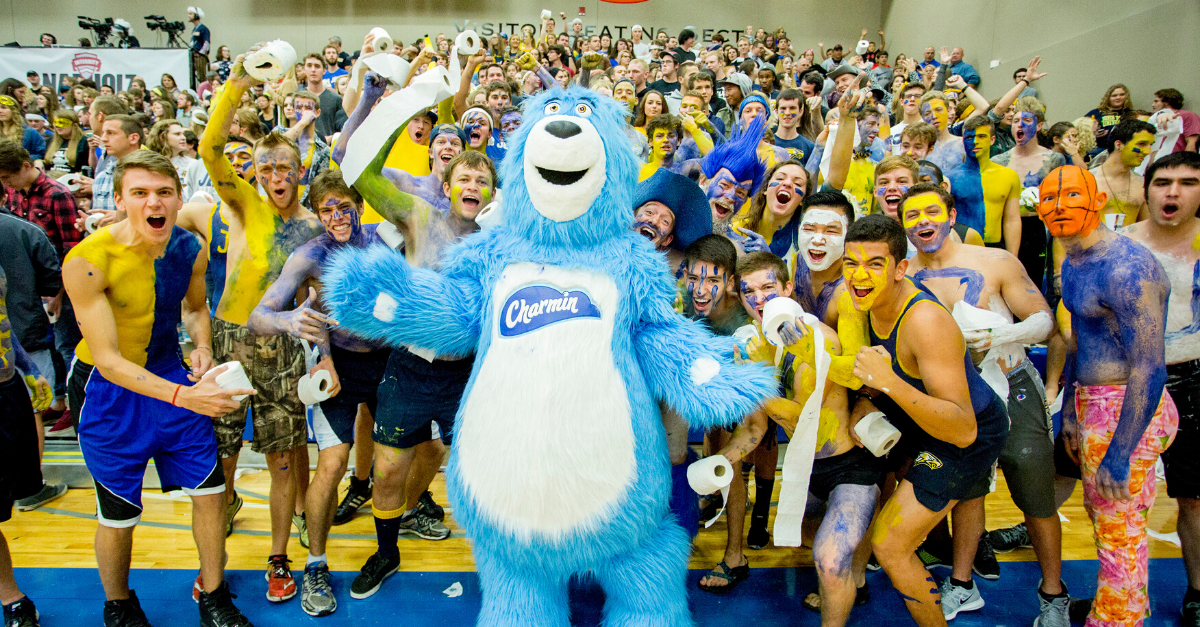 Gareth Patterson/AP Images for Charmin
Stores in Siloam Springs, Arkansas stock extra toilet paper at the beginning of each hoops season. The small northwest Arkansas town is the home of John Brown University, where the school's men's basketball team has an exclusive tradition.
Say hello to "The Toilet Paper Game."
John Brown University's Toilet Paper Game
In the late 1970s, a few JBU students tossed rolls of toilet paper onto the court. They rummaged dorm restrooms and storage units to prompt the first TP game. In the present, students don't have to be so inconspicuous. The small liberal arts school embraced and grew the tradition. Over 40 years later, it lives on.
The first home game of each season has been rebranded as the annual toilet paper game. Basketball fans pack into the Bill George Arena and accumulate rolls, eagerly waiting to rain white streamers after the team's first basket. It's simple enough, but the first basket can draw confusion. What if the first point is on a free throw? Alas, it's been established the toilet paper fuse is lit after the first field goal.
Once the Golden Eagles have converted the field goal, it rains toilet paper like the finale of a fireworks show. The result is a technical foul and two free-throws for the opposing team.
Worth it.
The aftermath takes about four minutes to clean up, and the game proceeds with high-energy. This past year, the Crowley's Ridge College Pioneers were on the other end of nearly 2,000 toilet paper rolls. JBU wiped the floor with them by a score of 90-56.
Throwing toilet paper like I'm in middle school TP'ing Billy a few blocks over again? Name a more exhilarating feeling. Sports are supposed to be fun, and JBU has done well by embracing the toilet paper game as their own. The early season extravaganza attracts record crowds and ranks among the best college basketball traditions.