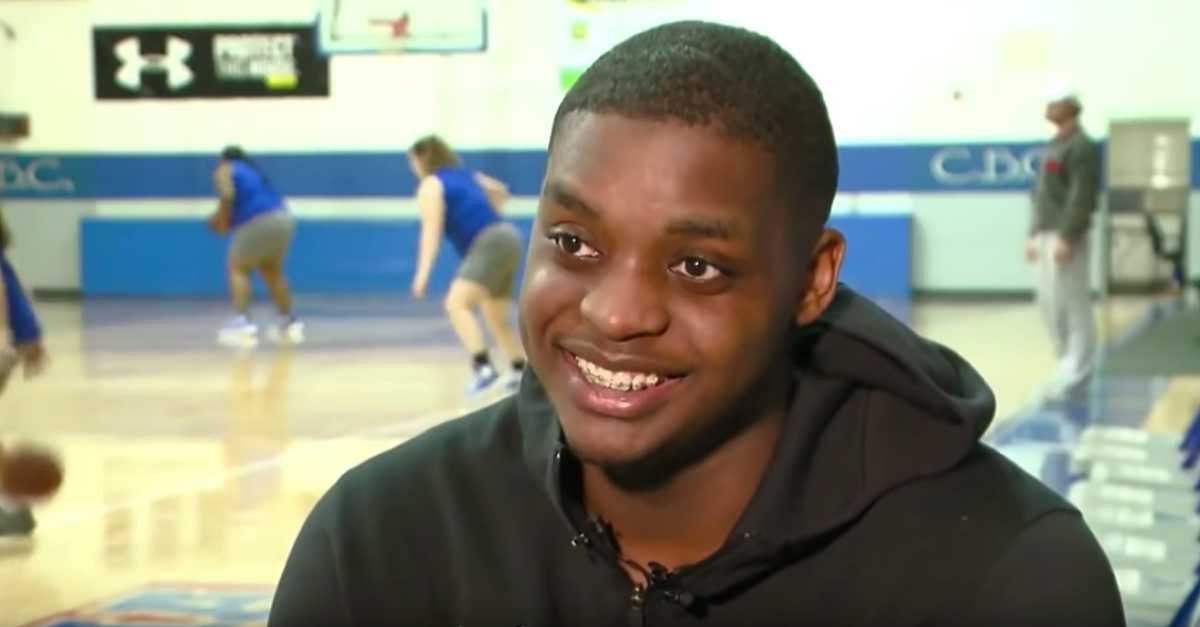 Screenshot from YouTube: JxmyHighroller
Kalin Bennett lives with autism. The Little Rock, Arkansas native didn't walk until he was 4 years old. His mother, Sonja Bennett, worked diligently with her son until he finally began talking at age 7. In the third grade, Bennett began playing basketball. Building his confidence and game, the 6-foot-11, 300-pound bruiser became the first athlete with autism to sign his Division I National Letter of Intent to play major college basketball last fall.
Today, Bennett plays four different instruments, is a freshman basketball player with the Kent State University Golden Flashes, and, just as he's done countless times throughout life, made history once again.
In Kent State's 97-58 season-opening win over Hiram, Bennett entered the game for the head coach Rob Senderoff.
With five minutes left, Bennett grabbed his first career rebound as a college basketball player. A few possessions later, Kalin Bennett made history as the first player with autism to score in an NCAA Division I game. Not only that, but just like the adversity he's faced throughout his life, Bennett fought off contact, took on a Hiram defender as he sent up a sky hook, and drew a foul as he scored his first basket.
And. One.
With a flex and whooping scream, Bennett stole the hearts of sports fans everywhere in grand style on Wednesday night.
Kent State's Kalin Bennett
With his mom in attendance, Bennett understood the magnitude of what he'd just accomplished. This is more than an inspiring basketball player. Kalin Bennett is a symbol for young people everywhere.
"It's good to know that people look up to me but the real thing is: Everybody is capable of doing whatever they want to do in life. I hope I created a thing that's going to transcend to more kids so they believe in themselves first and foremost."

— Kalin Bennett, via ESPN
RELATED: AP Top 25: Michigan State Begins No. 1 for First Time Ever
Kent State's senior duo of Troy Simmons and Antonio Williams each scored 17 points, Danny Pippen recorded a double-double, and sophomore Anthony Roberts poured in a team-high 18 points off the bench.
Kalin Bennett may have only played six minutes in his college debut, but they were the most important minutes of any college basketball team to start the 2019 season.
Bennett says he hopes to one day play in the NBA or potentially take his talents overseas, but after that, he wants to inspire kids to achieve whatever they put their minds to and raise autism awareness however he can.

"I want him to grow up to be just the best man he can be, and I think he's headed that way: respect, honor. He's humble. He loves God," Sonja Bennett told NBC News back in 2018. "I couldn't ask for a better kid."
I can't wait to watch this kid's career.