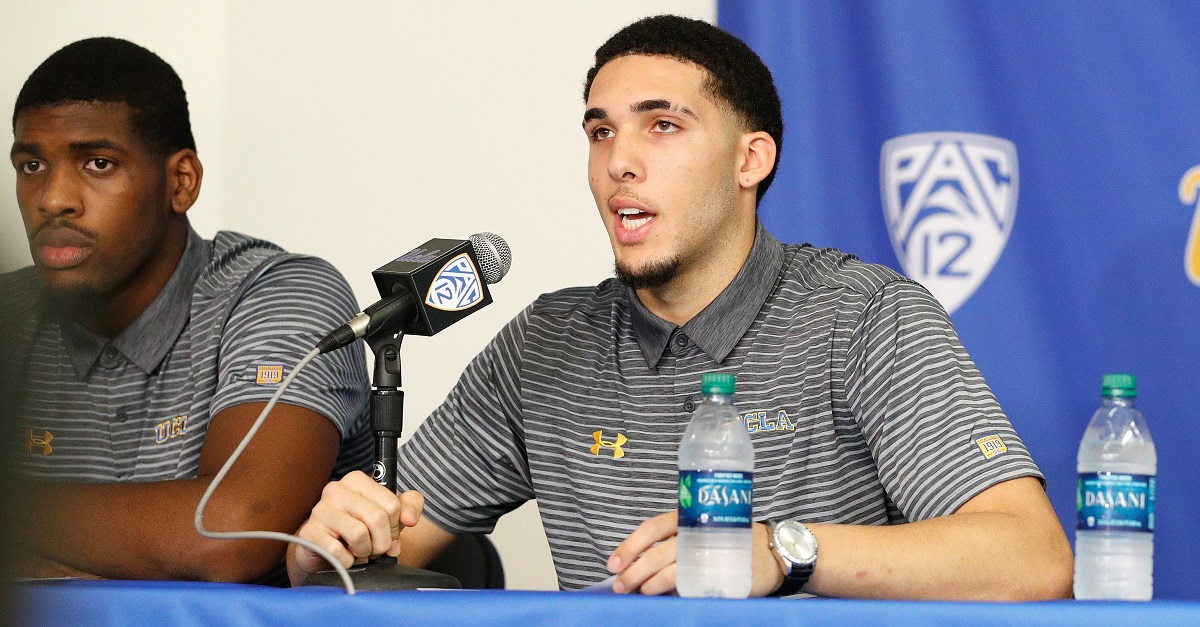 Josh Lefkowitz/Getty Images
LOS ANGELES, CA - NOVEMBER 15: LiAngelo Ball and Cody Riley (L) of the UCLA Men's Baskeball team speak to the media during a press conference at Pauley Pavilion on November 15, 2017 in Los Angeles, California. Ball, Riley and Jalen Hill have been suspended from the team after allegedly shoplifting while on a school trip to China. (Photo by Josh Lefkowitz/Getty Images)
Former UCLA Bruins guard LiAngelo Ball told a New York City radio show on Wednesday that he was forced to apologize to President Donald Trump for his role in a shoplifting incident in China last month.
LiAngelo Ball, the brother of Los Angeles Lakers rookie Lonzo Ball, was among three Bruins players that were arrested last month in China for allegedly stealing sunglasses from a Louis Vuitton store. The players were reportedly facing serious legal problems from the incident, but President Trump reportedly asked China President Xi Jinping to help reduce the charges.
The three players were allowed to leave China shortly after President Trump intervened and they returned home to Los Angeles. They were suspended indefinitely by the university and each apologized for their actions in the incident during a press conference at UCLA. While each player thanked President Trump for his assistance in clearing the charges, Ball told "The Breakfast Club" that he was forced by the school to thank him.
?My school wanted to hear it,? LiAngelo told 105.1 FM?s ?The Breakfast Club.? ?Before I went up there, it was like, ?You?ve got to thank him.? I just threw him in there real quick right before I gave my speech. If they didn?t tell me to do it, it wouldn?t have been in there, to be honest.?
After helping the three players return home, President Trump asked in a tweet if the players would thank him for his role in the incident. Each player thanked him during their statements, but LaVar Ball, the father of the Ball brothers, downplayed President Trump's assistance in the matter and even questioned why he was in China to begin with. President Trump responded to LaVar Ball and said that he should have left the players in jail as they were facing five to 10 years in jail.
While President Trump says he saved the players from jail, many legal experts questioned his role in the incident. The fact that the players were allowed to stay in their luxury hotel following their arrests likely indicated they were not facing serious jail time. Some legal experts say that President Trump's involvement likely just sped up the legal process.
It seems likely at this point that we'll never quite know what exactly happened in the incident, but it doesn't appear that this story will go away anytime soon.