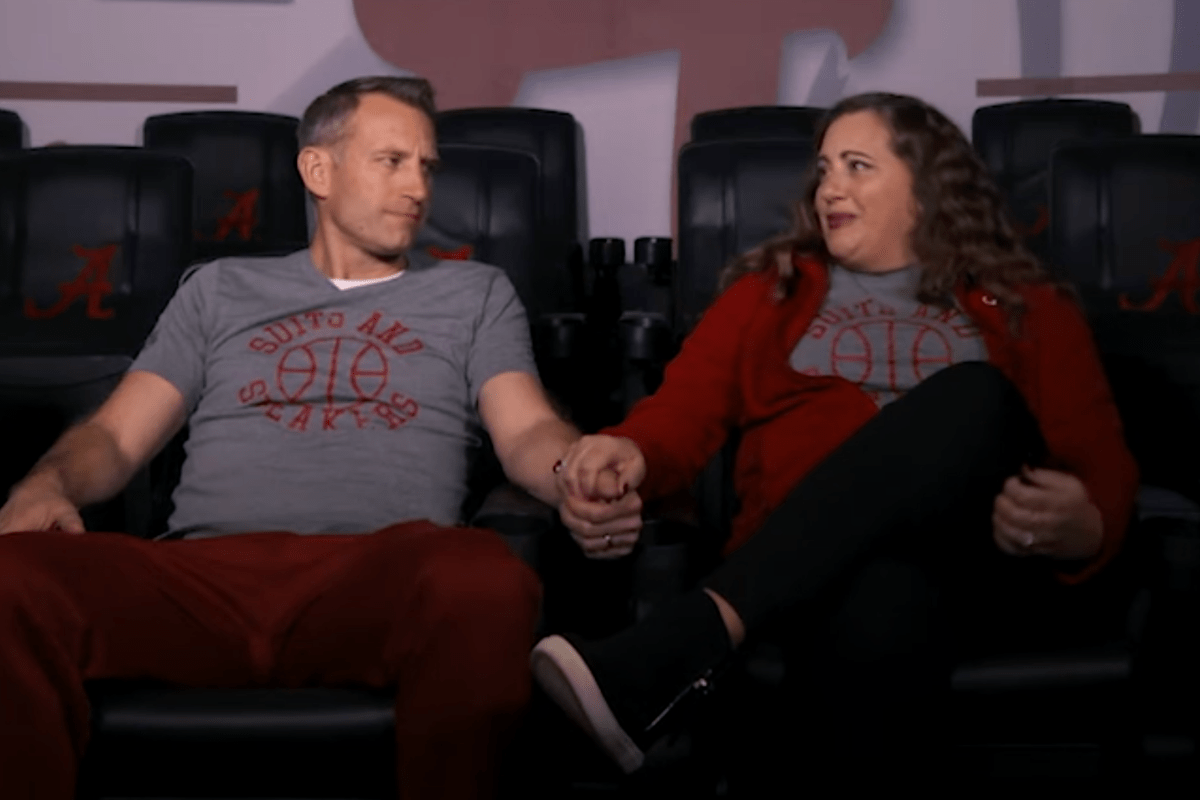 Screenshot from YouTube
The Alabama men's basketball team was rejuvenated last year.
In his young tenure, Nate Oats' Crimson Tide has asserted itself as a top contender in the SEC.
Where Oats goes, winning is soon to follow. That was evident last year, when the Tide won the SEC, earned a No. 2 seed in the NCAA Tournament and ultimately fell in the Sweet 16 to UCLA. Still, Alabama basketball announced itself as a legit program and Oats was rewarded with a contract extension.
Oats' path to that moment faced a scare in 2015, when his wife was diagnosed with cancer.
Nate Oats' Wife Crystal Oats & Her Cancer Story
RELATED: Nick Saban's Wife is the Secret to Alabama's Dynasty
Nate and Crystal Oats were married in 1997. The Oats family is rounded out by three daughters: Lexie, Jocie and Brielle.
When Crystal was diagnosed with a rare and aggressive form of cancer, double-hit lymphoma, in 2015, the research wasn't promising.
In a video posted by the Alabama basketball Twitter account commemorating Suits and Sneakers Week — a Coaches vs. Cancer event that unites coaches and the basketball world in the fight against cancer — Oats expanded on the outlook of the initial diagnosis:
"We were furniture shopping and I just remember walking in and out of some furniture stores in a daze, trying to act like life's going to go on normal but knowing this is anything but normal," he said in the video. "There's a good chance she doesn't make it. In my mind, I've got three daughters. This is not good. Then you kind of get your mind right — OK, we can make it. Let's figure this out."
The University of Alabama head coach considered stepping away from coaching for a year to be with his wife. She encouraged him to stay on the sideline. Nate credits his Christian faith for helping his wife and giving him motivation to grow.
"There were circumstances surrounding that where I had to make some decisions about whether I wanted to be the Christian man that I said I was, or whether I wanted to be hypocritical," he said on the Sports Spectrum Podcast in 2019. "I didn't want that. So in the last four years — three-and-a-half years or so — I really had a lot of introspection to where you evaluate where you're at as a man and what you want."
Crystal underwent chemotherapy every third Friday. She was "extremely nauseous" after her first round and suffered nasty bouts of headaches, per the Buffalo News.
She has been cancer free since August 2016, according to WIVB-4 in Buffalo. The couple said the battle strengthened their marriage.
In 2021, Oats was rumored to be the head coach griping about the quality of the food in a text to college basketball reporter Matt Orlander while quarantining for March Madness. As we all know, the Internet is a place where thoughts are fully formed and consequences are weighed out. One social media user snapped at Oats' complaints by referencing a photo with Oats and Crystal the day before she started chemotherapy.
Mrs. Oats responded to the Twitter troll with a tweet of her own.
The account and tweet have since been deleted.
As a coach, the ups and downs of the game are part of the job. When the downs come his way, Alabama basketball coach Nate Oats has a source of motivation to persevere.
Nate Oats' Career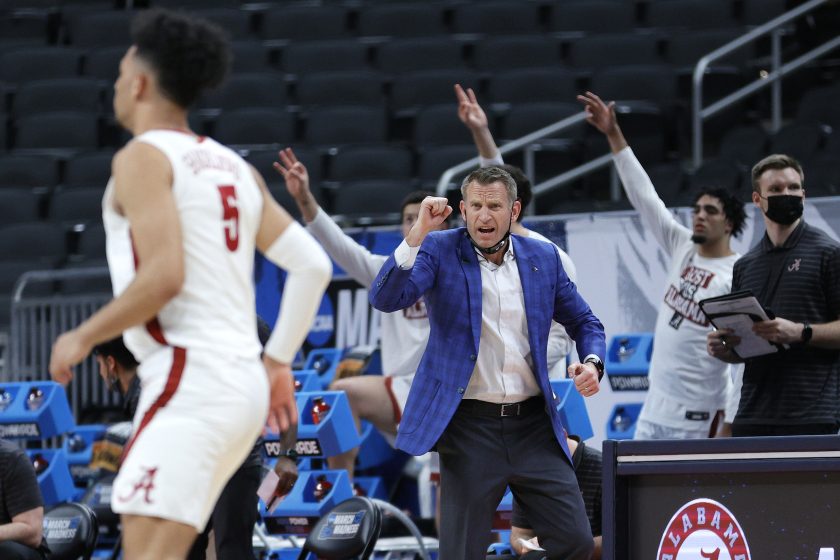 The men's basketball coach started his head coaching career at Romulus High School near Detroit. He led the team to a state title and earned multiple coach of the year awards.
After 11 years, he jumped to the NCAA Division I level, where he became an assistant under Bobby Hurley at Buffalo. When Hurley left for Arizona State in 2015, Oats took over.
In four seasons at the helm, the Bulls won three MAC Tournaments, two MAC regular season titles, and reached the second round in two of his three NCAA Tournament appearances.
The success up north caught the attention of Alabama Crimson Tide athletic director Greg Byrne in Tuscaloosa. Byrne hired Oats as the head coach of the Tide basketball program in 2019.
In two and a half years — with the 2019-20 season cut short due to the coronavirus pandemic and COVID-19 outbreak — Oats has an SEC Tournament Championship under his belt along with the 2021 SEC Coach of the Year Award. Following the victory over LSU in the SEC title game, Alabama was a 2-seed in the East Region — its highest seed since 2002.
Though Alabama's incredible season ended in defeat, the Crimson Tide proved they are much more than a football school. Nate Oats and his wife Crystal are here to stay for a long time.
Related Videos