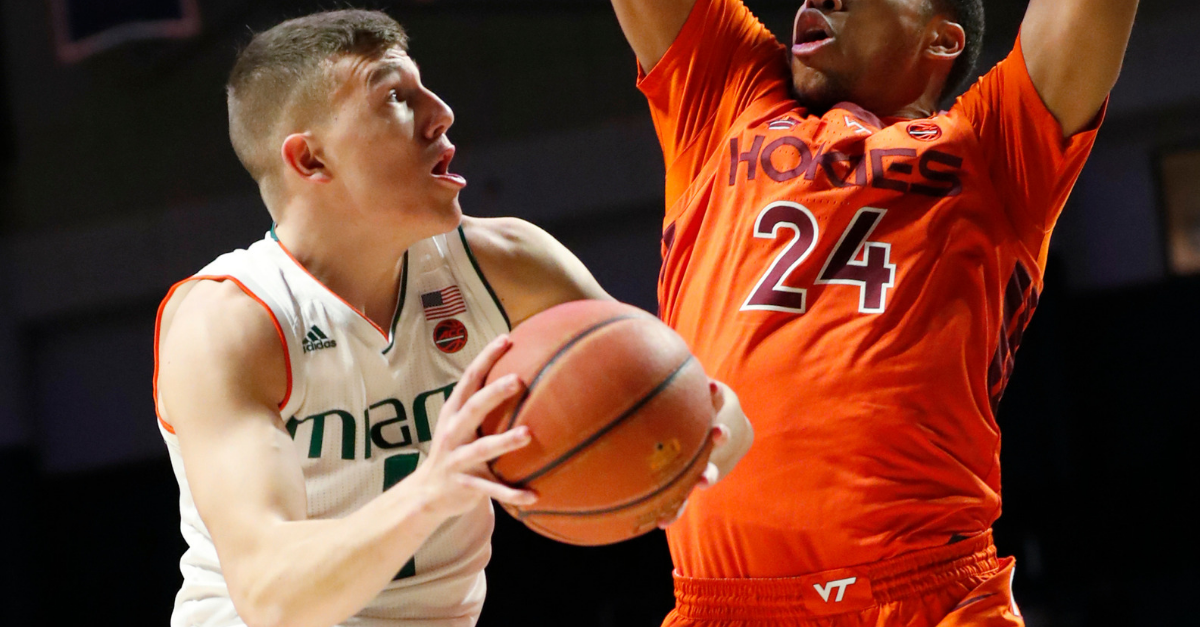 AP Photo/Wilfredo Lee
Since joining the Miami Hurricanes men's basketball program in 2016, Dejan Vasiljevic has made huge improvements to his all-around game. However, he has always shot the ball well since stepping on campus and continues to climb up the school record book during his junior season.
During the month of February, Vasiljevic has moved into the top-10 in career 3-pointers made by a Hurricanes player. And with another season of eligibility, he has an opportunity to move even further up the rankings.
RELATED: The 4 Musts for Miami to Make a Huge ACC Tournament Run
During the 2018-19 season, the 6-foot-3 Vasiljevic has hit 70 3-pointers. He needs eight more to tie Guillermo Diaz for the 10th-most in a season in school history. If he were to hit 10 more in the final three games of the regular season, he would take possession of seventh place, passing Davon Reed, Marcus Barnes, and Steven Edwards, who each hit 79 in a season.
But this hasn't been Vasiljevic's only season hitting shots from behind the arc. He has been doing that since he stepped on campus. In his first three games as a Hurricane, Vasiljevic hit three 3-pointers in each game. He made 51 triples as a freshman while shooting 34.9 percent from deep.
During his sophomore season, he was even better, shooting 41.1 percent from 3-point range and totaling 67 makes. He also made a huge improvement as an all-around offensive player by making 37 shots worth two points compared to just 14 as a freshman.
But after this season, Vasiljevic has an opportunity to work his way up the career 3-pointers list. Unless he decides to randomly turn pro, which I doubt, he will finish the season with close to 200 threes made in his career. If he can make as many threes as he has this season, he could easily work his way to fourth, but possibly up to second.
3-POINT FIELD GOALS MADE, CAREER
1. Jack McClinton, 2006-09, 286
2. Steven Edwards, 1992-96, 265
3. Darius Rice, 2000-04, 260
4. Robert Hite, 2002-06, 228
5. Malcolm Grant, 2009-12, 223
6. Adrian Thomas, 2005-11, 204
7. Davon Reed, 2013-17, 202
8. DJ Vasiljevic, 2016-19, 188
9. Rion Brown, 2010-14 174
9. Guillermo Diaz, 2003-06 174
Vasiljevic has averaged 2.6 threes made per game this season. So let's assume over the final three regular season games, he makes seven more. That would put him at 195 for his career and 77 for the season. He would then only need to make 70 threes during the postseason and next year to take over as the second-best 3-point shooter in school history.
And at that point, he would need just 90 to match Jack McClinton for the top spot, which is not an impossible number since 90 has been done five times in school history. McClinton did it three times while at Miami.