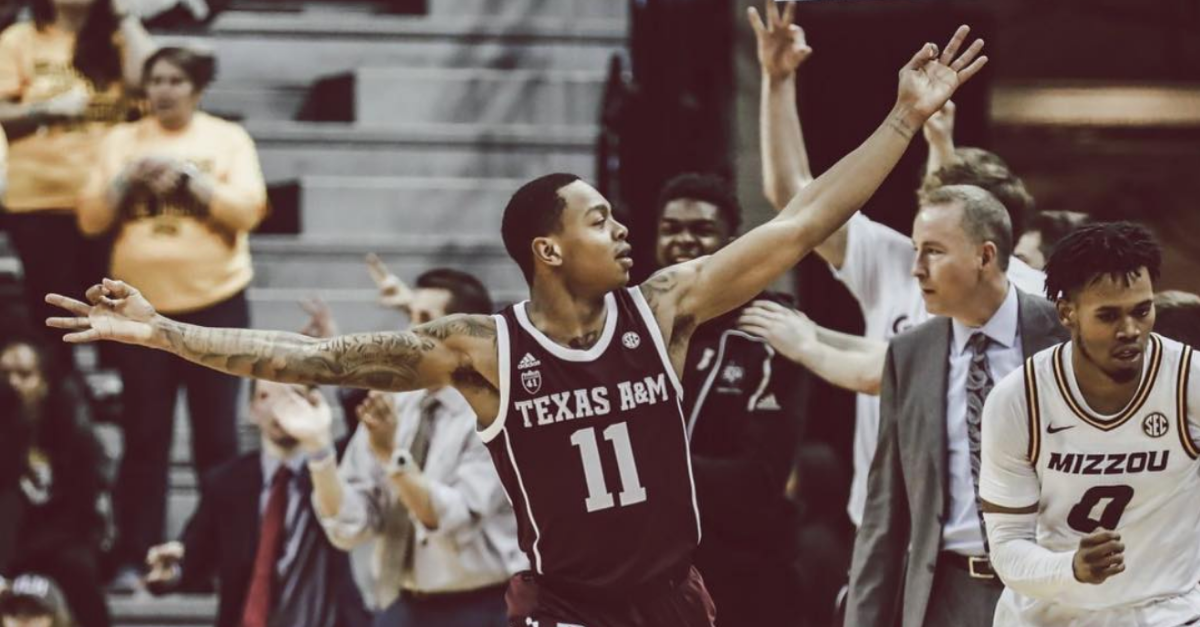 Instagram: @aggiembk
Although Texas A&M's season is not going as well as planned, the Aggies are still showing a lot of fight and playing hard for head coach Billy Kennedy. That was evident on the road Saturday when the Aggies took down the Missouri Tigers inside Mizzou Arena to snap their three-game losing streak.
Some would say that Texas A&M got lucky in the 68-59 win in Columbia because Missouri was short-handed. The Tigers were already without point guard Mark Smith, but as fate would have it, they were also without center Jeremiah Tilmon, who actually missed his first college game ever due to an emergency wisdom teeth extraction.
So to be honest, the Aggies did get a huge break. However, they aren't given enough credit for their effort in this game. They could have laid down when the Tigers started to pull away, but didn't and came away with a big road win to improve to 9-13 overall and 2-8 in SEC play this season.
RELATED: Texas A&M?s Season May Be Lost, But Fans Aren?t Giving Up Just Yet
Missouri actually thought they were going to catch a break missing two of their best players for this game because they thought Texas A&M was an easy win. The Aggies had been struggling lately and they were playing on the road. The Tigers probably figured if they got up early on the Aggies that they would pack it in and head back to College Station holding the "L."
Luck had nothing to do with it. The Aggies have lost games this season where luck went their way, and they still unfortunately found a way to lose. There were times during the season where they may have appeared to give up, but this night was not one of them.
The game was a tale of two halves, and the Aggies dominated the second half of this game. They outscored the Tigers by 18 points in the final 20 minutes to overcome a 12-point deficit. This was an effort win.
The character of this team is that they will play with pride and fight to the end. Overcoming adversity is a great experience for this team going forward.