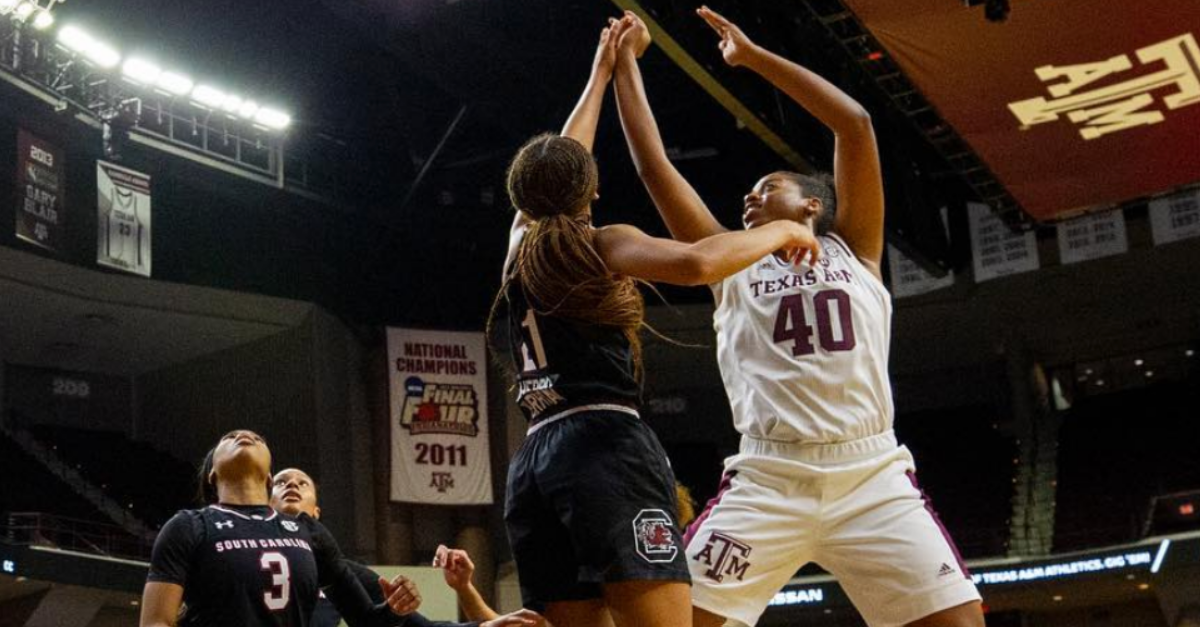 Instagram: @aggiewbb
After winning seven games in a row, the No. 21 Texas A&M Aggies lost their SEC conference opener to No. 23 South Carolina, 60-57, at Reed Arena. The Aggies are now 1-3 against nationally-ranked teams and this trend will hurt them down the road if they are still hoping to get into the NCAA Tournament in March.
Texas A&M still has one of the better overall records in the SEC at 11-3, but, at the moment, it looks a little out-matched by the SEC?s elite teams such as Kentucky, Tennessee, and Mississippi State.
RELATED: For the Aggie Women to Thrive, It Starts with Beating the Bullies
What?s causing the Aggies to shrink against the stiffer competition? One of the easiest things to point to, once again, is poor shooting in the second half.
One of the biggest issues is that Aggies head coach Gary Blair is trying to make star Chennedy Carter do too much. She is the team?s leading scorer and the coaching staff insists on matching Carter up with the toughest scoring guard on the other team. Carter definitely holds her own in the beginning of games, but after exerting so much energy on the defensive end on a tough assignment, her scoring suffers.
For example, toward the end of the game, Carter was fouled on two of Texas A&M?s late possessions, but she made just two of her four free throw attempts. Her legs were shot. Meanwhile, South Carolina?s superstar guard Te?a Cooper finished the night with 24 points, seven rebounds and six assists to lead her team, including the final two free throws with 6.3 seconds left. Carter threw up a prayer at the end, but the shot never had a chance.
If the Aggies want to continue having success, they are going to have to figure out how to scheme better. Carter cannot be expected to lead the team in buckets made, and be a lock down defender. It can be appreciated that Coach Blair wants her to be a stronger defender, but this strategy is not sustainable against the better teams. Committing another guard to defense and allowing Carter to rest a little more of defense is a better way to go. Perhaps even playing zone from time to time.