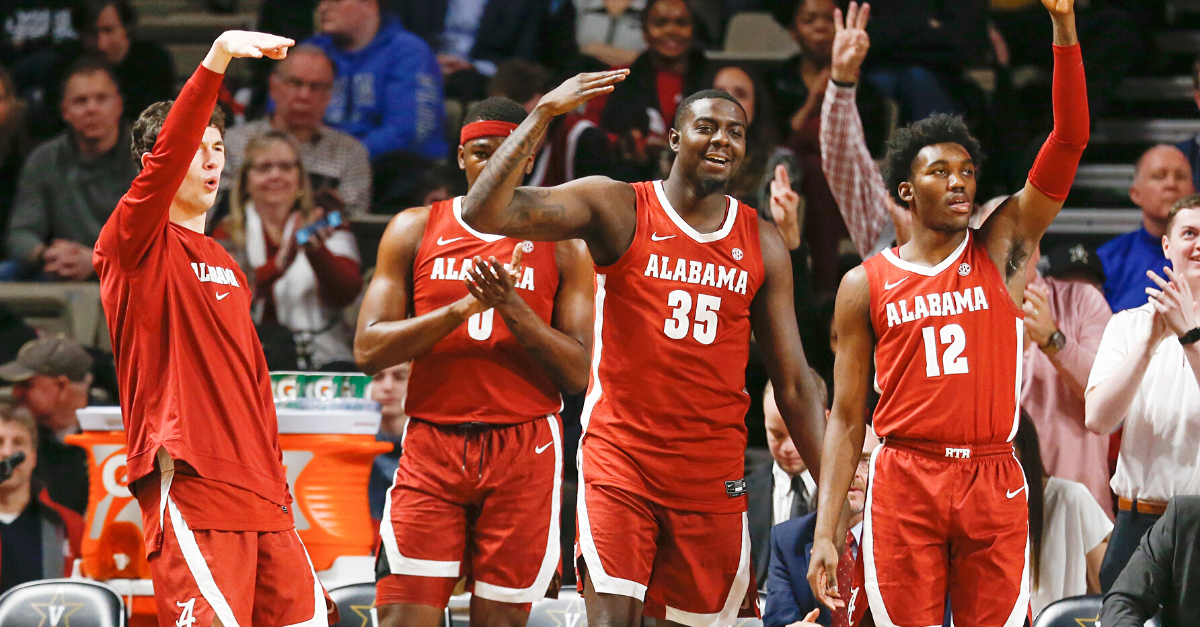 AP Photo/Mark Humphrey
Editor's Update: The 2020 basketball season was canceled due to the spread of COVID-19 and coronavirus outbreak. Alabama finished the shortened season with a 16-15 record.
The Alabama Crimson Tide men's basketball team has a new face at the helm. Nate Oats takes over for Avery Johnson, who spent four years in Tuscaloosa and mutually agreed to part ways with the program last March. Oats comes from Buffalo with four years of head coaching experience. He led the Bulls to the NCAA Tournament three times.
To recap the 2018-19 year, Alabama finished with an 18-16 season record and went 8-10 in the SEC. They ended the season on the wrong end four of their last five games. Despite the late-season skid, they entered the NIT as a one-seed with home-court advantage, but were defeated by Norfolk State by a final score of 80-79 in the first round. It was a heartbreaking loss for the home team and a disappointing finish after reaching the second round of the NCAA Tournament in 2017-18.
This season, the Tide look to bounce back behind the play of sophomore guard Kira Lewis Jr. Lewis led the team in scoring last year and excels in crunch time. Junior John Petty Jr. returns and brings experience and intangibles that don't show up in the box score. Incoming four-star recruit Jaden Shackelford will be another viable scoring option.
The Alabama basketball team plays in the Battle of Atlantis against North Carolina, Iowa State, and Southern Miss before conference play. In the SEC, they face Georgia, rival Auburn, Mississippi State (including a road matchup in Starkville), Ole Miss, Kentucky, South Carolina, and end the season against Missouri in Columbia.
Fans are eager to see how Oats performs in his first season as head of the program. The Tide hope to roll all the way to March.
Alabama Men's Basketball Schedule 2019-20
Oct 27: GEORGIA TECH (exhibition)
—
Nov. 5: PENN
Nov. 11: FLORIDA ATLANTIC
Nov. 15: at Rhode Island
—
Bad Boy Mowers Battle 4 Atlantis
Nov. 19: Furman
Nov. 27: North Carolina
Nov. 28: Iowa State
Nov. 29: Southern Miss
—
Dec. 6: STEPHEN F. AUSTIN
Dec. 14: at Penn State
Dec. 18: at Samford — Chick-Fil-A Birmingham Classic (Birmingham, AL)
Dec. 21: Belmont — Rocket City Classic (Huntsville, AL)
Dec. 29: RICHMOND
—
Jan. 4: at Florida*
Jan. 8: MISSISSIPPI STATE*
Jan. 11: at Kentucky*
Jan. 15: AUBURN*
Jan. 18: MISSOURI*
Jan. 22: at Vanderbilt*
Jan. 25: KANSAS STATE — Big 12/SEC Challenge (Coleman Coliseum)
Jan. 29: at LSU*
—
Feb. 1: ARKANSAS*
Feb. 4: TENNESSEE*
Feb 8: at Georgia*
Feb. 12: at Auburn*
Feb. 15: LSU*
Feb. 19: TEXAS A&M*
Feb. 22: at Ole Miss*
Feb. 25: at Mississippi State*
Feb. 29: SOUTH CAROLINA*
—
Mar. 3: VANDERBILT*
Mar. 7: at Missouri*
SEC Men's Basketball Tournament: Begins March 11 in Nashville, TN
* — Denotes Southeastern Conference Game
**— Games will be televised on either CBS Sports, ESPN, ESPN2, ESPNU or SEC Network