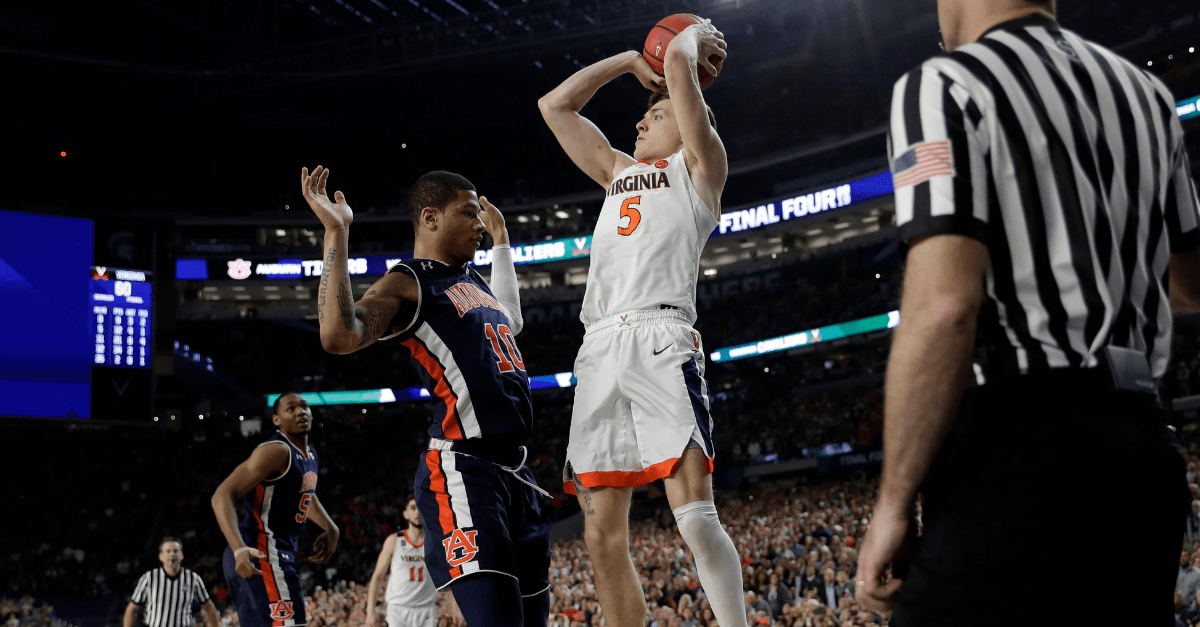 AP Photo/David J. Phillip
Less than a second. That's all that was in the way of the Auburn Tigers and Monday night's NCAA Tournament national championship game against the Texas Tech Red Raiders. Unfortunately, it wasn't meant to be.
The Tigers had fought back from a double-digit deficit in the second half against the Virginia Cavaliers to take a 62-60 lead on Saturday night at U.S. Bank Stadium in Minneapolis, Minnesota. However, a shooting foul was called on Auburn's Samir Doughty with less than a second to go and UVA's Kyle Guy guy made all three free throws to end Auburn's Cinderella run.
RELATED: Why Bruce Pearl Deserves to Be Auburn?s Highest-Paid Head Coach
It was a controversial ending, but it shouldn't take away from the season Auburn had. The Tigers had a dream season full of more ups than downs. From trailing in-state rival Alabama in the SEC standings with a sub-.500 conference record to going undefeated in March, including winning eight straight games to close out the regular season and win the SEC Tournament before the Big Dance.
Once the Tigers got to the NCAA Tournament, they continued to shine by beating New Mexico State, Kansas, North Carolina, and SEC foe Kentucky to reach the program's first-ever Final Four.
Needless to say, after going 30-10 overall, Auburn head coach Bruce Pearl is proud of his team and so are fans like Rendi Mezick.
"I am so proud of my Auburn Tigers. They did something historic. Something that's never been done before in the state of Alabama," she told ABC 33/40 News. "I am most proud of the integrity they have shown through this process. I am very proud of my team."
This group of Tigers was the first and only men's basketball team from the state of Alabama to make a Final Four. Auburn's women's basketball team made it in 1988, 1989 and 1990. The Alabama Crimson Tide women's program made a Final Four appearance in 1994.
At the end of the day, this was a HUGE accomplishment that will go down as a historical one, one that Bruce Pearl and his staff can build off of in the near future and one that Auburn fans can be proud of for years to come.