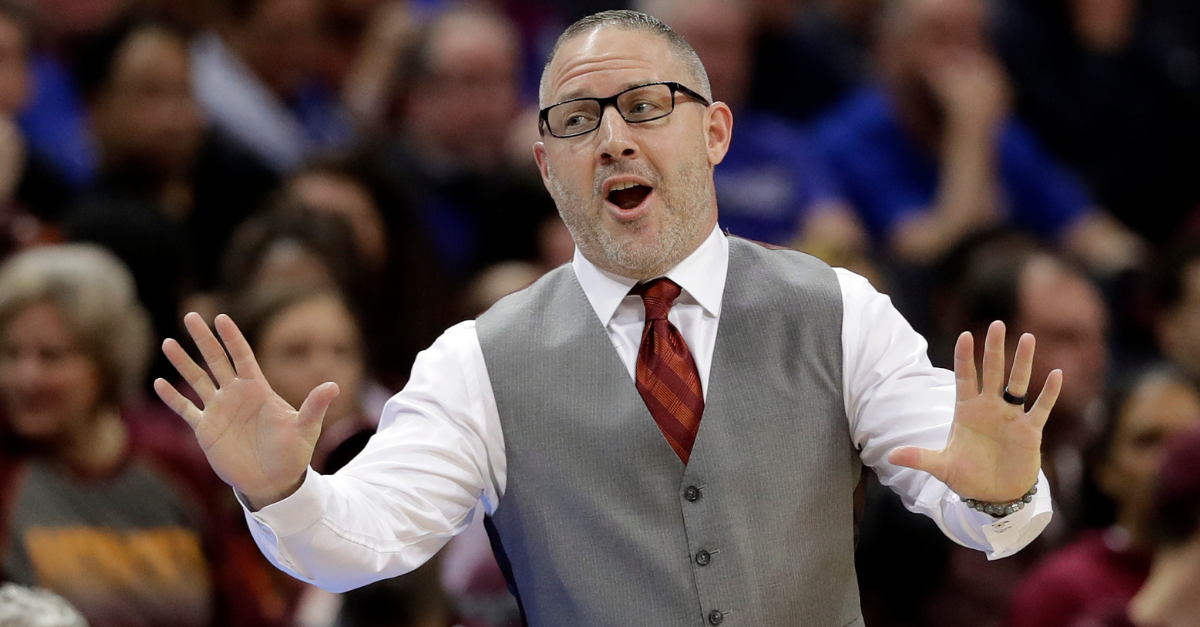 AP Photo/Chuck Burton
As the college basketball world already knows, Billy Kennedy is out and Buzz Williams is the new head coach of the Texas A&M Aggies. That's not just a rumor anymore. It's the real deal.
Just a year ago, the Aggies had made it to the Sweet 16, so the expectations for the 2018-19 season. Unfortunately, the Aggies finished with a disappointing losing record of 14-18 and sparked athletic director Scott Woodward to make a change.
There were many reasons for this failed season under Kennedy. Injuries to players in Texas A&M's backcourt, failing game plans, and the Aggies losing close games they should have won. The fan base in College Station and throughout Texas could see a change coming from a mile away. Now that the decision has been made, the only question is: What type of change will Buzz Williams bring to the program?
Here's what we know right now:
— At Virginia Tech, Coach Williams was pretty successful. He went 100-69 and led the Hokies to three consecutive NCAA Tournaments. He also led Marquette to the Big Dance five out of the six seasons he was there. So, we can conclude that he's a good coach with a winning philosophy.
— People are excited that he attended Texas A&M and that he coached here before. Being an alum and a former coach in College Station is a huge advantage. Unlike football coach Jimbo Fisher, who has come in and has to win his way into love and admiration, Williams arrives as the favorite son already. All he really has to do is go better than 14-18. Plus, the new buzz his presence is generating will also drive ticket sales.
— The Atlantic Coast Conference (ACC) with the likes of Duke, North Carolina, Virginia, and Florida State is a lot tougher than the SEC with LSU, Kentucky, and Auburn as their powerhouses. The expectations will be high since the Aggies underachieved last season and the competition will be weaker than what Williams coached against in the ACC.
It's too early to predict what will happen with recruiting for next season, but what we do know is that Texas A&M has a great coach that is charged with changing the culture and getting the Aggies back to their winning ways. He's definitely qualified and has the support of the people from the very beginning.