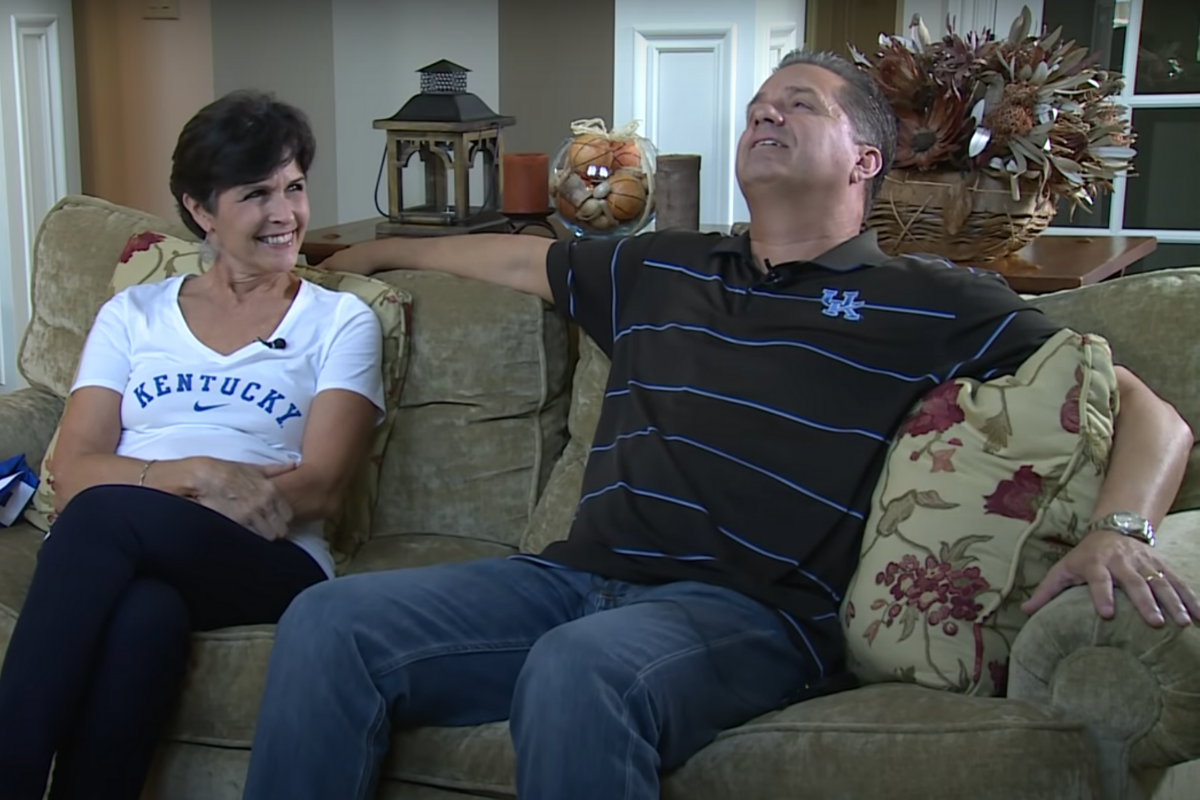 Screenshot from YouTube
Kentucky men's basketball coach John Calipari is as boisterous as they come.
Since his days as an assistant coach with Kansas, Pittsburgh, and the NBA's Philadelphia 76ers to leading UMass, the New Jersey Nets, Memphis, and UK, Coach Cal has never been shy about demanding the best from his players.
The Moon Township, Pennsylvania native's personality on the court is well-documented on primetime ESPN games. His life off it is kept up-to-date by his wife Ellen Calipari on social media.
Ellen has the most entertaining Instagram account in the family.
John Calipari's Wife Ellen Calipari
RELATED: The Greatest Coaches in Kentucky Basketball History, Ranked
John and Ellen married in 1986. Together they have three children: daughters Erin and Megan and son Brad.
Erin Calipari is a neuropharmacologist and professor at Vanderbilt who played basketball at the University of Massachusetts. Megan Calipari is a plant-based pastry chef. Brad Calipari played college basketball under his father at the University of Kentucky for two seasons. He graduated in 2019 with two years of eligibility remaining and transferred to the University of Detroit Mercy, where he plays on the basketball team.
Ellen's posts give us an in-depth look at the Calipari family's everyday life in Lexington. She posts about taking the trash cans to the curb frequently, masterfully using hashtags to narrate the miracle it is when John completes the task. John isn't her husband but her roommate.
Mrs. Calipari is just as good at dealing with her roommate as she is mocking her daughters. She also shows support to Brad and the family pets. She wished her son a happy birthday on November 11.
(Six-year-old Brad knew his mother like the back of his hand. Who can out pizza the Hut? #brownies)
When Mrs. Coach Cal isn't delighting everyone's Instagram feed, she can be found supporting her roommate and the Kentucky Wildcats at Rupp Arena against the likes of Missouri and Florida.
The 2015 Naismith Basketball Hall of Fame Inductee and Kentucky basketball head coach could lose in the first round of the NCAA Tournament to Bradley and the wrath he would deal with from fans wouldn't compare to what he would face from his roommate if he didn't take out the trash.