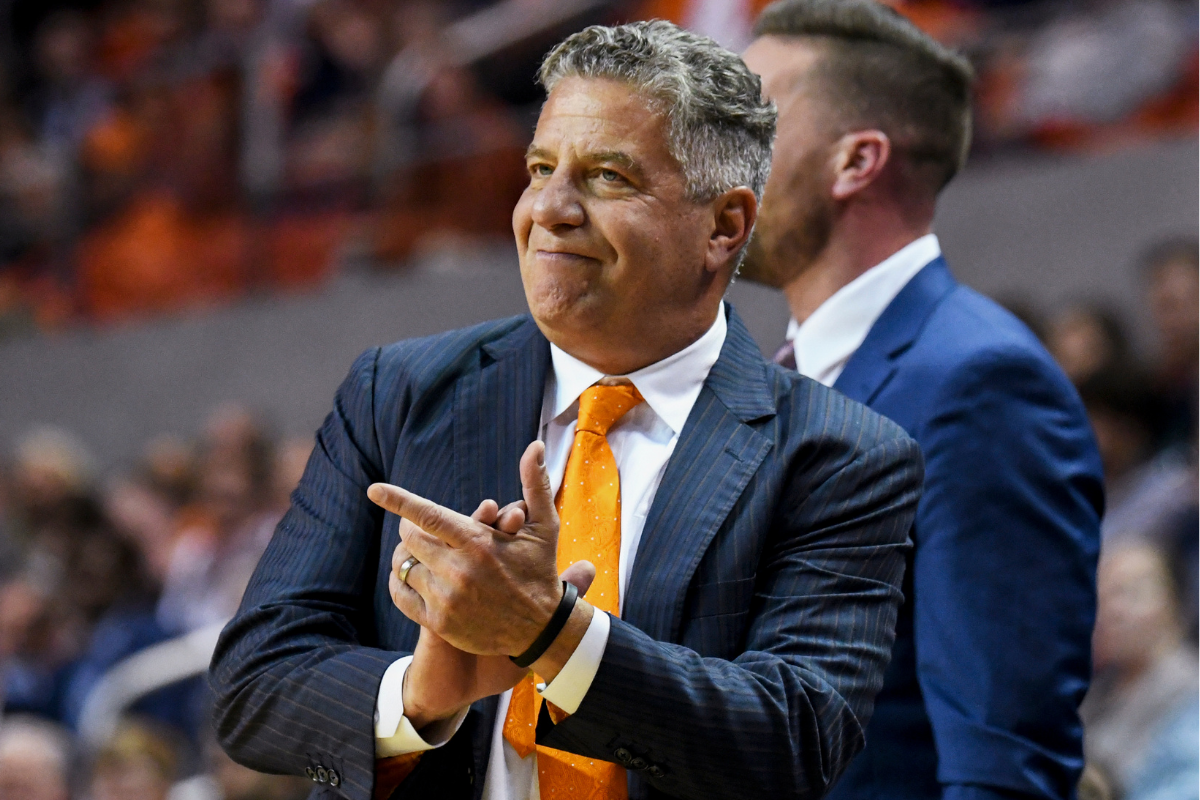 AP Photo/Julie Bennet
College basketball programs are built under the influence of the right head coach. The first item to look for is fit, then recruiting high school kids, and finally, winning. They call it the Holy Trinity of college sports.
At Auburn University, the Tigers have found their guy in men's basketball coach Bruce Pearl.
The charismatic, hoarse-voiced Pearl has taken the Tigers from the bottom of the SEC to competing for national championships.
Pearl's success on the court has translated to a happy life off it. He and his wife, Brandy, have embraced Auburn, Alabama as their home.
Bruce Pearl's Wife Brandy Pearl
RELATED: Gus Malzahn?s Wife Has No Problem Speaking Her Mind
Bruce Pearl's first marriage was to Kim Pearl from 1982 to 2007. After 25 years, the couple split.
Pearl hopped back on the horse and started dating Brandy Miller, a native of Sevierville, Tennessee, a town 30 miles southeast of Knoxville, in 2008. A year later, on August 29, 2009, the two said, "I do."
The couple shares more than a happy marriage, they share a love for dogs. Together they co-own Grove Bark Inn, a luxury dog resort, and Zoom to Groom, a mobile pet grooming service, with business partners Steve and April Harper.
Pearl joked he sometimes plays second fiddle for his wife's affection to their dog Stewy.
Bruce Pearl's Children
Bruce Pearl, a Boston, Massachusetts native and Boston College grad, shares four children with his ex-wife Kim Shrigley: daughters Jacqui and Leah, and sons Steven and Michael. Leah works for Turner Sports and Steven is an assistant coach under his father.
The college basketball coach has found his groove on the sideline and as a family man. Stints at Stanford, Iowa, Division II Southern Indiana, Milwaukee, and Tennessee led to Auburn. There were some speed bumps and Skittle-colored suits along the way, too.
The Auburn Tigers are becoming annual participants in the NCAA Tournament and a supplier of NBA players. Pearl's squad reached the Final Four for the first time in program history in 2019. He prides his team's identity on playing through adversity, as stated to ESPN's Scott Van Pelt prior to the national semifinal matchup against Virginia.
Pearl places family above all else, no matter how grueling the regular season may be. The Auburn coach is involved in the community and goes home to a loving a supportive wife each night.