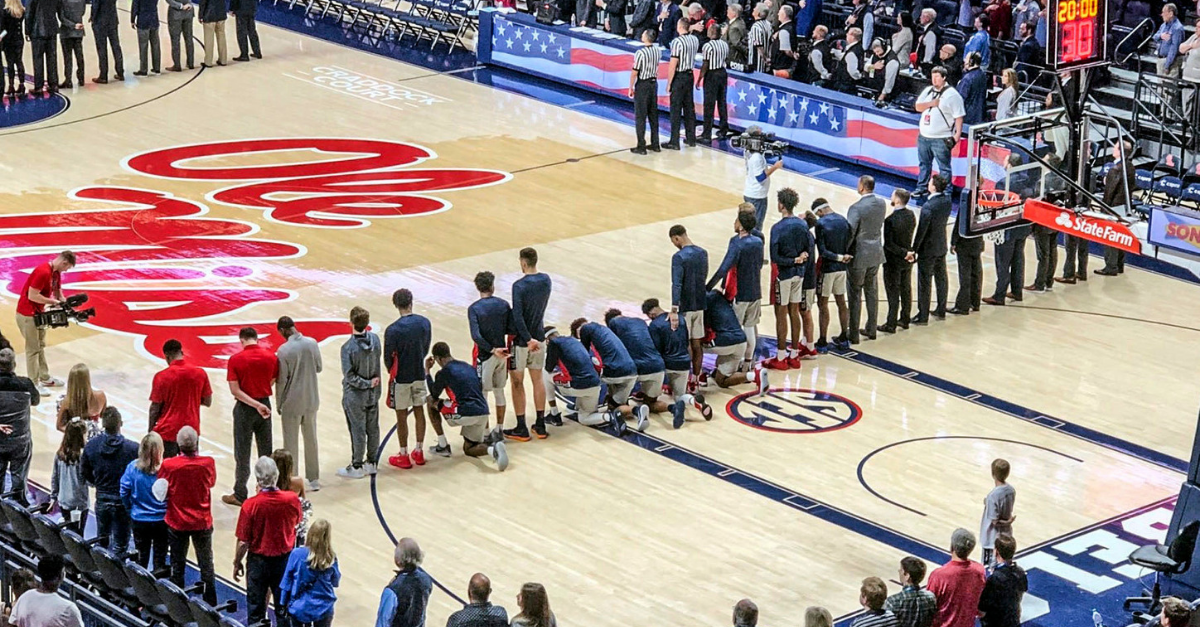 Nathanael Gabler/The Oxford Eagle via AP
The Ole Miss Rebels men?s basketball team did more than make a statement on the court with their victory against Georgia. They made an emphatic statement against any and all hate prior their game on Saturday.
Hours before the start of Saturday afternoon's tilt against Georgia, members of a pro-Confederate group decided to hold a rally on the Oxford campus, which did not sit well with members of the community and the Ole Miss basketball team. During the national anthem, eight players took a stand, or in this case a knee, to protest this group being on their campus uninvited.
Before the Rebel players even knelt, the team did have a conversation with Ole Miss Athletic Director Ross Bjork, who had no problem with what the team did. Bjork said the group was not welcome on the Ole Miss campus and added, "that?s not right because that?s not the Ole Miss that I know."
"This was all about the hate groups that came to our community to try to spread racism and bigotry. It's created a lot of tension for our campus. Our players made an emotional decision to show these people they're not welcome on our campus, and we respect our players' freedom and ability to choose that."

? Ole Miss coach Kermit Davis, via Washington Examiner
Junior guard Breein Tyree, who also chairs of the SEC Basketball Leadership Council, is one of the players who protested during the National Anthem and addressed the negative attention their demonstration received on Twitter:
The Ole Miss athletic program has suffered greatly over the years because of its racist past, and they can?t seem to escape it. The school has tried to fix its image over the years by changing mascots and removing the controversial Rebel flag that was used as symbol at many University of Mississippi athletic events.
It was former Ole Miss head football coach Tommy Tuberville back in the 1990s who finally said it was time to do away with the Confederate flag because it was hurting the school and its athletic program. Eventually, the school listened.
Still, that hasn?t stopped groups like this from rallying on campus. I remember being a student at the University of Alabama when all of this happened. I was at an Ole Miss-Bama tennis match once and overheard a couple Ole Miss fans discussing how "they" ? I guess referring to me because I am African-American ? took away their flag. Those condescending tones during the whole conversation were very dismissive and stuck with me.
There are many Rebel fans who supported the players in their demonstration, but others weren't so receptive. Many of them remain supporters of the South's Confederate lineage and, like those people at that tennis game over 20 years ago, still don't want to understand the problem even after hearing from the players themselves.
It was nice to see that despite the negative backlash, the Ole Miss basketball players took a stand against hate and the school's administrations supported them. That is something we can all cheer.