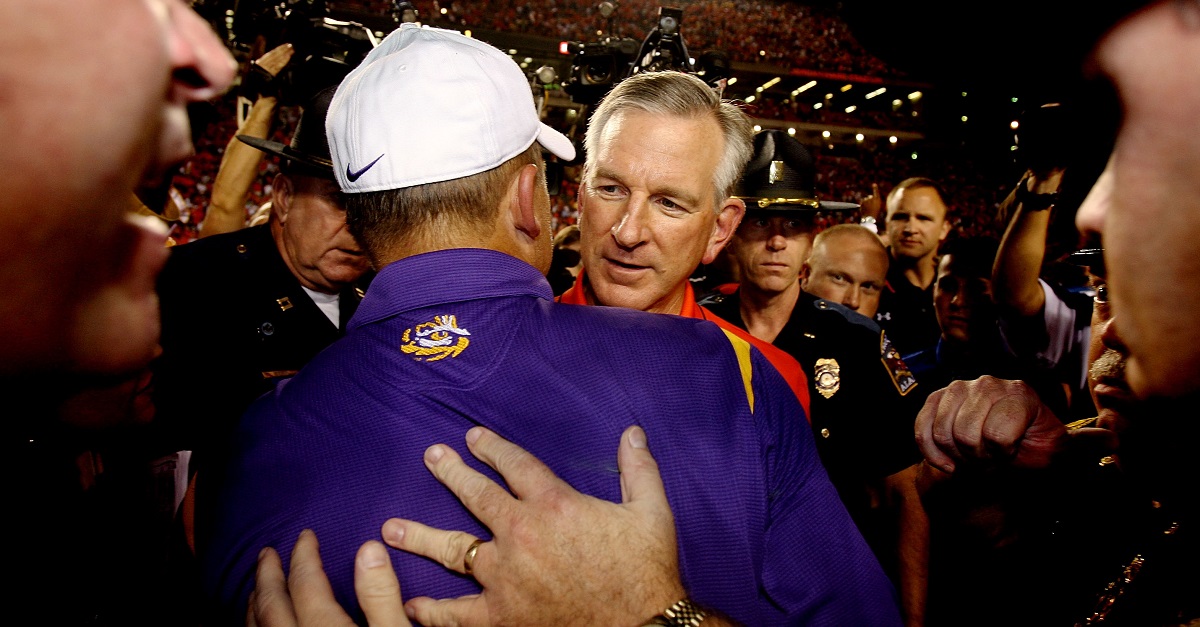 Doug Benc/Getty Images
AUBURN, AL - SEPTEMBER 20: Head coach Les Miles of the LSU Tigers is congratulated by head coach Tommy Tuberville of the Auburn Tigers after LSU's victory at Jordan-Hare Stadium on September 20, 2008 in Auburn, Alabama. (Photo by Doug Benc/Getty Images)
When Tommy Tuberville took his first collegiate head coaching job at Ole Miss in 1994, he inherited a program under several NCAA sanctions from the previous administration.
Ole Miss is in trouble yet again after Hugh Freeze resigned as head coach after the school found a "pattern of personal misconduct," and Tuberville thinks the schools needs to fire the entire administration and start over.
Tuberville appeared on the Freddie and Fitz Show on ESPN Radio, and he said Ole Miss needs a clean slate.
Related: Houston Nutt?s lawyer issues scathing statement on Hugh Freeze following shakeup at Ole Miss
"Personally, I think they just need to go in and wipe out the entire administration, get everything cleaned out and start over ? because obviously people knew what was going on ? and just get back to being Ole Miss and clean the slate and get people in there that want to get the job done the right way," Tuberville said
"It?s just a sad day for them because people in that state really want to win games and want to be competitive at Ole Miss. And they?ve done a great job to this point and now they?ve had a terrible setback."
Interim Ole Miss coach Matt Luke was the first player Tuberville recruited at Ole Miss, and Tuberville said he plans to visit Luke to help him with the process this season.
"He?ll do well," Tuberville said. "It?s just his hands are going to be tied in a lot of situations. .. He?s just got to work through these tough times."
Tuberville, who was just hired as an analyst for ESPN, left Ole Miss for Auburn in 1998. He coached for 10 years at Auburn before coaching at Texas Tech and Cincinnati.
(h/t 247Sports)