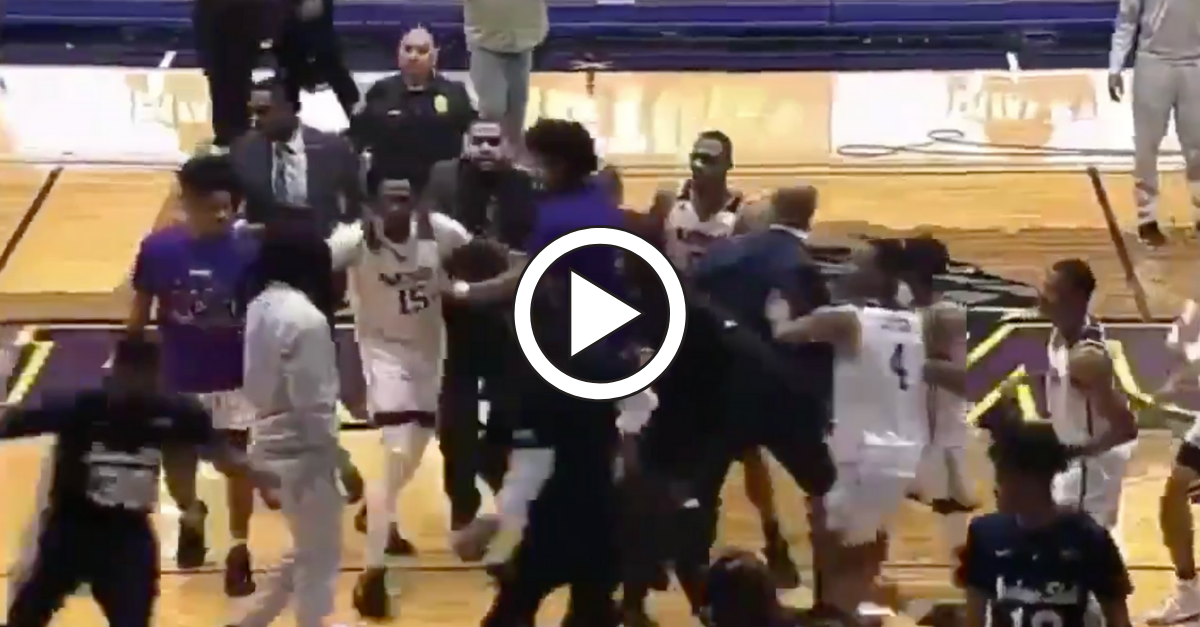 Screenshot from Twitter
Basketball fights happen at every level of the sport. High school athletes will brawl over anything, college basketball hoopers duke it out with rival schools and nothing tops the NBA's "Malice at the Palace."
This season, we've already had a handful of NCAA games turn from harmless basketball to a WWE Smackdown-style event. One player wielded a folding chair in the Kansas-Kansas State brawl, and the Texas Southern and Alabama State women's basketball team landed more punches than they did shots.
In Monday night's men's basketball game between SWAC rivals Prairie View A&M Panthers and Jackson State Tigers, things turned ugly and a brawl broke out at the end of the game.
Prairie View A&M-Jackson State Fight
RELATED: Girl Roughly Pulls Opponent?s Hair in High School Basketball Game
Tensions first flared when Jackson State forward Jayveous McKinnis was called for a technical foul for fouling hardly on a Prairie View A&M player with less than a minute to go in the second half.
Things then escalated after the game in the handshake line. Jackson State's Dontelius Ross and Prairie View's Darius Williams bumped into each other during postgame handshakes, per ESPN, which led to Ross shoving players to charge at Williams. Ross' teammates appeared to hold him back, though.
The scuffle made its way to the other end of the floor, where Jackson State senior guard Khalil Spencer rushes toward a Prairie View player and ends up on the floor.
It's hard to tell exactly what's going on during all of it, but thankfully the skirmish doesn't last long thanks to help from other players, coaches and police officers.
The Panthers won the Prairie View A&M-Jackson State game Monday night, 70-61, but this might not be the last of things between these two Southwestern Athletic Conference rivals.