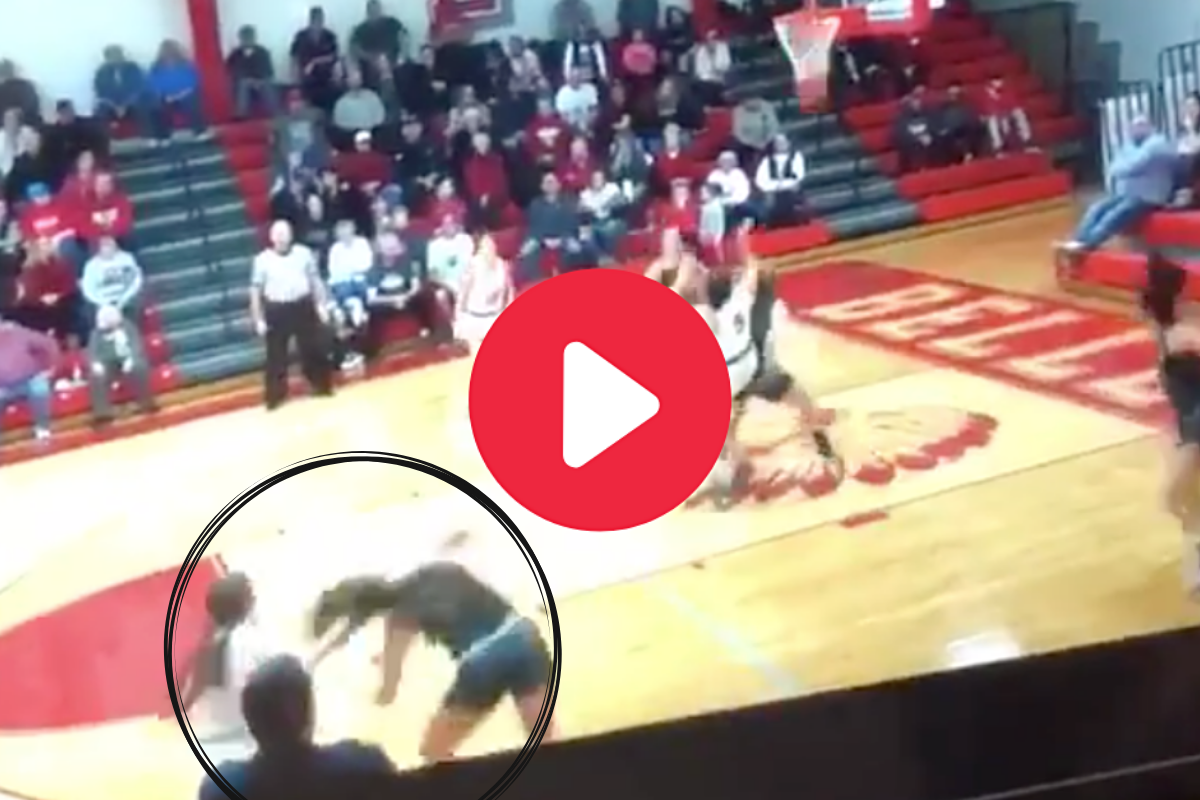 Screenshot from Twitter
Basketball can be a very testy sport. Intentional or not, contact is bound to occur when players are running full speed at each other while dribbling a ball. This can lead to some of the uglier fights we've seen, including the Kansas-Kansas State brawl in which one player nearly wielded a chair as a weapon and the infamous "Malice at the Palace" between the NBA's Detroit Pistons and Indiana Pacers.
In a sport where there's a fine line between irking your opponent a la the blowing legend Lance Stephenson and just flat-out committing gross fouls like the king of tripping Grayson Allen, some acts just go too far.
Pulling a girl to the ground by her hair qualifies under that category.
HS Basketball Girl Pulls Opponent's Hair
In an Ohio high school basketball game between Bellevue and Norwalk on Saturday night, one Bellevue player made a 3-pointer and then yanked a Norwalk player by the ponytail sending her down to the hardwood floor.
The incident in the girls basketball game was all captured on video and made its rounds on social media.
Here's the scoop: the Bellevue player's name is Casey Santoro, the girls basketball team's star guard. She signed a Letter of Intent to play for Kent State University, a NCAA Division I program. She's averaging 25.4 points, 5.3 rebounds, 5.2 assists and 5.5 steals per game, according to the Norwalk Reflector.
The Kent State women's basketball team Twitter account hasn't addressed the incident, and they may not, but the coaching staff might want to look at the type of basketball player they're getting.
The Norwalk player pulled to the floor, Olivia Ward, did not return to the game after what transpired and is still recovering from the incident.
School Officials Respond to Video
RELATED: Postgame Handshake Quickly Turns Into Ugly Brawl After Title Game
Officials from both school districts have commented on the video, and it sounds like Santoro was disciplined. What the discipline was, though, is not known.
Bellevue superintendent Kim Schubert initially told the Norwalk Reflector the school's athletic director and school officials were looking into the incident and their ultimate goal is positive sportsmanship. She told WTOL.com on Tuesday that disciplinary action had been taken.
"Since viewing the video on Saturday, with the knowledge that no foul was called during the game, we quickly came to the conclusion that it would be our obligation to address the incident with disciplinary action and we have done so. I hope that this clarification will provide a conclusion to this situation leaving no doubt that the situation was immediately addressed. Our priority is the health and safety of all student athletes, including athletes at opposing schools and our own athletes."
Norwalk superintendent George Fisk did not sound pleased in an email he wrote to WTOL.com:
"First and foremost, I am concerned with the health of our injured student athlete. She is a fantastic hardworking young lady and in no way deserved the aggressive unsportsmanlike action taken against her. I have been in contact with the administration of Bellevue City Schools, they have assured me that appropriate action will be taken upon the conclusion of their investigation. Additionally, it is my hope the Ohio High School Athletic Association will not remain silent and uninvolved in this situation."
Ohio High School Athletics Association (OHSAA) senior director of communications Tim Stried wrote to WTOL.com that it was aware of the video and would first let Bellevue address the situation within.
All I know is this whole thing was ugly and uncalled for. High school sports should, at the very least, teach kids sportsmanship comes before winning or anything else.
Casey Santoro still made it to Kent State's campus, so I guess there wasn't much blowback.
This post was originally published on February 11, 2020.