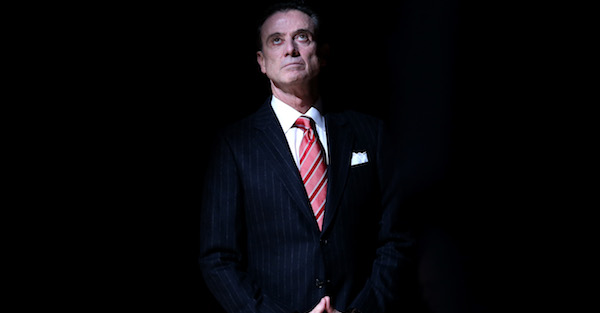 Andy Lyons/Getty Images
LOUISVILLE, KY - FEBRUARY 01: Rick Pitino the head coach of the Louisville Cardinals is introduced before the game against the North Carolina Tar Heels at KFC YUM! Center on February 1, 2016 in Louisville, Kentucky. (Photo by Andy Lyons/Getty Images)
The FBI's investigation into numerous college basketball coaches has already resulted in the arrests of four different assistants and the firing of one legendary coach in Rick Pitino. Apparently the initial wave of arrests were just the "tip of the iceberg".
A recent report from the Los Angeles Times indicates that a many more coaches could be fired and possibly arrested due to widespread bribery and corruption throughout college basketball.
USC associate head coach Tony Bland, Arizona assistant Book Richardson, Auburn assistant Chuck Person, Oklahoma State assistant Lamont Evans, Adidas employee Merl code and clothing manufacturer Rashan Michel were among those charged last month.
Related: Fallout from college basketball scandal begins as 5-star recruit decommits from Louisville
One former coach believes the investigation will lead to "40-50 job openings" in the sport by the spring. One person involved with the case said they expect more coaches and agents to be charged later this month, and described the first series of arrests as the "tip of the iceberg."
Pitino was fired by the school after it was reported that Louisville was able to secure the commitment of a recruit by using the school's connection with Adidas to potentially land him a shoe deal once he leaves school. Pitino denied wrongdoing, but the school fired him and athletic director Tom Jurich due to the incident.
The assistant coaches who were charged were caught after the FBI conducted a sting operation. There were hidden camera and microphones, undercover agents, and witnesses who helped the FBI bring down some of the coaches. The coaches are accused of bribing players and connecting them with agents in exchange for the player committing to their school. They are also accused of providing payments to players and their families.
Major programs throughout the country are certainly nervous, and after the way Pitino was fired, it wouldn't be shocking if other big name coaches were named and let go.
After all, William F. Sweeney Jr. of the FBI did warn college programs that "we have your playbook." In other words, expect bad news from more programs and coaches in the near future.
(h/t Los Angeles Times)