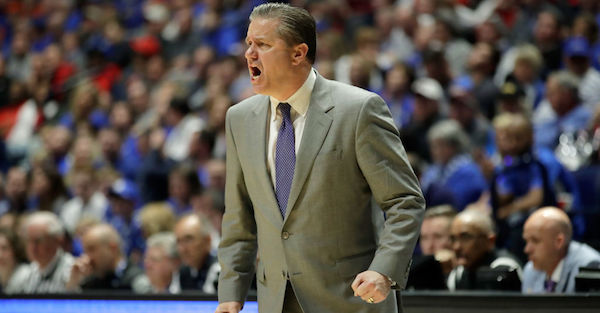 Andy Lyons/Getty Images
NASHVILLE, TN - MARCH 10: John Calipari the head coach of the Kentucky Wildcats gives instructions to his team against the Georgia Bulldogs during the quarterfinals of the SEC Basketball Tournament at Bridgestone Arena on March 10, 2017 in Nashville, Tennessee. (Photo by Andy Lyons/Getty Images)
Kentucky coach John Calipari took his used car salesman persona to the NBA Draft on Thursday and it seems there was at least one Power 5 coach who wasn't too fond of the act. Calipari had three players go in the top 14 and was at the draft to sit with all of them and their families before each pick. After Bam Adebayo was taken — the last of the picks at 14 to the Miami Heat — Calipari was at the desk with the ESPN guys and basically was recruiting the entire time he was on air.
RELATED: John Calipari's future at Kentucky is crystal clear following latest move
That didn't sit too well with North Carolina coach Roy Williams who thought it was a pretty selfish move as well as making sure he was seen by cameras each time one of his players was picked. Williams was on the David Glenn Show and explained why he wasn't a fan of the approach.
?When I was at Kansas, I never went to the draft because I always felt like it was a special time for the families. It was not anything ? you know, I kid John Calipari because he?s always jumping up there and I said, I don?t want to be jumping up and have a kid grab me or anything like that. John?s so good about it. He says, no, I want them to grab their mom first and then grab me so they see me on TV with them. I said, I?m not doing that, Big John.?
To be fair, Kansas coach Bill Self was also there to see Frank Mason and Josh Jackson get drafted, but he didn't go on television and tell all the recruits watching why they should join him in Lawrence though. While you can be mad at Calipari for taking advantage of the moment, which he does often, the results of his efforts speak for themselves. Since he's been at Kentucky he's had the No. 1 or 2 recruiting class every single year.
[h/t 247Sports]