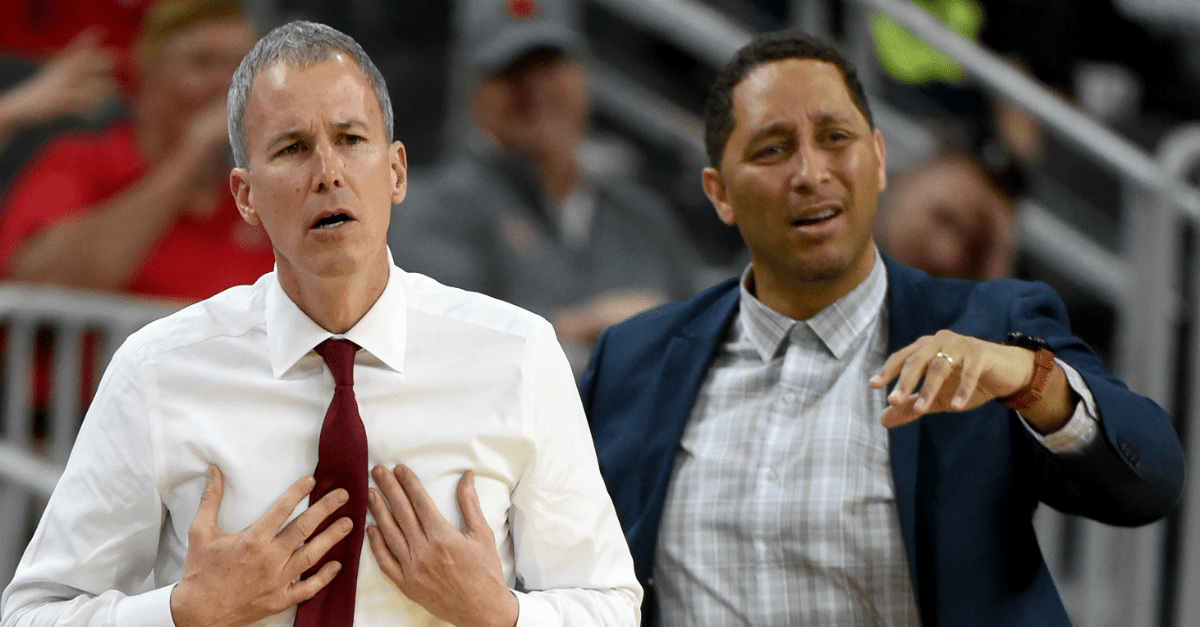 Ethan Miller/Getty Images
LAS VEGAS, NV - MARCH 09: Head coach Andy Enfield (L) and associate head coach Tony Bland of the USC Trojans react during a quarterfinal game of the Pac-12 Basketball Tournament against the UCLA Bruins at T-Mobile Arena on March 9, 2017 in Las Vegas, Nevada. UCLA won 76-74. (Photo by Ethan Miller/Getty Images)
Tony Bland, who was at the epicenter of the FBI's probing of college basketball, is no longer an employee of the USC Trojans basketball program.
Bland pleaded not guilty in mid-November to four charges stemming from allegations he accepted a bribe in return for steering players to use a certain aspiring sports agent and financial advisor. At the time, Oklahoma State assistant Lamont Evans, Arizona assistant Emanuel "Book" Richardson, wannabe agent Christian Dawkins and Adidas employee Merl Code also pleaded not guilty.
As a collegiate talent, Bland played two years at Syracuse before transferring to San Diego State. As far as his coaching career is concerned, he was considered a high-level recruiter.
Given the allegations against him, we can speculate as to why he was such a great recruiter to begin with.
Earlier this season, the USC Trojans opted to stay on the right side of the NCAA rather than attempt to do right by one of its own. The LA Times reported that, by way of the player?s attorney, the Trojans would keep sophomore guard De?Anthony Melton out for the remainder of the season.
Melton, a former four-star recruit and projected future NBA player, had already missed every game at that point.
That also stemmed from the FBI?s probing of college hoops. Federal prosecutors alleged that David Elliott, who is a close family friend of Melton?s, received $5,000 from would-be agent Christian Dawkins. In theory, this would be in exchange for directing Melton to use Dawkins and financial adviser Munish Sood when he eventually joined the NBA ranks.