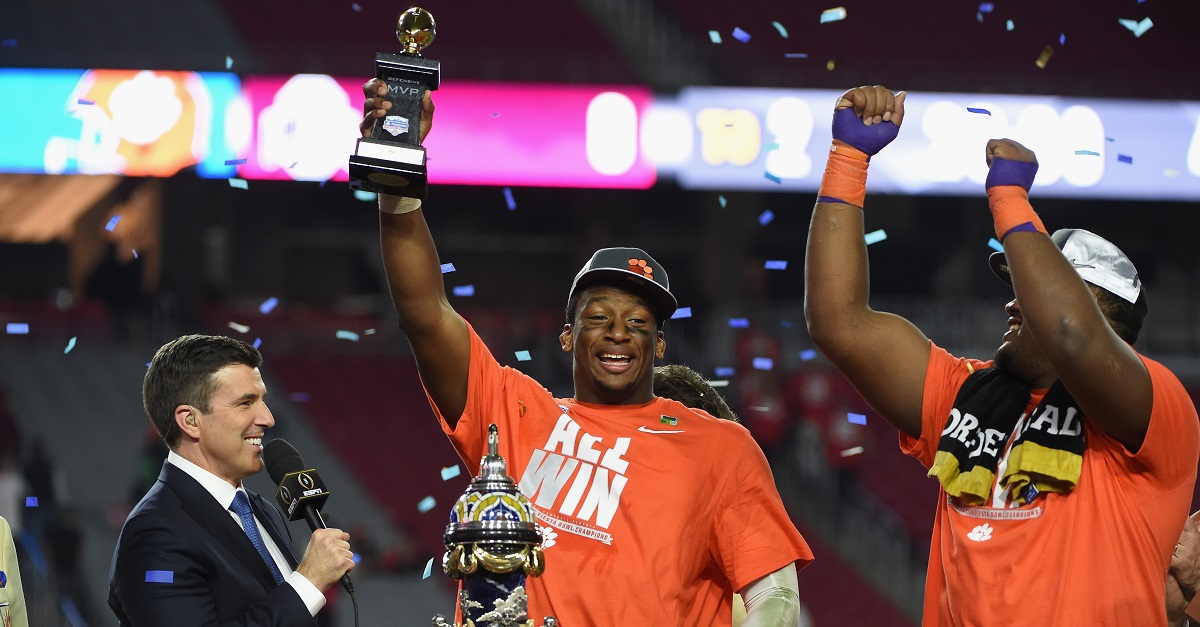 Norm Hall/Getty Images
GLENDALE, AZ - DECEMBER 31: Clelin Ferrell #99 of the Clemson Tigers holds the Fiesta Bowl offensive MVP trophy after the Clemson Tigers beat the Ohio State Buckeyes 31-0 turnover win the 2016 PlayStation Fiesta Bowl at University of Phoenix Stadium on December 31, 2016 in Glendale, Arizona. (Photo by Norm Hall/Getty Images)
Former four-star defensive end Clelin Ferrell has been with Clemson since the 2016 season and was a huge addition to the team as a freshman last year. He recorded 44 total tackles, 12.5 for loss and six sacks. So you can imagine that the schools that missed out on him were pretty upset and Virginia Tech was one of them.
Leading up to this week's game against the Hokies, the Virginia native spoke about spurning them in his recruitment and how one coach was pretty upset that he didn't commit there. He told The State that one of the coaches actually cussed him out after he informed them he was going to choose Clemson.
"I called a coach up and told him that I was going to go to Clemson. That was my thing – I would call the main schools that I was talking to and tell them I was going to go to Clemson and that I was just happy for the opportunity for them recruiting me. When I called and told them, it wasn't the best conversation with him," Ferrell said. "I'm not going to tell you who it was, but let's just say he kinda cussed me out a little bit."
That sounds like a bit of an overreaction, even if Ferrell was one of their bigger targets. Recruiting is big, but there are more important things to get that upset about. The Hokies will get a chance to show Ferrell that they didn't need him after all though this weekend as the two teams will meet for a primetime 8:00 p.m. kickoff on ABC in Blacksburg.
[h/t 247Sports]