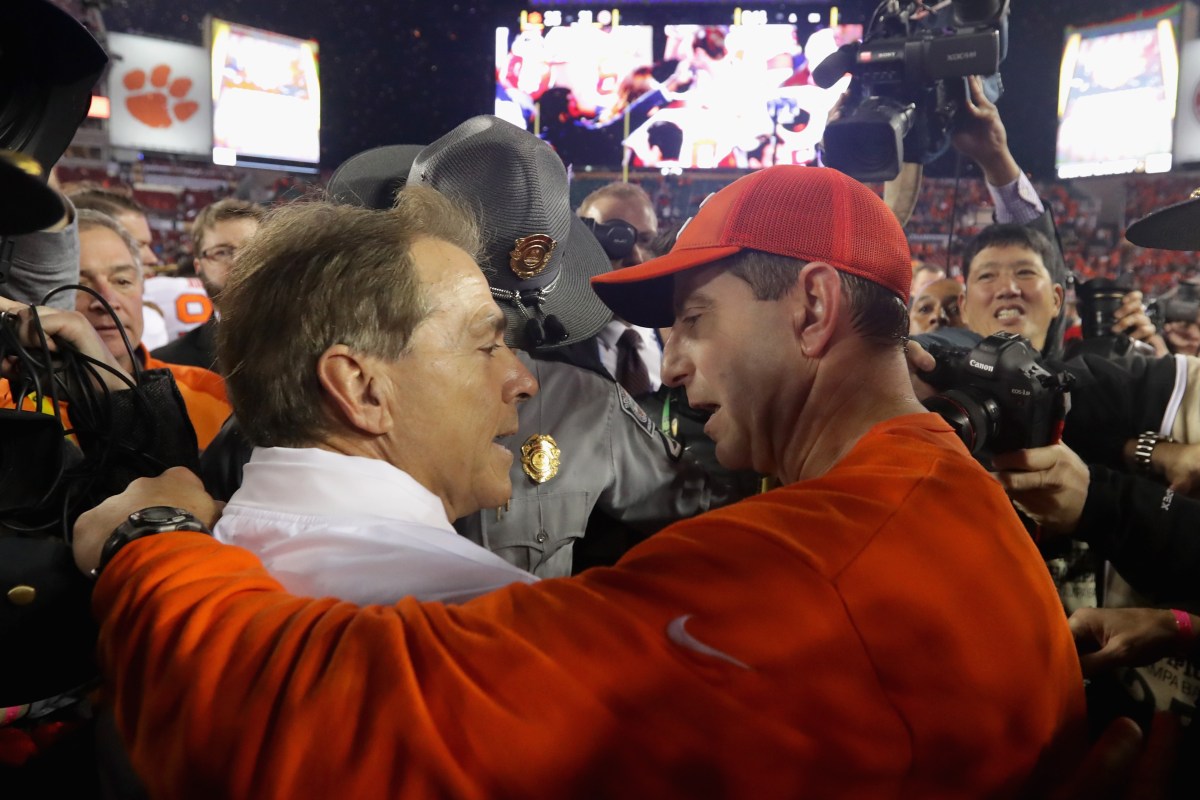 Streeter Lecka/Getty Images
TAMPA, FL - JANUARY 09: Head coach Nick Saban of the Alabama Crimson Tide talks with head coach Dabo Swinney of the Clemson Tigers after the Tigers defeated the Crimson Tide 35-31 in the 2017 College Football Playoff National Championship Game at Raymond James Stadium on January 9, 2017 in Tampa, Florida. (Photo by Streeter Lecka/Getty Images)
Clemson head coach Dabo Swinney spoke with ESPN analysts Kirk Herbstreit and Ian Fitzsimmons on their podcast and was asked about his thoughts on possibly replacing Nick Saban. There have been rumors ever since Swinney led his team to the first of his national title game appearances that he would go back to his alma mater. However, he put those rumors to bed:
"We just beat them [Alabama] for the National Championship I think," Swinney joked. "First of all…anybody that would suggest that or say that I am humbled by that and certainly appreciate anybody that would even think that way that they would want me be a candidate for a job like Alabama or whatever. But that's just kinda the fandom. You know people just naturally make connections and think things like that and they never really consider all factors. I've always said you never say never because you never know what the dynamics will be. Ten years from now, Alabama may call me and want me to come to Alabama and Clemson people may hate me at that point. I may have a terrible president or AD. There are dynamics that change. I have always focused on being great at where I'm at and blooming where I'm planted. All I know is there is nothing we can't do here at Clemson. I don't have to go somewhere else to win at the highest level."
Former Alabama player Alphonse Taylor has said that
he believes Swinney
should be a possible Saban replacement. It would be a natural fit and he's already recruiting on a similar level to Saban. Given the vast resources and recruiting tools he would get at Alabama, he could get even better recruits should he make the move to Tuscaloosa.