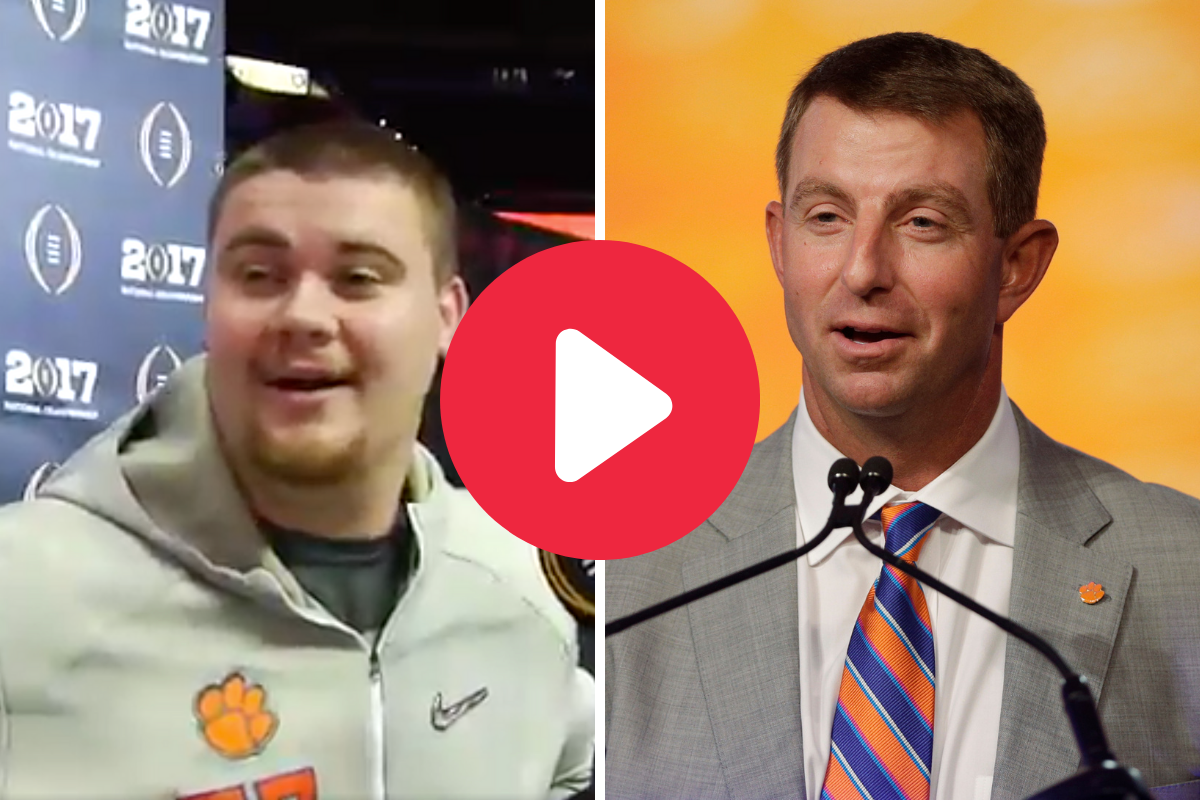 Screenshot from Twitter (left), AP Photo/Chuck Burton, File (right)
Dani Swinney is one of those guys you either hate or love. The Clemson Tigers head coach has been an all-too-familiar face in the College Football Playoff despite constantly complaining about his team being disrespected because its schedule is softer than baby wipes.
Those that love him are either ACC fans or those with a soft spot in their hearts for a kid from Birmingham, Alabama who speaks with way too much southern twang in his voice.
Anyone can do a Nick Saban impression, but few have stepped to the plate and knocked a Dabo impression out of the park. Jay Guillermo?s version is a daggum home run.
Clemson Player?s Dabo Swinney Impression
Jay Guillermo was a two-time All-ACC center for Clemson whose biggest job was protecting Deshaun Watson while opening holes for running backs.
By the time his NCAA career was over in South Carolina, he?d be more known as the guy who could do a spot-on Dabo Swinney impression.
On multiple occasions, including in 2015 and 2017, Guillermo was asked by reporters to give his best daggum impersonation of the head coach, and he flat-out killed it.
RELATED: Dabo Swinney Married His Elementary School Sweetheart
?My name is Dabo Swinney, I?m the head coach of the Clemson Tigers. I just want ya?ll to know I?m all in all the time. All the freakin? time. You can tweet that. Tweet anything you want. Tweet that. Except for our players, ?cause they can?t tweet anything right now in season.?
ENCORE, ENCORE!
Guillermo followed up that brilliant bit by delivering another masterful performance in ?17:
?Boys, I?ll tell ya?ll what. Are you freakin? kidding me? We?re about to play in the daggum national championship. We gotta bring our freaking guts. You know what? If you can?t be excited for this, then I?ll tell you what: you ain?t got no daggum heartbeat. I?ll tell you what. I freaking love this game. It?s the best game ever. I?ll tell you what. BYOG.?
Dabo must really really love saying ?I?ll tell you what.? And BYOG must mean Bring Your Own Guts, which is an all-time thing for a coach to tell his players.
The hilarious Jay Guillermo didn't end up in the NFL, but he is now the tight ends coach at Western Carolina University.
We?ve seen some darn good Saban and Ed Orgeron impressions, but this Dabo Swinney one is pretty perfect. I?ll tell you what.