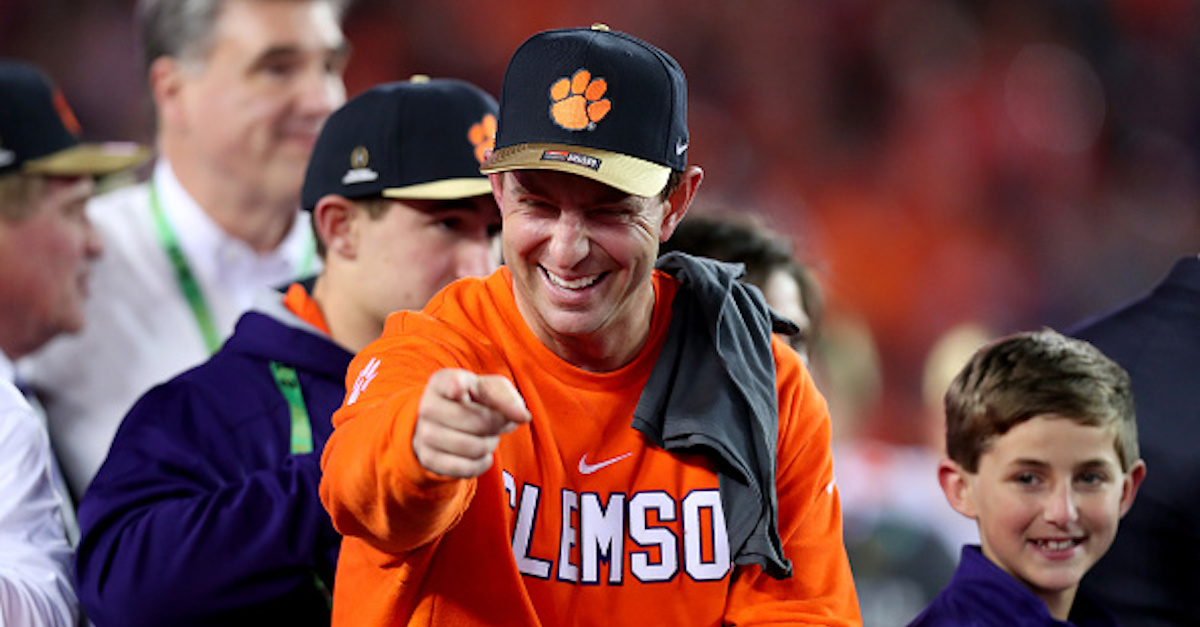 Photo by Tom Pennington/Getty Images
The Clemson Tigers' football season has ended with national championship game appearances in four of the last five years, which ultimately led to their coach getting the most lucrative contract for a head coach in college sports. (Yes, even more than Nick Saban.) But what name was actually printed on that contract? It definitely wasn't "Dabo Swinney."
Since growing up an infant in Alabama — the state he's beaten twice in the national championship — he's been called Dabo, but most people don't realize that's not actually his real name.
What is Dabo Swinney's Real Name?
That's right. Dabo isn't actually the real name of Clemson coach Dabo Swinney. Born in Birmingham, Alabama, William Christopher Swinney dreamt of growing up and playing football for the University of Alabama.
As an infant, the future NCAA national title-winning football coach was called Chris by his father, short for his middle name Christopher. But his older brother, just 15 months old, would call him "that boy." Since his brother was so young, it came out sounding more like "Dabo."
The name stuck so well, it wasn't until the third grade when Dabo actually found out his first name was William, and that was only because of those scantron tests in school.
William Christopher came a long way since those days, starring on the football field and in the classroom in high school, being a walk-on with the Alabama football team and eventually starting at wide receiver for Alabama's 1992 national championship team. His coaching career began as a graduate assistant for the Tide, where eventually coached receivers and tight ends from 1996 to 2000.
Once again though, his ties to Alabama led to his current position as the highest-paid coach in college athletics.
In 2002, his former position coach and then Tigers head coach Tommy Bowden offered him a job as assistant coach, working with the receivers at Clemson, and he took on the title of recruiting coordinator for the Tigers. When Bowden was fired in 2008, Swinney took over as the interim head coach and was given the full-time job at the end of the regular season.
RELATED: Dabo Swinney's Wife Kathleen is His Elementary School Sweetheart
At Clemson University, head coach Dabo Swinney has won over 130 games, captured six ACC Championships, and has beaten the Alabama Crimson Tide twice to win the College Football Playoff National Championship Game on ESPN.
Since the NCAA began the CFP, Clemson has played in the tournament five of its first six years, beating the Oklahoma Sooners, Ohio State Buckeyes, Notre Dame Fighting Irish, and of course, Alabama.
Another impressive record is the one he's accumulated against ACC conference opponents. Since taking over, the Clemson football team wins over 80 percent of their games in ACC play and 6-1 in ACC title games. Plus, almost a fifth of those losses were to their rival in Tallahassee. In 12 games against the Florida State Seminoles, the Tigers have gone 7-5, but are riding a five-game winning streak into the 2020 season. Not bad considering FSU was competing for national championships during that stretch under Jimbo Fisher.
Clemson churns out NFL talent, including quarterbacks Deshaun Watson and Trevor Lawrence, but Dabo prides himself on growing young high school kids into men before they leave South Carolina.
It's safe to say Clemson's head football coach has completely changed his football program for the better in every way, yet somehow, most people don't even know his real name.
This article was originally published May 6, 2019.