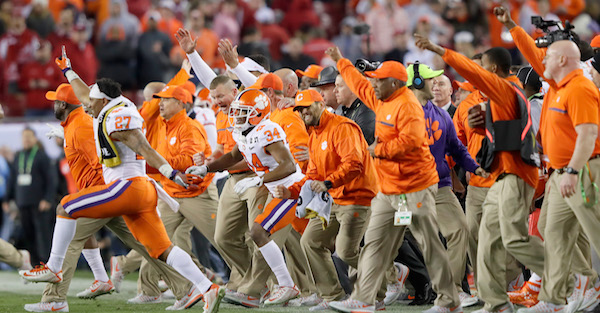 Jamie Squire/Getty Images
TAMPA, FL - JANUARY 09: The Clemson Tigers celebrate after quarterback Deshaun Watson #4 (not pictured) threw a 2-yard game-winning touchdown pass to wide receiver Hunter Renfrow #13 (not pictured) during the fourth quarter against the Alabama Crimson Tide to win the 2017 College Football Playoff National Championship Game 35-31 at Raymond James Stadium on January 9, 2017 in Tampa, Florida. (Photo by Jamie Squire/Getty Images)
Alabama cornerback Anthony Averett doesn't plan on taking Clemson quarterback Kelly Bryant lightly in  their upcoming College Football Playoff rematch on Jan. 1.
Averett, whose team played against the Tigers during each of the past two national championship games, said he respects the quarterback and compared him favorably to Houston Texas quarterback Deshaun Watson, who played in the previous two matchups before declaring for the NFL Draft year.
"[Bryant is] faster in my opinion," Averett said, via Bama Online. "He gets the ball out when he throws. He probably does some similar things as Deshaun Watson and he has been consistent for them. We're going to respect him just like Deshan Watson. We want to approach the game as normal, like we do against anyone else.

"I think this game just comes down to execution. We just have to execute. We know what they're going to do. We play them a lot. Of course, they'll adjust and do some little different things, just like we will. We probably know what's coming. We just have to execute."
Similarly, head coach Nick Saban said Bryant "may be a better runner, if that's possible" than Watson during a press conference last week.
That's a scary thought considering Watson recorded more than 1,000 yards during the 2015 season and more than 600 in each of his last two years at Clemson. However, Bryant is already off to an impressive start since taking the reins as the team's starter, recording 646 rushing yards.
While the legendary Watson nearly doubled Bryant's passing totals from 2017 during each of his last two seasons, both do possess similar attributes, especially when it comes to their mobility.
However, that should be a focal point for Alabama, who ranked third overall nationally in rushing defense, while preparing for its rematch against Clemson in the College Football Playoff on January 1 in Baton Rogue.
There's no denying that this matchup will once again live up to the hype, as it has during the past two seasons.