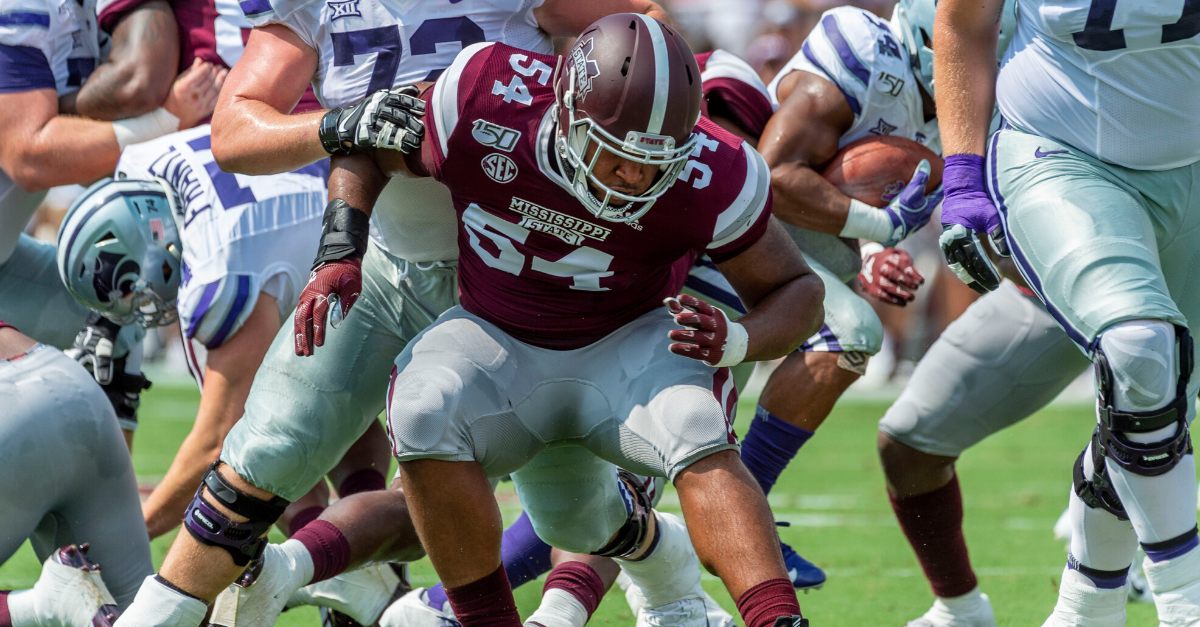 AP Photo/Vasha Hunt
When defensive tackle Fabien Lovett signed to play college football with the Mississippi State Bulldogs, he had big plans in mind. The 6-foot-4, 315-pounder was staying close to home, used a redshirt season to develop, and eventually proved he was going to be a fine player in the SEC for years to come. Then, everything changed.
After MSU fired Joe Moorhead after just two seasons in Starkville, they hired Washington State head coach Mike Leach to replace him. The move made a splash, no doubt, but a controversial tweet landed the veteran coach in hot water and without a starting defensive lineman for next season and beyond.
Leach?s tweet, which has since been deleted, was a meme of a woman knitting a noose for husband during quarantine, according to ESPN. That didn?t sit well with Lovett's father, Abdual Lovett, or the redshirt freshman, and he decided to enter the NCAA Transfer Portal.
"I didn't feel comfortable with my son being down there with a guy like that from a leadership standpoint — that you can just throw anything out there," Abdual Lovett said. "I feel if he can do it, the kids are going to feel like they can do it.?
Leach was scolded by athletic director John Cohen and eventually apologized, but it couldn?t keep Lovett at MSU. He now has a new home with the Florida State Seminoles.
DT Fabien Lovett Transfers to FSU
RELATED: FSU Legacy?s Son Commits to Seminoles to Complete Comeback
An Olive Branch, Mississippi native, defensive lineman Fabien Lovett was a three-star prospect coming out of high school. He fielded offers from Florida, Ole Miss, Alabama, and Tennessee, among others, but signed with the Bulldogs.
Lovett redshirted during the 2018 season and finished with 19 tackles and one sack last season before electing to transfer.
Now, he is off to Tallahassee to play for head coach Mike Norvell and linebacker coach Chris Marve, who was at Mississippi State last year. Lovett ultimately chose the ?Noles after new offers from Florida, Michigan, Oregon, Olee Miss and Tennessee, according to ESPN.
Lovett, who has three years of eligibility and will likely apply for eligibly for next season, joins Florida Atlanta defensive back Meiko Dotson and Baylor defensive end Deonte Williams as recent transfers to the FSU football program.
A controversial tweet started an unexpected journey, but it appears the former Mississippi State defensive tackle is ready for a fresh start.