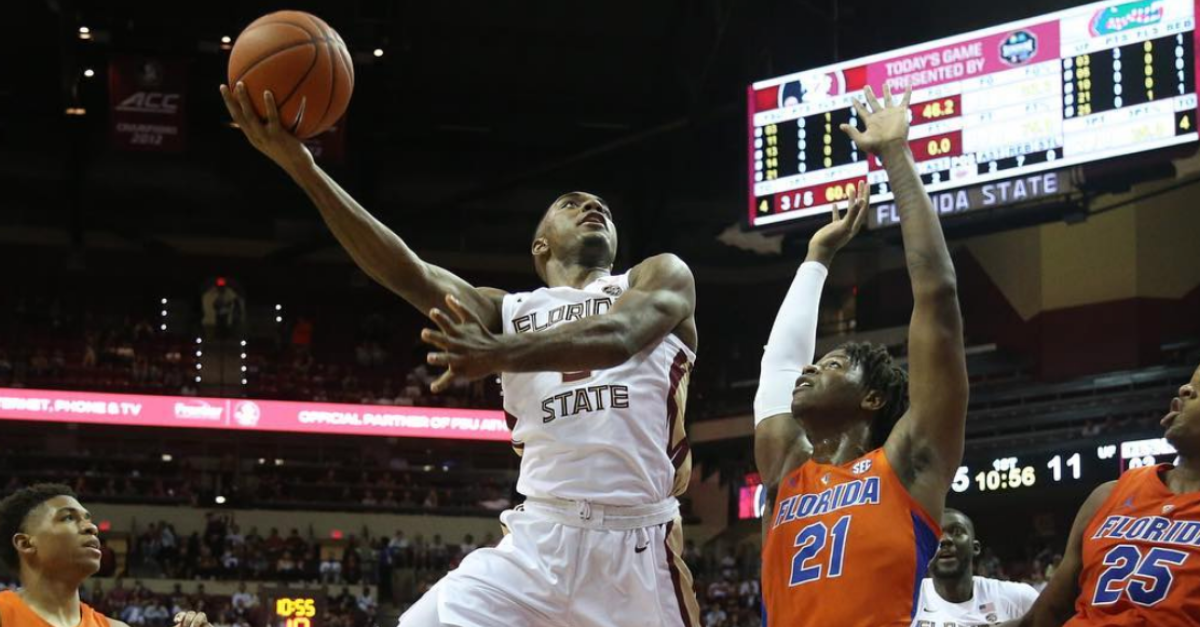 Instagram: @fsuhoops
On Tuesday night, the Florida State Seminoles men's basketball team opened their season against the Florida Gators with a commanding 81-60 victory. The 17th-ranked Seminoles opened the season with their highest preseason ranking in over 25 years after making a run to the Elite Eight in the NCAA Tournament last season.
The opening game against the Gators was a huge win to start the 2018-19 season with such high expectations. The Gators have been the best basketball program in the Sunshine State for quite a while, so if the 'Noles want to take over that spot, it goes through them. They have been doing that with five-straight wins against the Gators and FSU showed up and played as if they are the best team in the state this season.
RELATED: FSU Seminoles Basketball Earns Highest Poll Rankings Since 1992
The entire team played pretty well to beat a team like Florida by 21 points, but there were three players who stood out specifically:
1. PJ Savoy
Obviously, the biggest performance was from the senior guard who already beat his season-high in scoring from last season. During the 2017-18 campaign, Savoy had a high of 18 points. In the first game of this season, he scored 20 points with five 3-pointers made, which tied his season-high from last year.
Savoy made five of his seven 3-point attempts and went t3-for-3 behind the arc with 12 of his 20 points at halftime.
He made his first three of the game at the 15 minute, 32 second mark of the first half to pull within one point and then assisted on a Terrance Mann layup that took a 7-6 lead on the next possession, a lead they would never surrender.
Savoy got off to a fast start in the second half, making his first three only 43 seconds into the half and his next at the 17:05 mark. Along with his shooting from long distance, he went 5-for-8 from the free-throw line and also had three rebounds, an assist and a block.
2. Trent Forrest
Forrest led the team in assists last season with 4.1 per game and also averaged 7.9 points and 4.9 rebounds. In the opener, he scored 13 points and led the way with five assists.
Probably the biggest hole in Forrest's game at Florida State has been his ability to shoot from deep, only making 4 of 21 (19 percent) in two seasons. But on Tuesday, he hit his only 3-point attempt and also knocked down on early in the game that didn't count due to a foul away from the ball.
This is a good sign if Forrest can show he has even a small amount of ability to knock down shots form 3-point range. With his athleticism and passing ability, it could mean a lot of trouble for opposing defenses.
3. Terrance Mann
One of the top scoring threats from last season, Mann averaged 12.6 points and 5.4 rebounds. He began the season by scoring nine points and leading the team with nine rebounds. Mann hit three of his five field-goal attempts and made his only attempt from 3-point range.
Mann also had one of the most important shots of the game — a layup that gave the Seminole the lead for good. In his last two games against the Gators, Mann has posted great numbers with 25 points and eight rebounds last season, and then 16 points and 10 rebounds the season before.