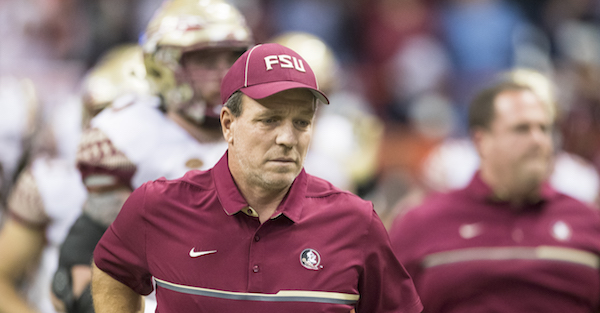 Brett Carlsen/Getty Images
SYRACUSE, NY - NOVEMBER 19: Head coach Jimbo Fisher of the Florida State Seminoles runs onto the field with his players before the game against the Syracuse Orange on November 19, 2016 at The Carrier Dome in Syracuse, New York. (Photo by Brett Carlsen/Getty Images)
Florida State fans and players have had to endure a rough week as rumors and reports have swirled that coach Jimbo Fisher is leaving the program. He had a chance earlier in the week to shut down those rumors, but chose to make matters worse by saying he won't give an answer on anything until the end of the season. It appears that the players are now fed up with it as Tomahawk Nation is reporting that several players no longer trust Fisher and would leave if he returns.
?If he?s back, I?m out.?
Of course, those players spoke anonymously so the quote cannot be attributed to a single player. Fisher's inability to take a hint and just give a definitive answer on his future past the Louisiana-Monroe game may be the very thing that forces him out of the job. If he comes back to Tallahassee having teased everyone with yet another SEC flirtation — last year was LSU — then you can imagine a bad taste will be left in everyone's mouths.
There is a report that Texas A&M and Fisher already have a massive deal done, but of course Fisher has not said anything about that.
Fisher has reportedly been getting a strong ?urging?, according to ESPN, from FSU to make his decision on his coaching future, whether it be with the Seminoles or at Texas A&M. The 52-year-old coach was hoping to wait until after the rescheduled Louisiana-Monroe game on Saturday to make an announcement on his future, according to the report.
According to a report by the Orlando Sentinel, Florida State was making progress on a standalone football facility, which became an issue after Fisher made comments on Clemson?s facilities. The same report also noted that the school was looking to invest more in the salaries for Fisher?s assistant coaches.
Facilities have become more and more important to programs in recent years, as schools hope to flaunt their commitment to football with these large investments. While Fisher recently mentioned Clemson?s new athletic facility, the Tigers are far from the only ones to make that kind of investment; even Kansas has recently committed to pouring hundreds of millions into improvements dedicated purely to football.
FSU President John Thrasher also previously noted, ?Jimbo?s here forever.? But he did leave the door open a bit with what he said next.
?You know, as long as he wants to be, he?s good. He?s as good as gold. He?s going to be here.?
Fisher would be a homerun for an Aggies programming looking for a quick turnaround.
At one point this season, it appeared as if Sumlin was as good as gone but, after four consecutive wins following the opener, Sumlin appeared to be at least somewhat in the ?safe? category when it came to his job status.
From there, though, the Texas A&M Aggies began to struggle again and eventually Brent Zwerneman of the Houston Chronicle reported that the powers that be in College Station had come to a decision. In short, Sumlin was expected to be on his way out, regardless of what took place in his team?s season finale against LSU (they lost, 45-21).
The same report indicated that Jimbo Fisher is ?the Aggies? top target.?
The Aggies are certainly taking a risk in parting with a known commodity but, in the end, it seems as if Texas A&M wants to aim high and Sumlin wasn?t the guy moving forward.
Sumlin finished his tenure with a 51-26 record (25-23 in the SEC).