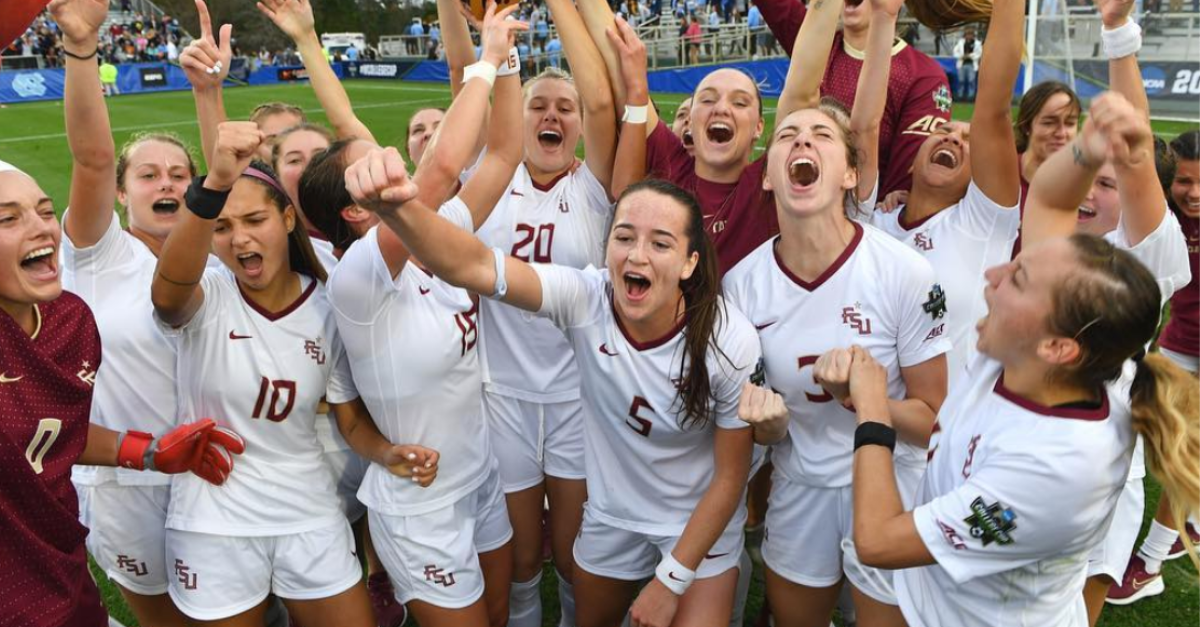 Instagram: @nolesoccer
After splitting the first two matches of the season against the North Carolina Tar Heels, the Florida State Seminoles women's soccer team took the game that mattered most and won their second-ever national championship with a 1-0 victory at WakeMed Soccer Park.
This is the second title in program history after taking home the NCAA title in 2014. FSU has also been runner-ups in 2007 and 2013. This was the Seminoles' 10th appearance in the College Cup and the victory moves them into a four-way tie for third-most national championships with two. North Carolina has the most with 21 and Notre Dame is a distant second with three.
Beating North Carolina is a huge accomplishment, but FSU was able to do it twice this season in three tries. In the first matchup back in September, the 'Noles lost 1-0 for their first loss of the season. But the Seminoles and Dallas Dorosy would get payback in a big way with in the important games.
On November 4, Florida State traveled to Cary, NC for the ACC Championships and beat the Tar Heels 3-2 thanks to two Dorosy goals and an assist in just 46 minutes of action.
Almost a month later, with the season-series tied a one, the third game would decide who would take home the NCAA Women's Division I Soccer National Championship trophy. And again, Dorosy delivered the big blow. About 60 minutes into the match, a long pass from Deyna Castellanos into the box was deflected into the net by the senior midfielder to take the lead. It was a lead goalie Caroline Jeffers would hold for the remainder of the match to preserve her 90-minute shut out.
Dorosy proved how clutch she is in the past month with three of her seven goals coming in championship games against the best women's soccer program in the country. She also scored the only goal in their NCAA Tournament game against USC that eventually went to penalty kicks and against USF the game before. In the past month, she has scored five goals in seven win-or-go-home matches. That is clutch.
Over the season, it wasn't Dorosy that carried the team, but Castellanos, who had 28 points, including 10 goals and eight assists. The last assist led to the National Championship-winning goal. Yujie Zhao also had a great season with 19 points, which was second on the team.
Although Brook Bollinger led the team in minutes played in goal during the season — almost triple the time spend in net compared to her teammate — it was Jeffers who earned the win with two saves and no goals allowed in the championship match.
The College Cup trophy is back in Tallahassee!