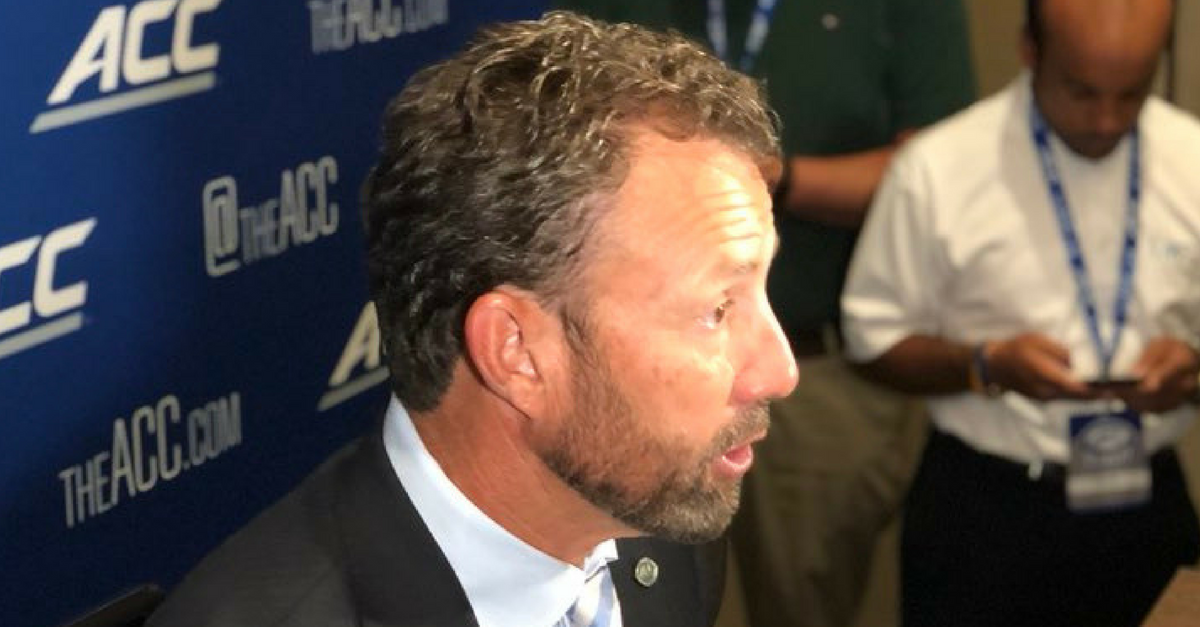 Twitter: @Matt_Fortuna
With a platform designed to promote the program and upcoming college football season, North Carolina head coach Larry Fedora went on a confusing, off-topic rant. The Tar Heels head coach was given an inch and took it a few miles down a weird path to obscurity.
At ACC Media Days in Charlotte, Fedora praised football for being safer than ever, then tried to convince everyone football is under attack due to the focus on head trauma, and then went one step further saying changing football would be ?the decline of our country.?
?I fear that the game will get pushed so far to one extreme you won?t recognize the game 10 years from now,? the veteran football coach told reporters. ?That?s what I worry about, and I do believe if it gets to that point that our country goes down, too.?
Yes, this actually happened. Reporter Nicole Auerbach of The Athletic and others made sure to let the world know all about it.
As for who is attacking football, Fedora explained, ?There is a groundswell of data that is tweaked one way or the other.?
If that doesn?t make you scratch your head and wonder what on earth Fedora is talking about, it gets even stranger here:
Fedora?s patriotism is pretty clear here, and that?s not the issue. It?s why he chose to make these claims and go on this kind of rant.
All of this is stemmed from Fedora saying he doesn?t think there is a proven link that the game of football causes CTE, or Chronic Traumatic Encephalopathy, a degenerative brain disease found in those with repetitive brain trauma.
And then it gets awkward.
With studies linking football and CTE at his own university, it makes these comments, and especially the double down on them, insane.
Fedora, the 55-year-old veteran coach who is entering his seventh season at North Carolina can?t be serious about this, right?
This is what will be the decline of the United States of America? There isn?t a connection between football and CTE? It?s a rather laughable claim until you realize just how serious he was. Or maybe he was just trying to deflect a 3-9 season at UNC in 2017.
Luckily, he was able to somewhat clarify some of his comments.
This was supposed to be a day to promote the program. Instead, Fedora used it as a platform for an unnecessary and ludicrous rant, and dug himself a hole.