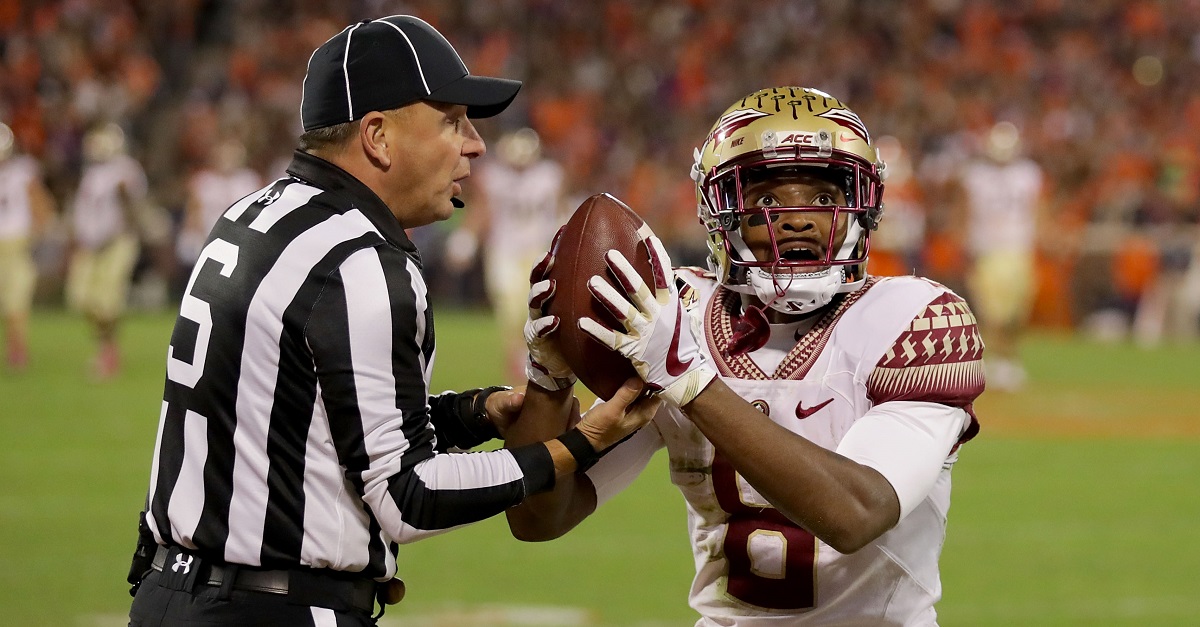 Streeter Lecka/Getty Images
CLEMSON, SC - NOVEMBER 11: Nyqwan Murray #8 of the Florida State Seminoles reacts after a play against the Clemson Tigers during their game at Memorial Stadium on November 11, 2017 in Clemson, South Carolina. (Photo by Streeter Lecka/Getty Images)
There were reports that Florida State would not be bowl eligible after all with their 6-6 record due to FCS team Delaware State reportedly not meeting certain scholarship requirements. However, FSU has responded and made it quite clear that they are eligible and their historic 36-game bowl streak will stay alive.
Here is the key paragraph from that statement:
"Media reports suggesting otherwise failed to account for a long-standing NCAA rules interpretation that permits institutions to use academic scholarships and other forms of non-athletics institutional aid received by student-athletes in the computation of this requirement. These media reports represent incomplete information, as they only reflect athletics scholarships received."
A detailed report from user bakonydraco on Reddit unveiled on Thursday that Florida State shouldn?t be bowl eligible this season, even with a record of 6-6.
The report focuses on Florida State?s 77-6 win over FCS team Delaware State on Nov. 18. While FBS teams are usually able to count one win against FCS competition towards bowl eligibility, the report reveals that Delaware State did not meet FCS scholarship requirements in order to be counted as a win towards bowl eligibility.
FCS teams must award at least 90-percent of their allowed scholarships over the past two years in order to count as a win towards an FBS team?s bowl eligibility. Reddit received data from Delaware State confirming that the school was actually under that limit (87-percent) and therefore Florida State?s win over the school shouldn?t be counted towards bowl eligibility under NCAA rules.
However, like the statement by FSU says, that report did not take into account other scholarships handed out that were non-athletic. The Seminoles will be playing in their 36th consecutive bowl game, which is the longest active and all-time bowl game streak. It beats out Nebraska's 35 from 1969 to 2003.