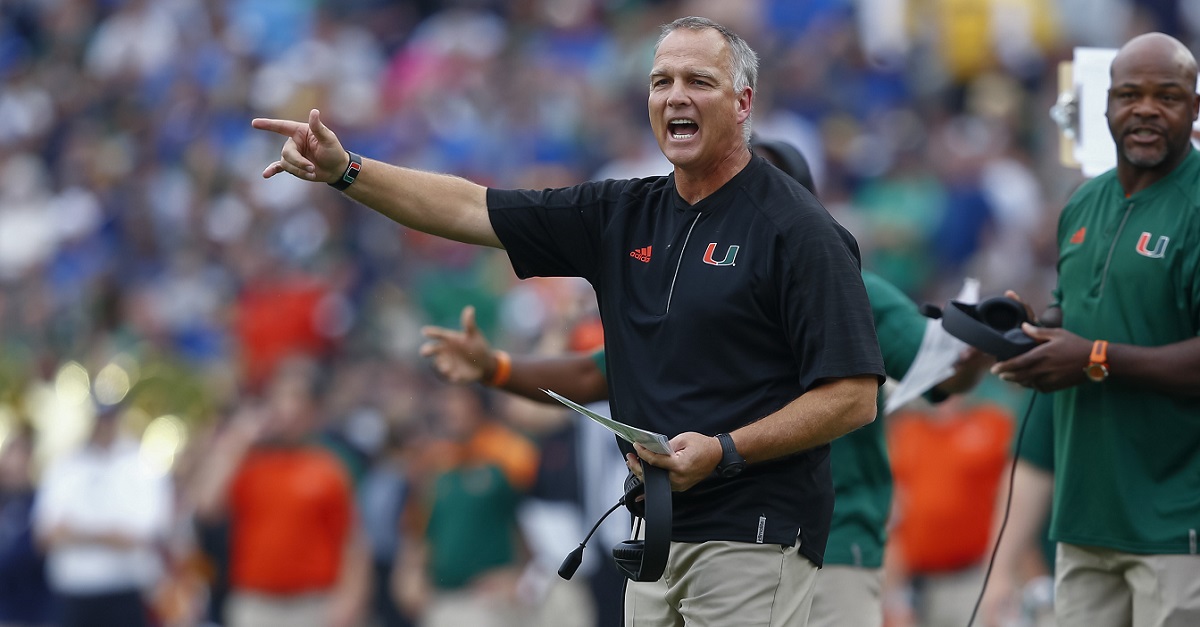 Michael Hickey/Getty Images
SOUTH BEND, IN - OCTOBER 29: Head coach Mark Richt of the Miami Hurricanes is seen during the game against the Notre Dame Fighting Irish at Notre Dame Stadium on October 29, 2016 in South Bend, Indiana. (Photo by Michael Hickey/Getty Images)
After a period of uncertainty and jockeying between the two sides, legal action has officially been taken against the Miami Hurricanes as a result of a canceled football game. KAIT8.com brings word of a lawsuit filed by Arkansas State University against the University of Miami in the amount of $650,00 and it cites the reasoning for that figure in "liquidated damages, attorney fees, and court costs."
This result does not come as a shock given the posturing on both sides in recent days but Brad Phelps, General Counsel Arkansas State University System, indicated to KAIT8.com that "Miami's actions left (Arkansas State) with no choice" in the matter.
The Hurricanes and Red Wolves were supposed to square off on the football field on Sept. 9, 2017 but the game was canceled as a result of weather conditions caused by Hurricane Irma. In that aspect, the game between the two programs wasn?t close to alone but, in the aftermath, things have gotten markedly weird between the two institutions.
The two sides exchanged letters (also cited in the KAIT8.com report) prior to this actual legal filing and Arkansas State informed Miami of plans to file suit. Apparently, not enough changed between then and Friday, when the legal proceeding actually began.
It remains to be seen as to whether Miami will have to pay Arkansas State as a result of this but this is already a very strange situation.