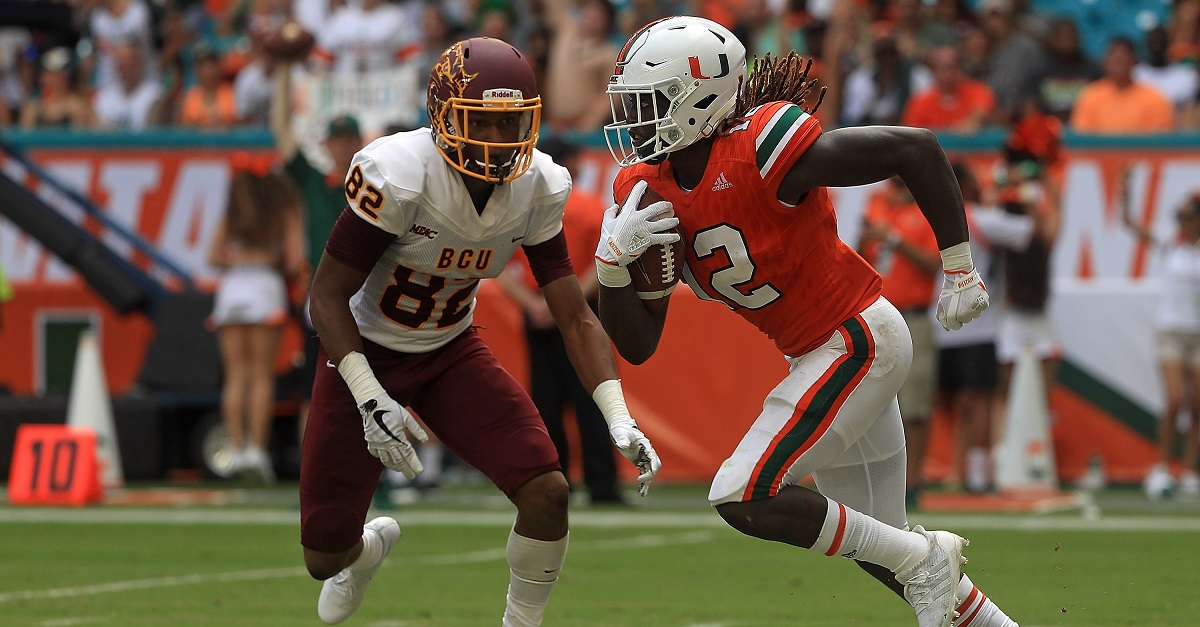 Mike Ehrmann/Getty Images
MIAMI GARDENS, FL - SEPTEMBER 02: Malek Young #12 of the Miami Hurricanes returns an interception during a game against the Bethune Cookman Wildcats at Hard Rock Stadium on September 2, 2017 in Miami Gardens, Florida. (Photo by Mike Ehrmann/Getty Images)
Miami faces an undefeated Duke team this weekend in Durham and some players are feeling pretty amped up about the game. Sophomore Malek Young might have gone too far though and basically said he would try to knock Duke quarterback Daniel Jones out of the game. At least, that's how it sounded the way he talked to 247Sports about the game:
?He loves to throw the ball,? cornerback Malek Young said. ?He takes hits. He don?t like to slide and what we?re going to do is?the goal is to get him out the game. Get him out the game and it?s going to be a good game.?
Jones is pretty mobile and has rushed for 50 yards or more in five of his last 10 games. Miami defensive coordinator Manny Diaz was pretty complimentary of Jones though and said that the kind of toughness he runs with can get a team going.
"The offense takes on the personality of its quarterback. He don?t slide. He can take a hit. He took some hits in our game a year ago. He?s taken some hits this year, but when you see him lower his shoulder and get a first down, I?d imagine that gets everybody on their football team excited to play because they know he?s tough and he doesn?t flinch. Certainly they?ve got weapons.
Miami comes into the game 2-0 with wins against Bethune-Cookman and Toledo while is 4-0 and 1-0 in ACC play after a win over rival North Carolina.
[h/t The Spun]