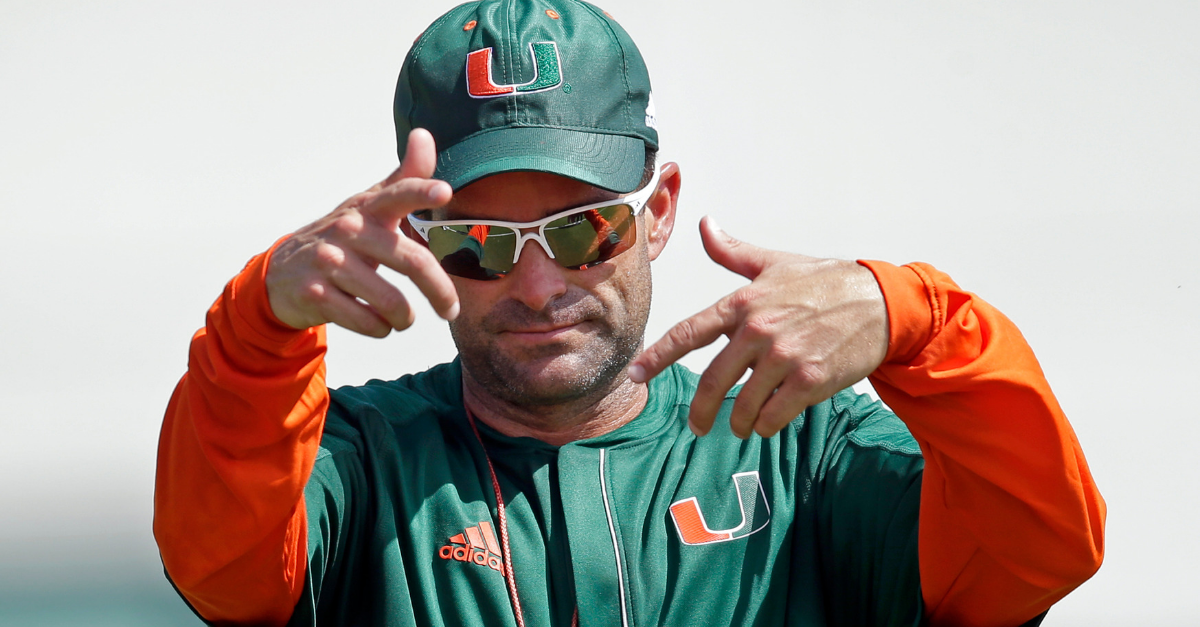 AP Photo/Alan Diaz
AP Photo/Alan Diaz
Since being hired as the head coach of the Miami Hurricanes, Manny Diaz has shown he is pretty good at using Twitter. With cryptic GIFs and photos, he regularly drops clues for things happening in the near future.
January 15, 2019 was possibly the best example of Diaz using Twitter as a tool to excite fans and secretly pass on a message. With a lot going down late at night, Jan. 15 will be a night that Hurricane fans will remember for a long time.
RELATED: Ranking the 8 Starting QBs Since Ken Dorsey Left ?The U?
At about 7:30 p.m., Diaz tweeted that a storm is coming. So of course Miami fans and reporters were attached to all devices for hours trying to figure out what was about to happen. Was it word on a quarterback transfer, coaching hire, or new high-profile recruit?
It seemed to be much more obvious when he tweeted another GIF less than an hour later showing music legend Prince holding up the the number four. There was a little doubt left behind what this cryptic message meant.
Wide receiver Jeff Thomas, who wears No. 4, had said he would be transferring to play for coach Lovie Smith and Illinois Fighting Illini. He confirmed that move early in the week after reports came out that he was considering a return to the 'Canes.
But Miami fans were excited to see that he made the decision to continue his career as a Hurricane when Thomas posted a message on Instagram. This is huge news for an offense that struggled to make plays last season, and Thomas was by far the biggest playmaker in the passing game and was an excellent in the return game as well.
https://www.instagram.com/p/BsrfILsgmWF/?utm_source=ig_web_copy_link
He finished the 2018 season with team-highs in receptions and yardage with 35 catches for 563 yards and three touchdowns in 11 games. His stats should have been even more impressive, but the quarterbacks struggled to get him the ball. He finished the season having four games with only one catch, not good for the number-one receiver who should be touching the ball consistently throughout the game.
After the announcement, Diaz was quick to show his excitement about the return of his best receiver from last season. With Thomas' return and the commitment of grad-transfer K.J. Osborn moving over from Buffalo, as well as a squad of talented, young receivers, the quarterbacks will have no shortage of wide-outs to throw the ball to.
But he still wasn't done.
Before the night ended, Diaz wanted everyone to know there would be more to come. And even though he said it would be "tomorrow," it was soon after that word spread of former Ohio State quarterback Tate Martell committing to the Miami football program.
The reports of Martell choosing Miami over West Virginia was met with quite a bit of excitement, even from Thomas who was one of the first to comment on the quarterback's announcement. Martell played his high school career at Bishop Gorman with tight end Brevin Jordan and another transfer, safety Bubba Bolden.
Bolden was quick to make a bold statement once his former teammate announced they would both be joining Jordan in Coral Gables.
Bolden is calling for a national championship to go along with the three titles they had won in high school together. For what it's worth, Diaz liked the tweet of Bolden predicting a title this season.
As it stands, Martell will have to sit out the 2019 season, but he is apparently attempting to challenge that and become eligible immediately and has hired a lawyer to make this happen. If he can't do so, maybe getting a one-year player at quarterback would be ideal, although the transfer market is thinning quickly.
There is no real problem with one of the quarterbacks on the roster starting for the 2019 season, but there will definitely need to be improvements for that to be a decent option. But with Diaz at the helm, who knows what will happen next. Every day, he seems to do something that has the Miami Hurricane fan base even more excited.
#TNM