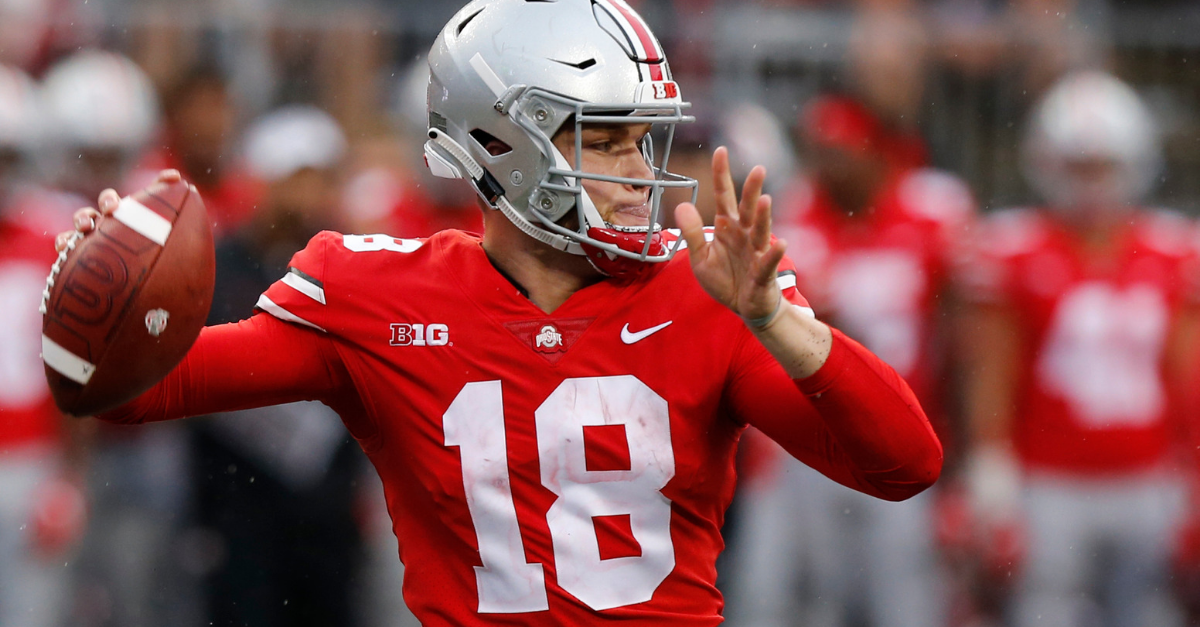 AP Photo/Jay LaPrete
AP Photo/Jay LaPrete
The NCAA transfer portal is open for business. With big names like Kelly Bryant joining the Missouri Tigers and Alabama's Jalen Hurts on the move, the experienced signal callers on the "free agent" market are landing with just one year remaining. The big fish this offseason, however, are young quarterbacks with a lot to prove, and they're shifting the balance of power in a hurry.
After former Georgia quarterback Justin Fields announced his decision to join the Ohio State Buckeyes, a chain of events began. Dual-threat quarterback Tate Martell, who was expected to compete for OSU's starting quarterback job in 2019, decided to transfer out of the program. His new home, however, might just be a better fit all-around from what he left behind in Columbus.
Late Tuesday night, Martell announced that he'd be heading to join new head coach Manny Diaz, former Alabama offensive coordinator Dan Enos, and the Miami Hurricanes football program. Stepping in as a redshirt sophomore, he has three years of eligibility remaining for the 'Canes, but due to NCAA transfer rules, he won't be able to take the field until the 2020 season.
RELATED: Ranking the 8 Starting QBs Since Ken Dorsey Left 'The U'
The former No. 2 dual-threat quarterback was rated as a four-star recruit coming out of Bishop Gorman High School in Las Vegas. During his high school career, Martell went undefeated as a starter (43-0) and threw for 7,507 yards with 113 touchdowns, while tossing just nine interceptions. Also, he tacked on over 2,000 rushing yards and 35 scores for good measure. In 2016, he was named the National Player of the Year by Gatorade, MaxPreps and USA Today.
The only quarterback rated higher than Martell by 247Sports? Heisman Trophy runner-up Tua Tagovailoa.
Leaving Ohio State at this moment is the perfect move for a young kid looking for an opportunity to showcase his talent. The Buckeyes are a great program, for sure, but transferring opens up so many doors for this rising star.
Here are three reasons why Miami is the far superior destination to Ohio State:
1. The Atlantic Coast Conference
Had Martell stayed at Ohio State, he'd be squaring off against Big Ten Conference powerhouses like Michigan, Michigan State, Penn State and Wisconsin. While former OSU quarterback Dwayne Haskins proved last season that high-flying offenses and big numbers can exist up North, Martell is going to face competition that plays the game a lot differently, which bodes well for a kid that has yet to start a game in college.
In the ACC, the competition isn't nearly as strong. Most important of all, though, the only time Martell and the Hurricanes would see the mighty Clemson Tigers would be in the ACC Championship game since Clemson plays in the Atlantic Division, and Miami is in the Coastal Division.
2. Low Risk, High Reward
Leaving Ohio State could be seen as a risk because of the prominence of the program, but with new head coach Ryan Day taking over after Urban Meyer's retirement, there's a lot of inherent risk in staying there, too. However, Justin Fields' transfer sealed the deal, and the weight has been lifted off Martell's shoulders to keep OSU in national contention.
In Coral Gables, they're not ready for that just yet. Manny Diaz and Dan Enos need to install their system and philosophy into the Miami football program after Mark Richt's retirement. Martell will have to sit during his first season, which adds zero pressure to go out and perform at a championship level. However, with the Hurricanes' program on the rise, the reward at the end of his college football career would be massive.
Moving to the ACC, Martell bought himself the most valuable asset of any young quarterback: time.
3. That South Florida Sunshine
I mean, do you think a kid from Las Vegas, Nevada would rather play in cold Columbus or sunny South Florida?
Maybe the most underrated aspect of this entire transfer is that Martell has familiar faces already inside the Miami program. Two former Bishop Gorman stars — tight end Brevin Jordan and safety Bubba Bolden — are on the Hurricanes' roster and will help the transition be smooth as silk for Martell.
Next season, Martell will have to watch his team from the sidelines before he's eligible. Meanwhile, the starting job will be fought over by N'Kosi Perry, Cade Weldon, Ryan Rizk, and Jarren Williams, but the writing is on the wall that Martell will be the University of Miami's starting quarterback in 2020.
The U scored their biggest offseason in recent memory with the addition of a premier offensive coordinator in Dan Enos, and they locked up one of the best young signal callers in the entire nation. If you don't know the name Tathan "Tate" Martell yet, get ready for a crash course in NFL-caliber quarterback play.