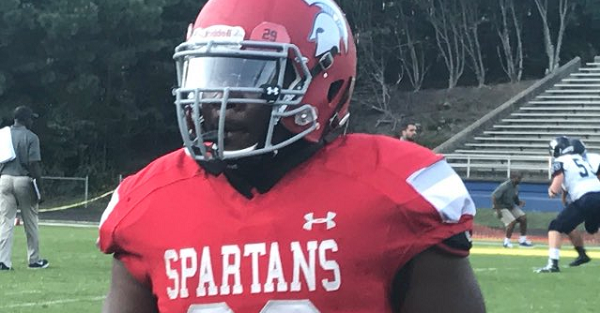 @AlimMcneill/Twitter
@AlimMcneill/Twitter
On Wednesday evening, four-star defensive tackle Alim McNeill (6-foot-2, 272 pounds, Raleigh, NC) made a major announcement, saying that he plans to announce his commitment on Saturday at 10:00 a.m.
McNeill had previously said that he would be committing at halftime of the annual Army All-American Game in January, but it appears that he has accelerated his decision date. McNeill says that he will still be playing in the game, but that he is just announcing his commitment before then
With McNeill's announcment coming soon, one team is standing out in front of the rest for his potential commitment: N.C. State. McNeill had previously named N.C. State as the leader in his commitment, and the Wolfpack currently hold all 19 of the predictions for McNeill in the 247Sports Crystal Ball.
Virginia Tech and Michigan are also considered contenders for McNeill at this point.
McNeill is ranked as a four-star recruit by the 247Sports Composite. The individual 247Sports player rankings have McNeill ranked as high as a Top 100 recruit and as the No. 9 defensive tackle in the country.