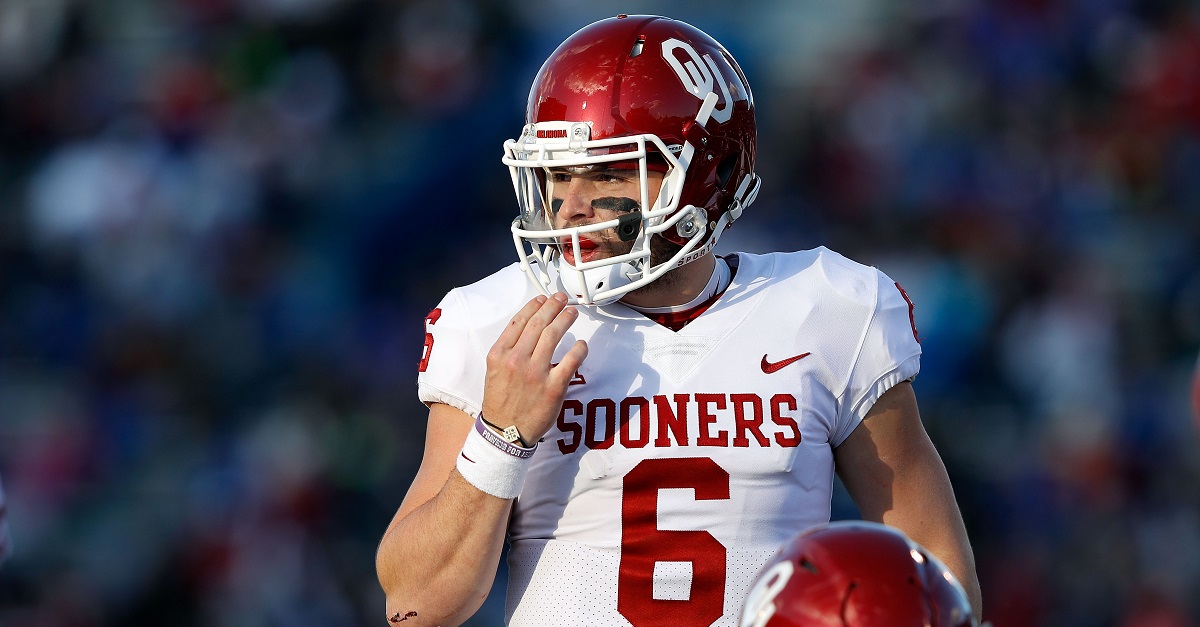 Jamie Squire/Getty Images
LAWRENCE, KS - NOVEMBER 18: Quarterback Baker Mayfield #6 of the Oklahoma Sooners prepares to take a snap during the game against the Kansas Jayhawks at Memorial Stadium on November 18, 2017 in Lawrence, Kansas. (Photo by Jamie Squire/Getty Images)
Oklahoma Sooners quarterback Baker Mayfield will not start Saturday's game against West Virginia, head coach Lincoln Riley announced on Monday.
The suspension is a result of Mayfield's actions over the weekend against Kansas after he is seen on video making an obscene gesture and yelling profanities toward the Kansas football team. Mayfield will play against West Virginia, but will not start and will not be a team captain in the game.
Mayfield reacted negatively toward Kansas during the Sooners' 41-3 win on Saturday after Kansas opted against shaking Mayfield's hand during the pre-game coin toss. He apologized for his actions after the game and said what he did was "unacceptable" and "disrespectful."
Members of the Kansas football team said their decision not to shake Mayfield's hand before the game was designed more to fire up their team and to let the Sooners know they wouldn't back down from them in the contest. They said that it wasn't an attack personally on Mayfield and that they respect him as a player.
While Kansas denied taking it personally against Mayfield, one Jayhawks player appeared to have landed a cheap shot on Mayfield during the game. With the Sooners up 14-3 in the second quarter, Kansas cornerback Hasan Defense was assessed a penalty after delivering what many called a cheap shot.
After Mayfield's gesture toward Kansas during the game, many were calling for a suspension of some kind. Riley said after the game that Mayfield's gesture was just something that he can't do and he has decided to sit Mayfield at the beginning of Saturday's game.
The fourth-ranked Sooners wrap up their regular-season schedule on Saturday against West Virginia.