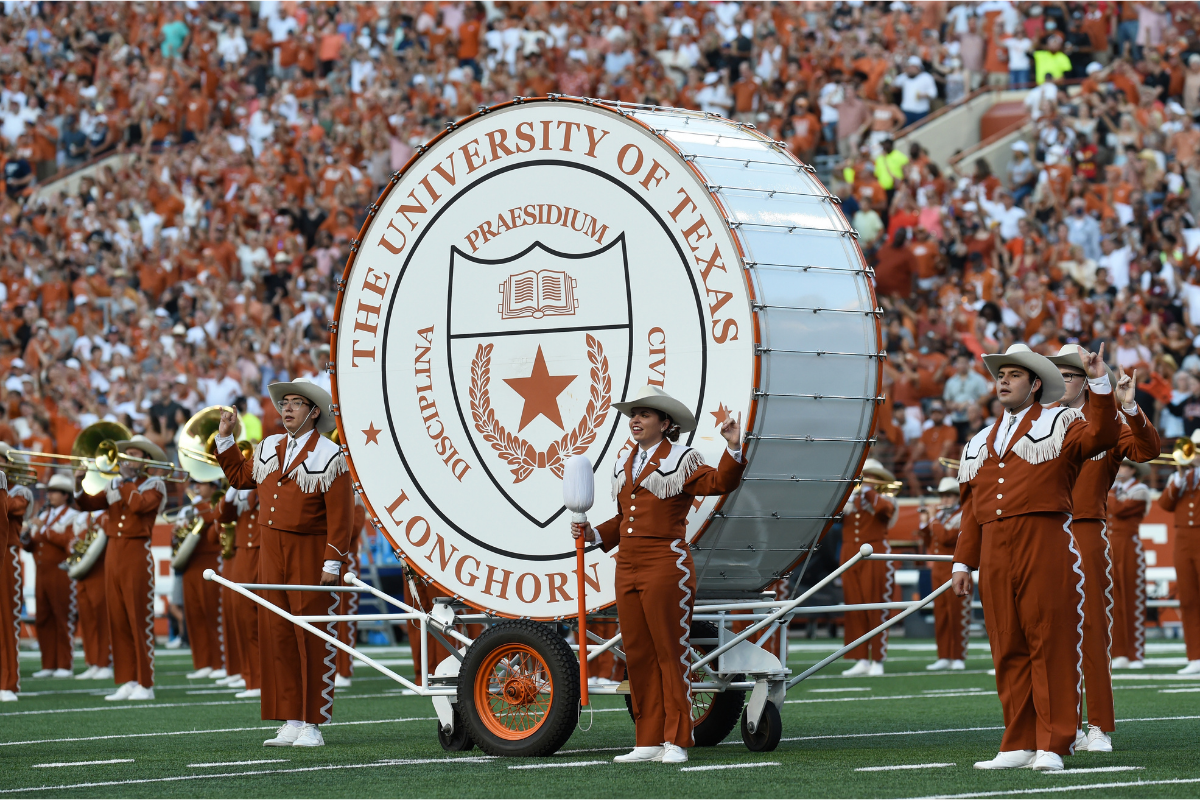 John Rivera/Icon Sportswire via Getty Images
Big. Loud. Orange. Radioactive.
These four words could only be describing the University of Texas Longhorn Band's Big Bertha drum.
It's big all right, more specifically, it's the biggest drum on the planet (depending on who you ask). Its thumping boom spooks Austin residents in thinking there might be an earthquake in south-central Texas. Its orange is so burnt it's hot to the touch. Radioactive? Big Bertha has more in its discography than the Imagine Dragons smash hit. It, quite literally, is radioactive. An instrument with an explosive past? Sounds like my ex-girlfriend.
Let's take a look at Big Bertha's big history.
Big Bertha's Radioactive History
RELATED: How "Bevo" the Texas Longhorns Mascot Got His Nickname
Measuring in at 8-feet-and-44 inches wide, Big Bertha was first purchased by the University of Chicago in 1922. It was specially commissioned by C.G. Conn Instruments. The illustrious former Big Ten member cut its football program in 1939 and the huge bass drum went into storage.
The school's football stadium, while familiar with thunderous booms from Bertha, became a testing site for the Manhattan Project. The proximity to the nuclear bomb project exposed the drum to radioactive energy. Have no fear. Once World War II was over, the drum was ruled to give off little to no radiation.
Fast forward to 1954 and Texas band director Moton Crocket purchased the behemoth for a measly one dollar. The rest is history.
These days, Big Berth is a staple of Texas football games. It lives in the north end zone of Darrell K. Royal-Texas Memorial Stadium and can be heard at the marching band's halftime show as well as after touchdowns. The drum has also made appearances in London's New Year's Day Parade and on the TV show "Shipping Wars." The drum is managed by the Bertha Crew.
While Big Bertha claims the title of the world's largest drum, it isn't the only giant in college football. Purdue's Big Bass Drum is basically the same size and Missouri has a big drum called "Big Mo."
The beloved University of Texas at Austin mascot Bevo proves everything is bigger in Texas. Big Bertha proves the saying has no bounds.
Related Videos