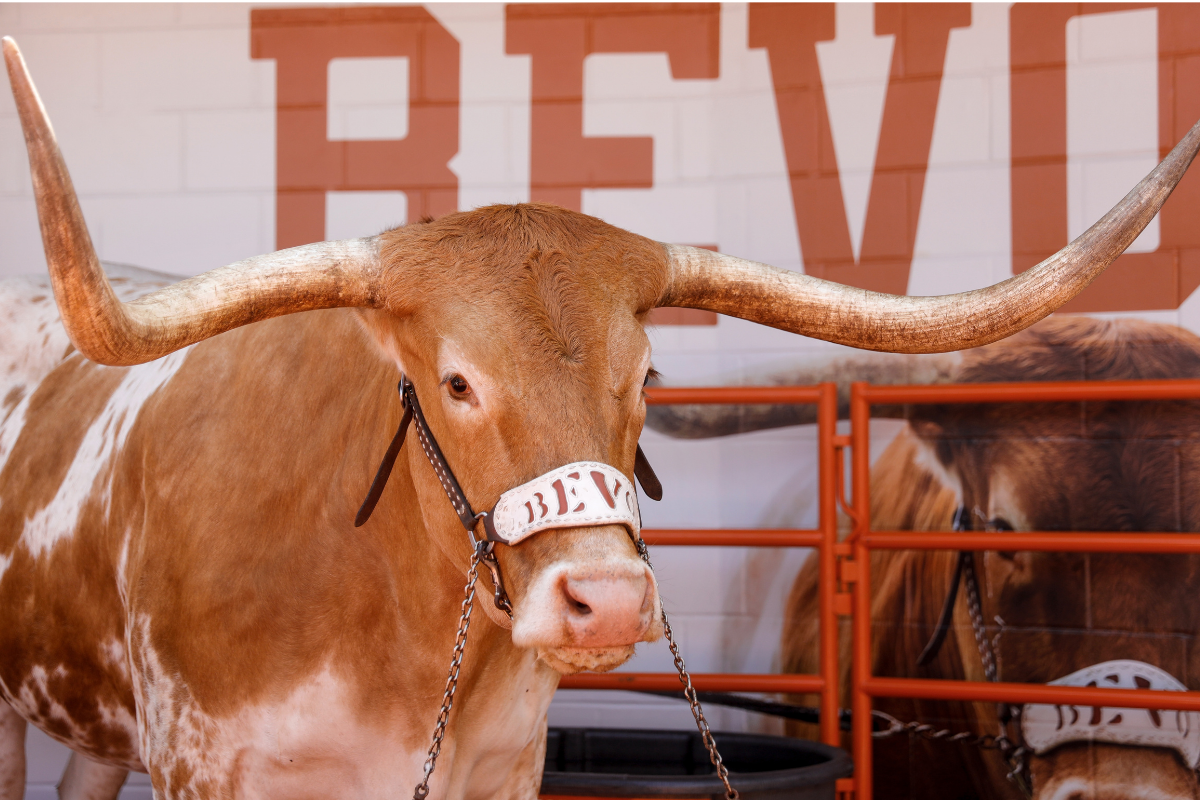 Photo by Tim Warner/Getty Images
College football fans know the most recognizable team mascots in the sport. The best, in my opinion, are the live mascots. Nothing is quite as thrilling as seeing LSU's Mike the Tiger's piercing eyes and defined stripes or Georgia's Uga the Bulldog sporting his adorable red and black jersey. But no mascot in NCAA football is as fearsome and iconic as University of Texas Longhorns mascot Bevo.
Donning incredible horns, this Texas longhorn steer is the definition of tough. Prior to the 2019 Sugar Bowl game, Bevo broke free of his handlers to charge at poor defenseless Uga. He didn't reach the University of Georgia mascot, but he did take the Texas Longhorns' "Hook 'em Horns" saying literally by scratching a reporter caught in the crossfire. PETA even wrote a letter afterward urging both schools to end the use of live mascots.
Bevo's mean streak is hardly limited to that instance. Bevo II gained notoriety for charging an SMU cheerleader that had to defend himself with a megaphone. Bevo III ran wild across campus for two days after breaking out of his enclosure. And Bevo V once scattered Baylor's entire band.
Bevo has been roaming the sidelines in Austin since 1916, when UT-Austin alumnus Stephen Pinckney first came up with the idea. He gathered $124 from fellow Texas alumni and bought the longhorn. Originally, the mascot was named "Bo" and didn't earn his new name until later that year when a few UT students were forced to get creative…
Who is Bevo?
RELATED: What Are The Most Bizarre College Mascots?
Before diving into the story of how Bevo got its name, let's provide some info on the gargantuan mascot beloved by Texas athletics fans.
There have been 15 Bevos in total. The most famous (and winningest) Bevo is Bevo XIII, who oversaw 191 Texas football games, attended President George W. Bush's inauguration and saw four conference championships as well as a Heisman Trophy winner: Ricky Williams.
Bevo XV, the current 4-year-old mascot, weighs a whopping 1,700 pounds and is owned by Betty and John Baker's Sunrise Ranch in Liberty Hill, Texas. He was introduced in 2016 shortly after Bevo XIV died in October 2015. Bevo XV's horns grew until he turned 6 in January 2021; Most longhorn steer live to be in their mid-20s.
Despite the Sugar Bowl incident, Bevo is typically a docile and happy animal. Andrew Miller, a Texas Silver Spur, told The Daily Texan he rides in an air-conditioned trailer and lives a pampered lifestyle.
"I've never seen him aggressively use his horns," Miller said in 2018. "We stay outside of the radius of his horns because he'll scratch his side with his horn if he has a bug or fly on him. He's been trained since birth on how to interact with humans and it's really paid off."
How Did Bevo Get His Name?
Bevo's name traces back to the University of Texas and Texas A&M's long history of stealing mascots. In 1993, a UT student stole TAMU's mascot, Reveille, from the handler's backyard. Thirty years before that, Texas A&M students swiped Bevo from the state hog farm.
But what set off this series of animal thievery is what happened in 1917.
After Texas A&M beat Texas in their 1915 rivalry football game by a score of 13-0, a group of six Aggie students stole the mascot in February of 1917. The "Branding Bunch" branded the longhorn with a 13-0 marking to pay homage to the score.
When Texas students finally recaptured their mascot, they decided to rebrand the mascot by turning the '13' into a 'B', used the '-' to create an 'E', added a 'V' and made the '0' an 'O' to form "BEVO".
Other Theories Behind His Name
The University of Texas at Austin website, however, claims Bevo came from the word 'beeve,' which is the plural word for 'beef' and a slang word for a cow about to be eaten. According to MyAggieNation.com, the first Bevo did meet that fate. He was cooked up in 1920 and served at a barbecue with Texas A&M officials in attendance.
Another version of the origin of Bevo is that a UT journalist came up with the name. After the Longhorns beat the Aggies, 21-7, on Thanksgiving Day in 1916, Texas Exes Alcalde magazine editor Ben Dyer wrote about the game and the longhorn mascot being formally introduced at halftime. Dyer wrote, "His name is Bevo. Long may he reign!"
Texas fans and A&M fans can believe what they want, but the branding version is by far the most popular story behind Texas mascot Bevo's name. Now A&M and Texas football just need to bring back the rivalry and play each other every year.
Even if they don't at least you'll know the history behind Bevo when he takes the field at Darrell K. Royal-Texas Memorial Stadium.
This post was originally published on December 17, 2019. We brought it back because Bevo is still a legend in 2021.