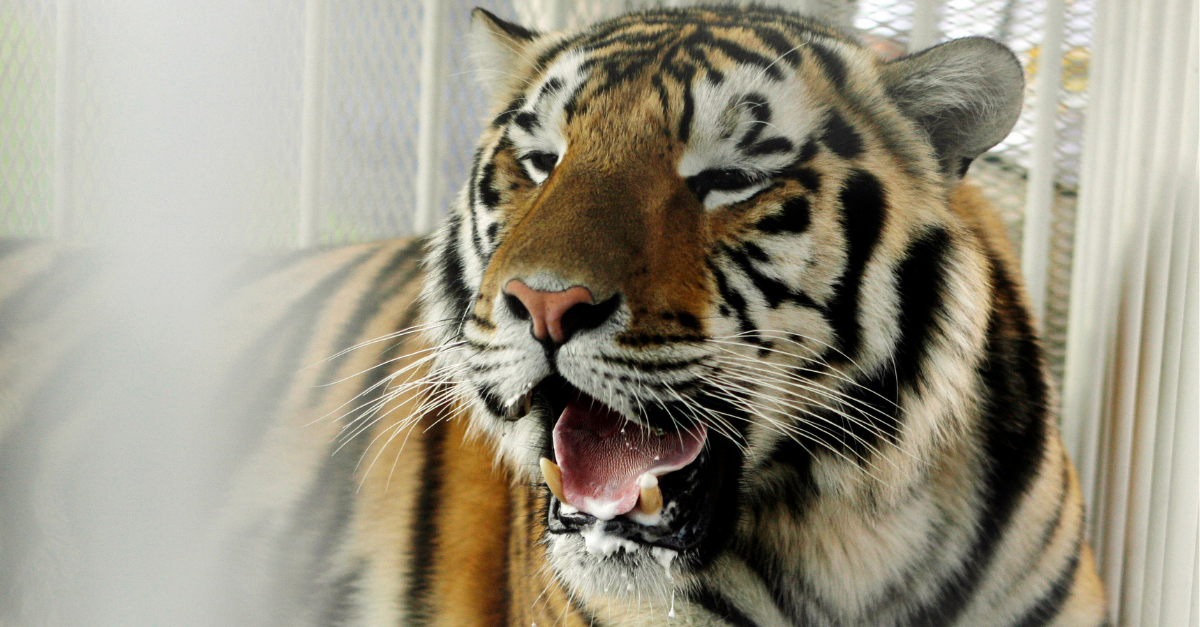 AP Photo/Alex Brandon, File
I don't like zoos or any facility that is created to show off animals for our entertainment. However, LSU's Mike the Tiger is definitely not part of an attraction that keeps him in a small cage for much of his life.
The Tiger Habitat, located on the campus of Louisiana State University in Baton Rouge, is one that was expanded upon and is gorgeous compared to any I have ever seen. As the only live tiger mascot on a college campus in the United States, it is important he has a glorious home.
RELATED: LSU Football: 10 Greatest Tigers to Walk Through Death Valley
Since being introduced on October 21, 1936, the famous tiger mascot's home has had obvious improvements that would have the original Mike jealous. They have been treated like royalty since Chellis "Mike" Chambers, T. P. Heard, William G. "Hickey" Higginbotham, and LSU law student Ed Laborde brought the first live Tiger on campus, first called "The Ole War Skule." Chambers was the most responsible for bringing the Tiger to LSU, so his namesake was changed to Mike in honor of the athletic department trainer.
All things Mike on the LSU campus are inspected and licensed as well, making sure he is the healthiest tiger he can be. The Mike's habitat and LSU's animal care plan are approved by the USDA and are checked annually to make sure they are keeping up with all Federal Animal Welfare Act and USDA policies.
In 2005, during the reign of Mike V, the Mike the Tiger Habitat, which is located between Tiger Stadium and the Pete Maravich Assembly Center on LSU's campus, received a huge improvement worth $3.7 million and increased his space to 15,000 square feet. The upgraded habitat features lush planting, a live oak tree, a waterfall and a stream evolving from a rocky backdrop overflowing with plants and trees.
Currently, Mike VII lives in the beautiful habitat — the third of the live mascots to live in it since the upgrade. He took over in 2017 on the first day of the fall semester and has characteristics of both Bengal and Siberian tigers. All LSU Tigers have been Bengals since the first Mike.
For the last few Mikes on campus, LSU was also conscious of where they were getting their tigers. Mikes I through III were bought by the school, student body, and Tiger Athletic Foundation, but since then, they have been donated. Mike VII was donated from "Wild at Heart Wildlife Center," a sanctuary in Okeechobee, Florida that treats all different types of animals.
"LSU has not purchased a tiger since Mike III in 1958, and LSU does not support the for-profit breeding of tigers. By providing a home for a tiger that needs one, LSU hopes to raise awareness about the problem of irresponsible breeding and the plight of tigers kept illegally and/or inappropriately in captivity in the U.S."
There is also a live camera outside of the tiger's habitat that is streamed for all to watch the majestic animal. When Mike is in the shot of the tiger cam, it becomes much more obvious how much space he really has and how big the habitat is. For a giant Bengal tiger, I wasn't sure how big 15,000 square feet really is until the shot of him lying in the grass and there is a ton of room for him.